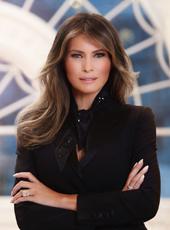 Remarks by the First Lady at the White House Historical Association Reception
MRS. TRUMP: Thank you, Mr. President. (Laughter.) And thank you all for being here tonight. To Frederick Ryan, Stewart McLaurin, the entire board of directors and dedicated staff of the White House Historical Association, my husband and I are deeply honored to host you here tonight. To our friends and devoted supporters of this incredible organization, we thank you for supporting this worthy cause.
Before I go any further, let me take a moment to reflect of the President's and my travel, along with the Vice President, to Florida earlier today. As you know, our country has seen the very worst of Mother Nature, with Hurricanes Harvey and Irma. Spending time with the first responders in Texas and Louisiana days ago warmed our hearts to see so many in such a desperate situation responding with kindness, charity, and resolve.
We saw that -- so many display of the American character today in Florida. We saw first responders, some of whom went from Harvey's aftermath directly to the path of Irma, helping those in need and serving as guardian angels to those left with only prayers and hope.
We saw so many who lost so much in these past weeks -- a family member, a friend, their first home, or precious keepsake. But in those very same people, I have seen the true spirit of this nation: an unwavering commitment to overcome, to rebuild, and to renew what was swept away.
Together, we all hurt with these victims. And together, we vow to lift our neighborhoods from the deepest of despair.
I know many of you here tonight have answered the call to help. The victims of these terrible storms told me of their gratitude for the support they are gathering from the nation. On their behalf I say: Thank you.
So, White House Historical Association, since its founding in 1961 by First Lady Jackie Kennedy, has the chartered mission of telling the stories of this grand home and the families and people who lived and worked here.
The artifacts on display earlier this evening are some of the greatest in the White House collection. Those priceless mementos are figures of our history. They give incredible insight [into] the past Presidents, First Families, and the White House itself. They help tell the story of our nation. They also underscore why your support of the White House Historical Association is so important.
Your generosity and your commitment to supporting this great organization keeps these items and the stories behind them alive for future generations of Americans. We can teach our children and grandchildren about Kennedy, Reagan, and Lincoln.
But the White House Historical Association does much more than that. You bring their stories to life, and you make the White House accessible to visitors from near and far.
As my husband often says, this is the People's House. Each of you, through your time, talents, and treasure, make it so. Our family's appreciation for this home grows each and every day, and we could not be more grateful for your dedication to the White House.
May tonight be one of the many opportunities each of us has to enjoy the People's House together. And to paraphrase the words of John Adams, whose famous saying is engraved on the mantle here in the State Dining Room: "May none but honest and wise men every rule under this roof."
As we sit together in this historic setting, I thank you all for being here. And I thank you for your continued support of the White House Historical Association.
God bless you. God bless this home. And may God continue to bless the United States. (Applause.) Thank you.
Melania Trump, Remarks by the First Lady at the White House Historical Association Reception Online by Gerhard Peters and John T. Woolley, The American Presidency Project https://www.presidency.ucsb.edu/node/348691