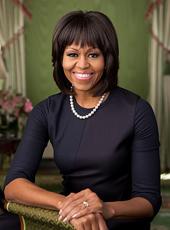 Remarks by the First Lady at the White House Easter Egg Roll
MRS. OBAMA: Hey, everybody! (Applause.) Is this not the most perfect day for the Easter Egg Roll? (Applause.) Let's say thank you to Mother Nature, yeah! (Applause.)
You guys, we are so excited to have you. Welcome to the 2010 Easter Egg Roll. The theme for this year's event is "Ready, Set" what?
AUDIENCE: Go!
MRS. OBAMA: Go! And as you guys know, this year I launched a nationwide initiative to try to end the epidemic of childhood obesity. It's called "Let's Move." And today we have transformed the South Lawn into a playground. And our hope today is that in addition to having fun and doing some of the traditional activities like the egg roll and the Easter egg hunt, that you can learn about beginning to live a more healthy life.
We've got wonderful food stands over in the back. We've got some of the area's and the nation's best chefs. You can learn to cook. There's a farmers market. You can see the garden.
But we also have some great activities. We've got several athletic centers. We've got football, we've got basketball. (Applause.) We've got tennis, we've got yoga. And we have some of the most phenomenal athletes here. We've got our Washington Redskins here. (Applause.) We have Olympians -- Apolo Ohno. We've got Billie Jean King. (Applause.) In the center we're going to have some dancing, some hula-hooping. We've got DJ Tony from the Ellen DeGeneres Show who's going to do some stuff. (Applause.) And then if that's not enough, you can go over to the music stage and just have some fun with Justin Bieber. (Applause.) You guys know Justin Bieber? (Applause.) You've heard of Justin Bieber? (Applause.) Well, he's here. (Applause.)
And we have Sara Bareilles, one of my favorites; the cast of Glee. (Applause.) Yay! And thank you, Amber, for that wonderful rendition of the national anthem. (Applause.)
And then we've got readers. There's always -- reading is important. We've got J.K. Rowling, one of our favorite authors here. (Applause.) Reese Witherspoon. We've got tons of people who are here just to have fun with you guys today.
So the only thing you need to do is get ready, set, and do what?
AUDIENCE: Go!
MRS. OBAMA: One thing I want to do -- I want to thank all of the volunteers who helped put this thing together. Everyone, our volunteers working all weekend, setting up this amazing event.
I want to thank our staff, Ellie Schafer. Ellie! (Applause.) And Joe Reinstein for putting this together. They have done just an amazing job. We are thrilled to have you here. We're going to have 30,000 people in our backyard today, and we want every single one of you to have fun, to think about living a healthy life, and to get moving.
So with that, we're going to go over and we're going to do a little Easter egg rolling. We're going to do a little reading. So we look forward to seeing you all.
Have fun, and thank you for being here. (Applause.)
Michelle Obama, Remarks by the First Lady at the White House Easter Egg Roll Online by Gerhard Peters and John T. Woolley, The American Presidency Project https://www.presidency.ucsb.edu/node/320682