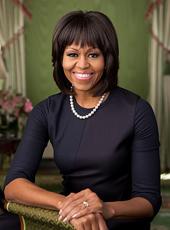 Remarks by the First Lady at the Opening of the Whitney Museum in New York City
MRS. OBAMA: Thank you. (Applause.) Thank you, everyone. Good morning -- is it still morning? (Laughter.)
Let me just say, it is a privilege for me to be here today in this beautiful new space for this great American museum. It is truly an honor. And I want to start by thanking Flora not just for that very generous introduction but for her family's extraordinary commitment to American art over so many years. And she is a joy to us all, a gift. And we are so grateful to her, to her entire family. (Applause.)
I also want to recognize Mayor de Blasio for his leadership and his passion, and for joining us here today -- absolutely. (Applause.)
And I took a brief -- very brief tour -- too brief, Adam, so I'm coming back -- and I fell in love with the building. It is an amazing space. But I love it even more after Renzo Piano talked about it. Doesn't he just make you love the building even more? The piazza? (Applause.) What a gift. Thank you so much.
But more importantly, I want to thank all of you for everything you've done to bring us to this moment. Thank you all for the support, for the inspiration. Thank you for creating the spectacular works of art, our artists, that grace the walls, the floors, the ceilings. This is the most beautiful freight elevator I've ever ridden on. (Laughter and applause.) Just about every space in this museum is magnificent. And that's really one of the joys of this new building so brilliantly designed by Renzo Piano -– the variety of spaces it has for artists to engage and experiment and truly have their work be seen.
So I really can't think of a better theme for this inaugural exhibit than "America is Hard to See." Because that title isn't just a statement of fact, it's a challenge that the Whitney has embraced with open arms –- the challenge of truly seeing America in all of its glory and complexity. With this exhibit, all of you at the Whitney -- the staff, everyone here, all the artists -- have asked the question, "How can we truly, fully witness the melting pot of cultures and sensibilities and struggles that make America unlike any other country on earth?"
This is a bold, very hard question. And this exhibit isn't trying to provide any kind of definitive answer. Instead, it's doing something even more important -- it's inviting us to answer this question for ourselves, each of us reflecting and rethinking our assumptions as we walk through these galleries. And I think that will be an incredibly powerful experience for anyone who comes here to visit. But it will be particularly powerful for our young people.
You see, there are so many kids in this country who look at places like museums and concert halls and other cultural centers and they think to themselves, well, that's not a place for me, for someone who looks like me, for someone who comes from my neighborhood. In fact, I guarantee you that right now, there are kids living less than a mile from here who would never in a million years dream that they would be welcome in this museum.
And growing up on the South Side of Chicago, I was one of those kids myself. So I know that feeling of not belonging in a place like this. And today, as First Lady, I know how that feeling limits the horizons of far too many of our young people.
And that's one of the reasons why Barack and I, when we first came to Washington, we vowed to open up the White House to as many young people as possible, especially those who ordinarily wouldn't have a chance to visit. So just about every time we host any kind of cultural event, a concert or performance, we ask the performers to come a few hours early and host a special workshop just for our young people.
The message we're trying to send is simple. We're telling our young people: The White House is your house. You belong here just as much as anyone else in this country. We're telling them: Make yourselves at home in this house. Be inspired by the artists and performers you see. And start dreaming just a little bigger, start reaching just a little higher for yourself.
And with this inaugural exhibition, the Whitney is really sending the same message to young people and to people of every background across this country. You're telling them that their story is part of the American story, and that they deserve to be seen. And you're sending that message not just with the art you display, but with the educational programming you run here. You're reaching out to kids from all backgrounds, exposing them to the arts, showing them that they have something to contribute.
One of those young people said this about the Whitney -- and this is a quote we pulled -- said, "Having gone through the program, I've felt like the museum is home to me. Even if I've never been to a particular museum before, I just know how to be in [that] space."
Another young person going through one of the programs said, "I could rise above the negativity I saw around me every day within my community." Because of the work that you do here, that's the impact you're having on kids every day.
And in the end, that's why I'm here today, and I know that's why we're all here today. I'm here because I believe so strongly in that mission, and because I think that every cultural institution in this country should be doing this kind of outreach and engagement with our young people every single day.
So what I want to ask those out there watching -- absolutely -- (applause) -- if you run a theater or a concert hall, make sure you're setting aside some free tickets for our young people. If you run a museum, make sure that you're reaching out to kids in struggling communities. Invite them in to see those exhibits. Can you use technology to bring those exhibits to kids in remote areas who would never, ever be exposed to art otherwise?
One visit, one performance, one touch, and who knows how you could spark a child's imagination. As the Mayor said, maybe you could inspire a young person to rise above the circumstances of their life and reach for something better. Maybe you could discover the next Carmen Herrera or Archibald Motley or Edward Hopper -- or, yes, maybe even the next Barack Obama. (Applause.)
That is the power of institutions like the Whitney when they open their doors as wide as possible, both to the artists they embrace and to the young people they seek to uplift. That's what happens. And today, I am so proud to be here as we open these doors. I am so grateful to all of you -- to the donors, to the board, to the staff, to the artists, to everyone here, to the skeptics. Thank you for making this day possible. And I truly cannot wait to see the impact this extraordinary museum will have in the years ahead.
So thank you so much. Congratulations. And with that, it is now time for the ribbon-cutting ceremony. Congratulations again. (Applause.)
Michelle Obama, Remarks by the First Lady at the Opening of the Whitney Museum in New York City Online by Gerhard Peters and John T. Woolley, The American Presidency Project https://www.presidency.ucsb.edu/node/321853