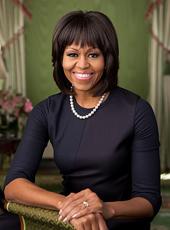 Remarks by the First Lady at the "Let's Move!" Campout on the South Lawn
MRS. OBAMA: Great job, Aniyah! (Applause.) Hey, guys. You ready for this?
AUDIENCE: Yes!
MRS. OBAMA: We are so excited to have you here. I'm not going to talk long because I really just wanted to formally welcome you to the White House. There it is. It's right there. It is right there. And you're going to be sleeping out here. Can you imagine that? This is the first time we've ever done a campout on the South Lawn of the White House. You are making history. This is something you can tell your kids and your grandkids. Do you understand the impact -- (laughter) -- the importance of this moment, today?
It's exciting. Well, you know who's more excited than you all? Me. (Laughter.) And everyone here at the White House. I have to tell you, to make this happen it took a lot of work. We have security. The Secret Service had to be involved. The Social Office, the Department of the Interior. We couldn't do this without them. We're so excited and so proud of Secretary Jewell, who couldn't be here because she's doing stuff for the President. But she wanted to say hi. And she put a lot of energy into making this day and night happen for you guys.
So I want to make sure you thank all the people around you while you're here, all the staff people. Because people are going to be sleeping out here with you, making sure that you're safe and that everything goes well. Okay? So make sure you thank folks. But everybody is excited to have you here.
We're doing this because I am the honorary [National President] of the Girl Scouts. I'm very proud to be the honorary co-chair. And I am also very -- a big proponent of getting outside and staying active. You guys have heard of Let's Move. That's my program about keeping kids active and healthy. And one of the components of the program is something called Let's Move Outside. And this is something that we're doing to encourage kids to get outside and get moving in their National Parks, because this is the 100th anniversary of our National Parks. And we have so many beautiful parks all over this country that are free to families and kids, and they can hike and they can camp and they can discover the great outdoors. We want people to find their parks all around.
And one of the reasons why we wanted you all here -- did you know that the White House is a National Park? You knew that? You did your research? Well, what better way to highlight Let's Move Outside than to have the Girl Scouts camping out right here in a National Park at the White House. Good idea, huh?
Well, I'm very proud of you all because you all get outside a lot. You're good campers. And I'm happy that Kathy and the Girl Scouts -- you've developed these new outdoor badges that you can earn, I understand. All these things -- hiking, and all these exciting outdoor things. So you guys are going to teach me how to do some of these things, will you please? I don't know if I can officially earn a badge, but I want to try. All right?
So I want to get going. But you guys have got to be helpful. I don't know anything. I don't know how to tie a knot. I don't know how to pitch a tent. I can sing a little bit. I'm definitely not climbing that wall. (Laughter.) That's up to you all, okay?
So will you help me get moving and learn how to do some new stuff? All right, let's get going! (Applause.)
Michelle Obama, Remarks by the First Lady at the "Let's Move!" Campout on the South Lawn Online by Gerhard Peters and John T. Woolley, The American Presidency Project https://www.presidency.ucsb.edu/node/321829