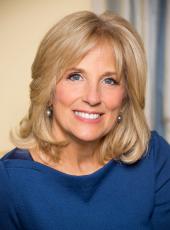 Remarks by the First Lady on the Launch of First ARPA-H Project at Emory University in Atlanta, Georgia
[As prepared for delivery.]
Good morning, everyone. It's so wonderful to be back in Georgia. President Fenves, Dr. Santangelo, thank you for the warm welcome to Emory.
I also want to thank all the state legislators and county leaders for joining us today and supporting the powerful work being done here.
We just came from touring the lab here – and it's incredible to see how the pieces of this project come together, testing thousands of possibilities to find the ones that could change our world.
In some ways, the events that made this moment possible began 65 years ago – with a different mission but the same goal.
After the launch of the Sputnik satellite in 1957, President Eisenhower recognized that defense technology would be the defining fight of his Presidency. So, he created a cutting-edge research and development agency to launch bold ideas with lightning speed, to give scientists and engineers the freedom to reach beyond the possible, to unravel the unknown.
From that investment – which came to be known as ARPA, the Advanced Research Project Agency – emerged technology that has transformed our society.
More than half a century later, my husband, President Biden, is using that same bold approach to face one of the defining challenges of our time: finding a cure for cancer.
So, when he was running for president, he called on Congress to establish ARPA-H, the Advanced Research Projects Agency for Health, to create the kinds of health breakthroughs that will change our world.
And when he got to the White House he worked with Republicans and Democrats in Congress to make it happen.
Just two weeks ago, ARPA-H made its first award – to a research team, here at Emory. As we just saw, they're finding ways to train our immune systems to fight cancer and other diseases.
That's the heart of the Biden Cancer Moonshot – our White House initiative to build a world where cancer is not a death sentence. Where we invest in innovative research and help patients and their families navigate this journey. Where we stop cancer before it starts and make treatments more affordable if it does. Where we catch it early and help people live longer, healthier, happier lives.
Earlier this week, I joined the President for a meeting of his Cancer Cabinet. And we talked about the exciting work being done here and around the country – and the work ahead. And part of that work is finding and funding more projects like this one.
That's why the President announced ARPA-H will soon award $250 million more for cancer related research.
As I've traveled the country – and the world – I've seen innovative programs that are making progress. I've seen what's possible when we invest in cutting-edge research. And I've seen that there is so much hope to be found.
I see that hope here today as well.
As a mom who watched my son die of cancer, the one thing I never gave up on was hope. As a mother, you can't.
This work gives families the power to hold on to that hope just a little longer – because this work could change their lives. Your work can change lives – here in Georgia and around the world.
Through the Biden Cancer Moonshot, we're putting American innovation to work for patients. And together, we will make it so the word cancer loses its power, so fewer families know the pain of losing a loved one to this disease.
It's ambitious. But it's within our reach. And, we are doing it with the urgency of now.
For Joe and me, this is the mission of our lives. And we are ready and proud to work beside you.
Thank you.
Now, it's my great pleasure to introduce the founding Director of ARPA-H, Dr. Renee Wegrzyn.
Jill Biden, Remarks by the First Lady on the Launch of First ARPA-H Project at Emory University in Atlanta, Georgia Online by Gerhard Peters and John T. Woolley, The American Presidency Project https://www.presidency.ucsb.edu/node/365144