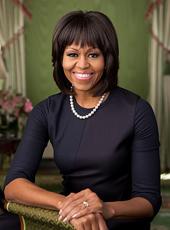 Remarks by the First Lady at the Kitchen Garden Planting Event
MRS. OBAMA: How are you guys doing?
CHILDREN: Good.
MRS. OBAMA: Is it a little chilly?
CHILDREN: Yes.
MRS. OBAMA: Where are your jackets? I'm going to be the mother. Where are your jackets? (Laughter.) All right, so we're going to put you to work.
Well, welcome. This is the fifth planting of the White House Kitchen Garden. Are you guys excited?
CHILDREN: Yes.
MRS. OBAMA: So that we know who is here, I want to make sure that all these wonderful people with their cameras know which schools are here. So when I say your school name, raise your hand, or scream or something like that.
Milton Elementary School from Milton, Vermont. Woo-hoo! Yes, is that the principal? It's like woo-hoo, party on. Sarah Moore Greene Magnet Technology Academy in Knox County, Tennessee. Woo-hoo! (Applause.) Arthur D. Healey School, Somerville Public Schools in Somerville, Massachusetts. Woo-hoo! (Applause.) Benjamin David Gullett Elementary School in Bradenton, Florida. (Applause.) Yes, that was it. That was it. I know you all are cold, coming from Florida. And then we have our partners from many, many, many years -- Bancroft Elementary School. (Applause.) There we go. See, they're comfortable yelling in the White House. (Laughter.) And then we have the Harriet Tubman Elementary School students. (Applause.)
So it's great to have you guys here. Are you ready to go? One of the reasons we invited these schools -- Harriet Tubman School and Bancroft, they have been our partners for years. But the schools from across the country who have come, you guys are here because you are doing such wonderful things to implement the new school nutrition standards at your school. So do you like your school lunches? They are healthy and they are good? And you're eating your vegetables? And many of you have gardens of your own? Awesome. So you know what to do here, right? Are you ready to plant?
All right, let's get going. Let's do it!
Michelle Obama, Remarks by the First Lady at the Kitchen Garden Planting Event Online by Gerhard Peters and John T. Woolley, The American Presidency Project https://www.presidency.ucsb.edu/node/320164