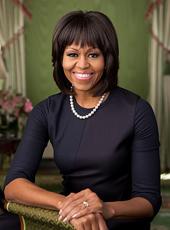 Remarks by the First Lady at the Joint U.S.-Pakistan Let Girls Learn Announcement
MRS. OBAMA: Good afternoon, everyone. As-salaam alaikum, and welcome to the White House.
I want to start by thanking our Acting Administrator of the USAID, Ambassador Lenhardt. It's so good to see you. You're always so handsome, and you come with -- (laughter) -- and you always come with a smile. You warm my heart. It's wonderful to see you. Thank you so much for your leadership.
And I also want to recognize Ambassadors Olson and Russell. Thank you all for being with us today, and to all of our guests, our delegation.
We are honored to be with First Daughter Maryam Sharif, who is just outstanding, as well as the First Grandchildren, who I could spend all day talking to. (Laughter.) They are just beautiful young ladies. And the fact that you have two girls is the tradition we're working on, too. (Laughter.) Getting them through this process as beautifully as you two are doing. And congratulations on your upcoming wedding, and your educational endeavors. We're so very proud of you. Wonderful to have you here.
And of course, to Mrs. Sharif, who is just -- has been a wonderful companion to have as -- we've traveled around in the world of international spouses. (Laughter.) It's good to see you again, and it's wonderful to have you here at the White House.
I think it is really fitting that I'm joined by these brilliant, accomplished women, because today, I'm proud to announce that, building on Pakistan's commitment to double education spending, the U.S. will be investing $70 million to educate adolescent girls in Pakistan. (Applause.)
With this funding, we're going to be building more than a dozen new schools and rehabilitating hundreds of others. We're going to be setting up health screenings for thousands of girls to ensure they're getting the medical care they need. We'll be funding skills-training programs and college scholarships for girls. And, taken together, these efforts will reach 200,000 girls in Pakistan. I'm going to say that again -- that's 200,000 girls. (Applause.)
That is 200,000 girls who will have a chance to fulfill their promise -- just like our daughters have that opportunity -- and become the next generation of doctors and teachers and entrepreneurs; the next Mrs. Sharifs, the leadership of the country. And that's 200,000 girls who will one day raise healthier, more educated families of their own.
So this investment represents a major milestone for these girls and for their country. But I want to be clear that today's announcement is actually part of a much bigger story about global girls' education –- a story that started last spring here, at least for us, at the White House when the President and I launched our new initiative called Let Girls Learn.
Let Girls Learn is a U.S.-government effort to help adolescent girls worldwide go to school and stay in school. And as part of this effort, we issued a call to countries across the globe to join us in investing or increasing their investment in girls' education. And when they did, those countries took that step, I promised that I would be the first person to stand with them and celebrate that commitment.
Now, at the time, we weren't sure how many countries would answer our call. And when they did, we didn't know how deeply they would be willing to invest. But in just the past eight months, countries across the globe have pledged nearly $800 million dollars to this cause. That includes nearly $350 million from Japan, nearly $200 million from a partnership between the U.K. and the U.S., and $200 million from South Korea. That's what we've been able to do in just eight months. So in addition to those 200,000 girls in Pakistan, hundreds of thousands of girls worldwide will finally have a chance to get the education they deserve.
And we are just getting started on this issue. I plan to continue this work not just during the remaining time as First Lady, but for the rest of my life. This is something that we're going to be working on. (Applause.) Because what we do know is that you don't have to be First Lady or a First Granddaughter -- or a First Daughter, for that matter -- you can be a courageous 18 year old from the Swat Valley. You can even be an 18 year old from the San Fernando Valley in California. It doesn't matter who you are, we all have a role to play on this issue.
As I say time and time again, these girls are all of our girls. I have passion for this issue because I cannot look into the eyes of young women and not see myself and not see my own daughters, and not want the best for them. And if we're going to solve a challenge like this of this magnitude, we certainly need our governments to step up, but we also need people -- in particularly young people -- people of all ages to step up as well.
We need to raise awareness about this issue in schools all across the globe for the kids who do have that advantage. We want them to be sure that they're aware of the millions of girls worldwide who are not getting the education that they so rightfully deserve. We need them to get on social media, to use their channels of communication -- the hashtags and -- do you guys do that stuff too? (Laughter.) The hashtags, the Vines, the Twitters.
Well, we have a hashtag called #62MillionGirls, and we're asking young girls to use that hashtag to raise awareness, and to also use it to inspire our girls all across the globe not to take their education for granted. I always tell young girls here, what's the best way that you can help these young girls is that you can go to school and you can get your education, and you can value and cherish that education and become the leaders that you were meant to be.
So I'm going to keep reaching out on this issue, telling the stories of those 62 million girls, sharing them wherever I go, collecting more of their stories and making sure that they always have a spotlight on them. I'm going to keep reaching out to individuals. I'm going to keep reaching out to companies and to organizations and to countries to partner on this effort.
And I'm going to keep challenging leaders across the globe to keep stepping up as much as they can. And I know that we, together, working like this on any issue -- but in particular an issue that is so clearly one that will improve our planet by educating half of our population and valuing them as individuals -- on an issue like this, we can give every girl on this planet the future that she deserves.
So I want to thank you both for your leadership. It is a truly valued partnership. And there's much more work that we can do together. So we're just thrilled to have you here. We put together what we hoped would be a welcome for you that would indicate the value of this relationship. And I'm looking forward to the work that we'll do together.
Michelle Obama, Remarks by the First Lady at the Joint U.S.-Pakistan Let Girls Learn Announcement Online by Gerhard Peters and John T. Woolley, The American Presidency Project https://www.presidency.ucsb.edu/node/321758