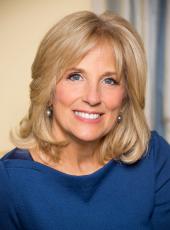 Remarks by the First Lady at the Georgia Hispanic Chamber of Commerce Hispanic Heritage Month Event in Atlanta, Georgia
[As prepared for delivery.]
Thank you, Veronica, for your leadership and for the chamber's incredible work on behalf of Georgia businesses.
It's an honor to be with you to kick off Hispanic Heritage Month!
And it's wonderful to be joined by so many Georgia state and county leaders, as well as Senator Ossoff.
Jon, thank you for being a great partner to Joe in the Senate, and for your service to the people of Georgia.
Today, we are celebrating the amazing Latino leaders who are shaping their communities into more prosperous, more innovative, more equal places, leaving a lasting legacy in this state.
But I also want to recognize the everyday history makers.
Behind the big moments and people are names that never make the headlines – parents and siblings, grandparents and neighbors, teachers and mentors – whose everyday decisions shape our lives and ripple forward, whose stories and legacies are left behind in the hearts of all they touched.
Yes – our history is found in the big moments – but it's found in little ones, as well.
In the warmth of the hazy afternoon light, when you wrap yourself in the blanket that your grandma made – the one whose scent brings her memory to life.
In the words you can still hear in your parents' voice – that tell you to be brave when it's the last thing you want to do.
It's these small moments – tiny acts that become a part of who we are, that guide us forward and pull us home – that add up to a history bigger than any one of us.
That history is here today. And Joe and I are proud to stand beside you – to celebrate your victories, big and small.
You know, I've visited over 40 states since becoming First Lady – red states and blue states and everything in between.
And even though we may not always agree, most families really do want the same things.
They want to be able to get jobs that pay well – not worry that their Social Security won't be there when they need it.
They want to send their kids to school without fear of senseless gun violence – not have the government tell them which books they can read in school.
They want Dreamers, who don't know any other home but this country, to have a fair path to citizenship – not policies based on discrimination.
They want freedom – to work and learn and live and build a better tomorrow for our country.
My husband, President Biden, understands that. Because everyone deserves the chance to work hard and build a good life for their family.
That's what Bidenomics – Joe's vision to build our economy from the middle out and the bottom up – is all about.
More than 13 million jobs created.
Latino unemployment reduced to a near record low.
Hundreds of billions invested in growing industries like clean energy and manufacturing – industries that are booming right here in Georgia.
And he achieved the fastest creation rate of Latino-owned businesses in more than a decade.
But we know there's still more to do.
Our Administration is committed to supporting you – and listening to what you need.
Because no one knows what this community needs better than this community.
So, I want to thank you for empowering your neighborhoods and opening the doors of opportunity for generations to come. Thank you for sharing your good ideas, your innovation, your courage, and your strength.
In little ways and big ones, each of you has made your mark on our world – leaving it a little better and a little stronger and a little more beautiful.
The Biden-Harris Administration stands with you today and every day.
Thank you.
Jill Biden, Remarks by the First Lady at the Georgia Hispanic Chamber of Commerce Hispanic Heritage Month Event in Atlanta, Georgia Online by Gerhard Peters and John T. Woolley, The American Presidency Project https://www.presidency.ucsb.edu/node/365138