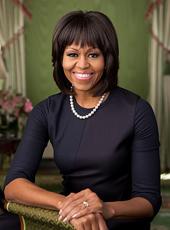 Remarks by the First Lady at the Fisher House Family Easter Event in Bethesda, Maryland
MRS. OBAMA: Thank you, Crystal. It's so good to be back. It's good to see you guys. Are you having fun?
CHILDREN: Yes.
MRS. OBAMA: Are you ready for a little more fun? I'm coming to engage in the fun with you. Are you ready? Are you ready to show me how to make some stuff?
This is my second time here at Fisher House right around the Easter holidays, but it's not my second time, period. I mean, the Fisher Houses, as you all know, are just so important to families who are recuperating. They're doing some great stuff. As you can see, the houses are beautiful. And all around the country, they are as beautiful and as welcoming and as comforting as you guys are experiencing here.
That's one of the reasons why we are so supportive of all the efforts that the Fisher Houses do. And we're grateful to the Fisher family -- Crystal, who is here on behalf of her family -- because it wouldn't happen without them. So I like to come and hang out, number one, to bring cookies. Anybody like cookies here? I'm not sure if we haven't any cookie fans. (Laughter.) Just checking.
And one other thing I come bearing. We do this really cool thing at the White House around Easter every year. It's called our Easter Egg Roll. Have you guys heard of the Easter Egg Roll? We do it in the backyard of the White House on the South Lawn, and there are thousands of people who come. And we've got great entertainment, bands playing. We've got athletes who come, we've got Easter bunnies, and characters, and face painting, and bands playing, and lots of running right on the South Lawn. Does that sound fun?
CHILDREN: Yes.
MRS. OBAMA: I brought tickets for all of you to come. So that's the other thing I bring. (Applause.) So the Monday after Easter, you guys are invited to my house to hang out, okay?
I have one last surprise for you guys. I brought a friend. Bo!
(Bo walks into the room.)
I brought Bo. Bo came to see you guys. Okay, so first I'm going to check out -- I'm going to come around to the tables. If you don't like dogs, just let me know.
Bo is a sweetheart, but he's big; he's bigger than some kids realize. (Laughter.) So it takes a little second, but that's all he is, is big. He's really a big baby. He's a big baby. He can do tricks if he's paying attention -- no, no, he's staying down. (Laughter.) He can do some tricks, trust me.
But if you guys want to see Bo, I'll bring him around. If you don't want to see Bo, just let me know. I understand. And his teeth, he uses them to eat, but that's about it. (Laughter.) All right?
So I'm going to start over here, and then I'll make my way around to everybody, okay? Bo, come on.
Michelle Obama, Remarks by the First Lady at the Fisher House Family Easter Event in Bethesda, Maryland Online by Gerhard Peters and John T. Woolley, The American Presidency Project https://www.presidency.ucsb.edu/node/320169