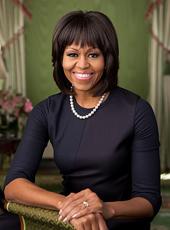 Remarks by the First Lady at the Fisher House Family Easter Event in Bethesda, Maryland
MRS. OBAMA: Hi, everybody! What are you guys doing in here? Are you making Easter cards? Yes? Well, I'm going to come by and see you. I brought two friends with me today -- Sunny and Bo. They're here! And I also brought some goodies from the pastry chef, so there's some cookies for you guys if you all behave and your parents say you can have some. (Laughter.) There are cookies for you.
But one of the reasons why I like to come to the Fisher House is to shine a light on all the great things that the Fisher House staff do here. I mean, I know that they give you guys a home away from home when you're going through some of the toughest times in your life. And it's nice to be able to come to a beautiful facility like this where I know the staff is so -- yes! What? (Laughter.) There's something important here. (Laughter.)
(Child hands Mrs. Obama an Easter card.)
Let me see. Oh, my gosh. It's Happy Easter! I love it! See, this is why I come here. This is the best part of my day -- with so many great families, you guys. But, more importantly, I get to shine a light on you all, the families -- our military families and our military kids. Because you all are our heroes, especially our kids. Do you know -- hey, hey, kids, do you guys know you're heroes?
CHILDREN: Yes.
MRS. OBAMA: You are. You guys are heroes. You're -- yes, that's Spiderman.
MOTHER: Spidergirl.
MRS. OBAMA: Spidergirl, yes. (Laughter.) An important hero. Because you guys do what you do and make your parents' lives so wonderful, they're able to do the job that they do. And I know your parents couldn't do this without you guys. So we're so proud of you all.
And to show just how grateful -- are these mine to keep?
CHILD: Yes.
MRS. OBAMA: Are these mine? Okay! (Laughter.) But because the President and I are so grateful to all of you, I have a little surprise, too. We've got this really cool thing that happens at the White House on Monday. It's the Easter Egg Roll, and it's a day full of fun. We've got 30,000 people who come to the South Lawn. And you can do Easter egg rolls, and learn how to cook healthy and eat healthy, and jump around. And there's entertainment. There are cool bands and groups and people you guys will know, and a lot of characters and face painting. And I brought tickets for all of you guys to come on Monday if you're free. (Laughter.) If you're free.
So I brought tickets for all of you to come to the White House on Monday. All right? So if you guys have time -- the tickets are here, and hopefully I'll see you guys on Monday.
But I'm going to come around to the tables. Are Sunny and Bo here?
Michelle Obama, Remarks by the First Lady at the Fisher House Family Easter Event in Bethesda, Maryland Online by Gerhard Peters and John T. Woolley, The American Presidency Project https://www.presidency.ucsb.edu/node/320120