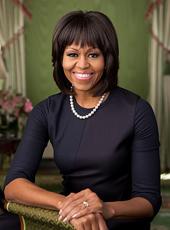 Remarks by the First Lady at the Better Make Room Student Rally with LeBron James in Akron, Ohio
MRS. OBAMA: Wow! Hey, you guys! (Applause.) How you guys feeling? How does this feel? (Applause.) Wait, wait, wait -- what was that? (Applause.) Are you feeling good? (Applause.) Are you feeling proud of yourselves? (Applause.) Well, I'm proud of you guys. I'm really happy to be here with you. I'm just so honored.
I want to start by giving a round of applause to Miah for her wonderful introduction. (Applause.) To Mr. Mike Wilbon for taking the time to be here. He's amazing, we are grateful to you. (Applause.)
And of course, I want to just take a moment to talk about Mr. LeBron, as you all call him. (Applause.) I was telling Mr. LeBron that he has two huge fans in the White House -- that's me, and that's President Obama. (Applause.) We are two of his biggest fans.
Now, yes, he is probably one of the greatest athletes on the planet -- (applause) -- but we love this man because of the man he is, you know? Not because of the athlete he is -- we love him because of the father, the husband, the son, the friend, the citizen that he is. He is a role model. And we are so proud of the fact that he is stepping up so huge for this state, for this city, for the families in this room. (Applause.) I'm just -- man, I love LeBron James, all right? So I would do anything for him, and I would do anything for you all. And that's really why we're here today.
We have done all of this, and I've flown all the way in from Washington, because of you. And I really want you kids to understand that all of this is for you. We're here because you all are amazing. And I want you to take that in. I want you to own the fact that all these important people are here because of how amazing you all are, how hardworking you are, all the things you are doing to keep the promises that you made to LeBron. We're here because of that.
We're here because we know you guys have big dreams -- I hope you do. I hope you are sitting in those chairs thinking about all the things you're going to do in your life -- whether it's being a doctor or a teacher, maybe you're going to design a video game -- I think that's what one of your sons may want to do. Maybe you want to be the president of your school -- maybe you want to be the President of the United States of America. (Applause.) Maybe that's what you want to do.
So while you might be excited to see me and LeBron and be here at this wonderful university, let me tell you, we are more excited to see all of you. LeBron might be your hero, but you all should know that you all are our heroes. You all are our heroes. (Applause.) That's why LeBron is investing so much into all of you.
Because me and LeBron, we were kids just like you. He grew up here; I grew up on the South Side of Chicago. And we didn't come from places where families had a lot of money and a lot of resources. We know how amazing you all are and the things that you can do with your lives. Because we're standing here, and if we can be here, we know you can too.
So LeBron is supporting all kinds of special programs and events for you guys, and that's just amazing. Most of all, as you all know, that this man has promised to pay for every single one of you to go to college here at the University of Akron. (Applause.) Man, do you know what a blessing that is? Wow. What I wouldn't have given to be in your place at your age -- where my parents would know that if I did the right thing and succeeded in school, and gave back to my community, that there would be an opportunity for me to complete my education, paid for, done. Wow. That is a blessing.
LeBron is investing so much in you guys because he knows that you're worth it. He knows you're worth it. I know you're worth it. And today, I want you all to know just one more thing: there are thousands of other people just like me and LeBron and your parents and your grandparents and your mentors -– people who believe in you strongly and want you to give everything you have to succeed in life.
And that's one of the reasons why we started this new campaign that you saw, this whole Better Make Room campaign -- we launched it on Monday -- because we want to make room for and your stories.
So instead of everybody always talking about folks like me and LeBron and the next reality TV show, we want them to talk about kids like you. (Applause.) You all are the stars. We want to shine a big, bright light on how hard you are working and how much you're achieving.
So as part of Better Make Room, we want you guys, everybody in this room to go to BetterMakeRoom.org. You can get on Vine, Twitter or Instagram using the hashtag #BetterMakeRoom. And here's what we want you to do: We want you to share your stories. Talk about your goals for yourself -- your goals to go to college, the things you want to do in life. And we want young people to start sharing those kinds of stories and dreams with each other.
Imagine you talking about this with kids like you all over the country -- maybe even all over the world. That's what we want to have happen. And you might even see your story up on a billboard in Akron, or maybe you'll see it on the White House Instagram account, maybe on LeBron's Twitter feed. You might even get an invitation to come see me at the White House. (Applause.) How about that, LeBron? What about all these kids just coming to the White House for a little visit? (Applause.) What about that? Who knows?
And through Better Make Room, we're going to be doing everything we can to help kids like you achieve the college goals that you've shared. We're going to be giving you information about the tests you have to take, the forms you need to fill out, the deadlines you need to meet -- and so much more.
So LeBron and I and so many other people, we want you to know that we've got your back. But we know that you have to want it more than we want it for you. You realize that? No one can want this more than you want it for yourself. The truth is, in the end, this is really on all of you kids. And that was something I had to confront when I was your age. It was about the choices and the decisions I was going to make in my life to reach my goals.
So it is about you and your friends -- do you want to leave here ready to achieve? It's about whether you want to honor all the promises that you're making to Mr. LeBron to finish your homework, to listen to your teachers, to try your best at everything, to be at school all the time, to raise your hand to ask questions, to ask for help when you need it, to never give up even when things get hard.
Don't let failure stop you. We have all failed in some huge, extraordinary way. The question is, how do you get up from those failures? It's on you at this point. You've got college paid for. So now the question is, are you going to do the work to get there? You're going to do the work to get there? (Applause.)
Well, just know this: We are waiting on the other side for you with open arms. Mr. LeBron is waiting. Your First Lady is waiting for you. Your President is waiting for you on the other side of success. (Applause.) We want to make sure that you can truly become whoever and whatever you want to be. You can do this.
And I also just want to let you know that we love you. I wouldn't be doing this if I didn't love every last one of you. Because you all are the future, and you all are capable of this. I want you to look at me and I want you to see yourselves. I was just like you. The only difference was that I knew how hard I needed to work to get what I wanted, and I wasn't afraid to do the work. And all you all have to do is believe that, and then work hard for it.
So sit in those chairs and start seeing yourselves in college. Picture that now. Picture yourself walking through this campus and sitting in these lecture halls. Imagine yourselves succeeding here, and walking across the stage and getting your college diploma. Start visioning that for yourself now. (Applause.)
Because you all have to get an education beyond high school. You have to. In order to compete in the world today, you have to get more than a high school education. And you can go to a four-year college, a two-year college, you can go to a professional training program -- but you have to do something.
And right now in these little seats, I want you all to start carving out your plans, right? Making your dreams come true. Because there is nothing that has to stop you, all right? (Applause.)
I love you guys so much. So I'm going to ask you all one more question: Are you going to make us proud? (Applause.) Even more important, are you going to make yourselves proud? (Applause.) That's good to hear. I will be watching. And I can't wait to see everything you guys are going to achieve in the years ahead.
And now, we're going to join LeBron in saying the promise together, okay? Are you guys ready for that? (Applause.) Okay, let's do it.
(The Akron I PROMISE is recited.)
Michelle Obama, Remarks by the First Lady at the Better Make Room Student Rally with LeBron James in Akron, Ohio Online by Gerhard Peters and John T. Woolley, The American Presidency Project https://www.presidency.ucsb.edu/node/321756