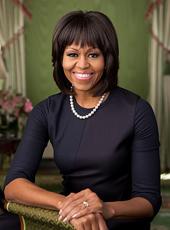 Remarks by the First Lady at the 2015 Special Olympics Opening Ceremonies in Los Angeles, California
MRS. OBAMA: Hello, everyone! (Applause.) I want to start by thanking Tim for that hug, for his words of encouragement, and for that wonderful introduction. Let's give Tim a round of applause. So proud of him. (Applause.)
Tonight, we've heard about the joy, the courage, the determination, and the acceptance that define these games and our Special Olympics athletes every single day. And I'm here to talk about one final theme -– one that wraps all those other ideas together, one that has always captured the spirit of these games –- and that is unity. (Applause.)
Now, over the past few years, my husband and I have seen Americans unite in so many ways across the country. We've seen folks coming together to give back to our military families. We've seen congregations rallying around families in need. We've seen communities rising above tragedies to heal the divisions that too often tear us apart.
And these games -- these games -- are a perfect reflection of that unity. They show us that we're all in this together -- that we can lift up our friends and neighbors, and that we can bring out the best in each other to reach even higher heights.
We see it in the athletes -- the amazing athletes -- who give it their all, who lend a hand when somebody falls, who high-five and hug every one of their competitors. We see it in the fans, in the families, the volunteers and coaches who are here to shower our athletes with love and support every step of the way. And we see it not just here in Los Angeles, but in the millions of people all around the world who are tuning in to cheer you all on. (Applause.)
And to all of our athletes, I just want you to know that all those people won't just be cheering for you, they're going to be learning from you. They're going to be inspired by you. And they'll be reminded that at our core, we all want the same things –- a sense of pride in who we are, and a belief that we can reach our dreams no matter what challenges we face.
That's what you all are doing here. That's your mission. You're bringing us together. You're filling us with so much hope. And you're uniting us in a way that nothing else can.
So I want you all to know that my husband and I, we are so proud of all of you, so incredibly proud of you. And we love you all from the bottom of our hearts. (Applause.) We love you so much. You fill us with so much joy. And we cannot wait to see all that you'll accomplish over these next few days, but, more importantly, in the years ahead.
And now, on behalf of my husband and an entire nation that is rooting for all of you, it is my great honor to say those magical words: Let the 2015 Special Olympics World Games begin! (Applause.)
Michelle Obama, Remarks by the First Lady at the 2015 Special Olympics Opening Ceremonies in Los Angeles, California Online by Gerhard Peters and John T. Woolley, The American Presidency Project https://www.presidency.ucsb.edu/node/321831