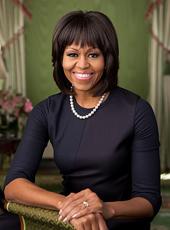 Remarks by the First Lady at a Soccer Event with Youth from a Township in Cape Town, South Africa
MRS. OBAMA: Well, Archbishop Tutu, I think you're a VSP, too. (Laughter.) But I'm not going to talk long, because we want to play, right? You guys are going to show us some soccer moves and, you know, maybe, I don't know -- are you ready to -- we might show you our moves. (Laughter.)
But I want to just make sure that we acknowledge all of the organizations who are responsible for supporting and educating and inspiring these young people, because in order to be a VSP, you've got to be, what, a VHP, a Very Healthy Person, right, which means you've got to have the knowledge and the internal wisdom to make sure you're taking care of yourself and that you're making good choices so that you're healthy and you grow up strong, because it's hard to have an impact if you're not in the best condition possible.
And the work that the organizations that all of you represent are -- the work that they're doing is helping to educate you to make sure that you are as healthy and vibrant and prepared to be the leaders that we know you can be.
And Archbishop Tutu has been playing such a significant role with the work that he has done through his foundation, around HIV/AIDS education, raising awareness, bringing the world's attention to how important it is to work on this issue here in this country.
But the solution lies with all of you, because if you all figure this out and you're able to talk about these issues and you're able to ask for help, and you're able to pass on good information to maybe even your parents and your friends and your community and those younger than you, that's how we fix this problem.
So that's another thing that young people can do. You all can stop the trend and start a new road to better information. Right?
But you can also have some fun doing it, which is what you all are doing. Soccer is the hook, right? Running around is the hook.
So let's do some running around, okay? Thank you all. Thank you for your work. So show us what you're going to do. What next? Where are we going? All right, let's go. Let's do it. (Applause.)
Michelle Obama, Remarks by the First Lady at a Soccer Event with Youth from a Township in Cape Town, South Africa Online by Gerhard Peters and John T. Woolley, The American Presidency Project https://www.presidency.ucsb.edu/node/320481