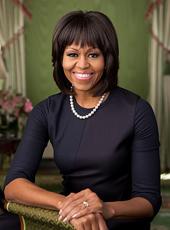 Remarks by the First Lady at a Nowruz Reception
MRS. OBAMA: Hello everyone! Nowruzetan Mobarak! (Applause.)
It is really, truly a pleasure to have you all here at the White House. I want to start by thanking Ashley for that wonderful introduction. Doesn't she make us all proud? (Applause.) Ashley represents everything we hope for our kids, and it's just an honor to have been introduced by such a smart, focused, beautiful young lady. So let's give Ashley a round of applause. (Applause.) We can do better than that! (Applause.) I know Ashley's family is here. I heard the Ashley shout-out. We can do that.
But I also want to thank and recognize someone special on my staff, Pantea Faed. (Applause.) Pantea is a part of the social office staff, and she has really put a lot of time and love and energy into making this event possible. I am so proud of Pantea. She has just grown here in the White House. And she is sharp and on top of things. She runs our lives -- (laughter) -- and she does it with grace. She even pushed her parents out of the greet so gracefully. (Laughter.) She just moved them out. But Pantea -- we want to give Pantea a round of applause, too, for doing a really great job. And I'm very proud of her. We all are proud of her here at the White House.
But most of all, I want to thank all of you. We've got leaders here from our businesses and our schools, government, entertainment community and more as we celebrate Nowruz.
And I think it's so fitting that we're holding this celebration here today because one of my favorite things about the White House is how it is truly the People's House –- a house that reflects the diversity of culture and traditions that make us who we are as a country. And Nowruz is one of those traditions.
For more than 3,000 years, families and communities in the Middle East, Asia, and all around the world, including here in the United States, have celebrated this holiday to mark the renewal of the earth in springtime -- and we're finally feeling spring! Yay for that! (Applause.) To reflect on the year before, and to make new commitments for good health, prosperity in the year ahead.
And just like in many of your homes, we have created our own White House Haft-Seen. As you all know, Haft-Seen essentially means "Seven S's," and each "S" represents a different hope for the New Year -- a hope for blessings like patience and love and sweetness. For example, we've got grass sprouts that represent rebirth and renewal of nature. We've got an apple for health and beauty. We have crushed berry spice that represents the sunrise and the spice of life. And after a long winter, we can use a little bit of all of that, right? Finally thawing out. You're ready for summer, aren't you? I can tell. (Laughter.)
And as for the food we'll be enjoying today, we know that this holiday centers on family and community, so we created a menu for you that reflects our White House family. The dishes in the State Dining Room are inspired by some of our staffers' old family recipes. And are there any family members here who contributed? Let's hear from you. Come on, don't be shy. Where are you? (Laughter.) They'll take credit for it later. (Laughter.)
But I also want to thank local chef Maziar Farivar, who is here cooking for us today, and I know his family is here as well, and our White House chefs working together for putting together such a delicious menu.
And finally, we're going to have some wonderful entertainment. We have the Silk Road Dance Company with us today. (Applause.) And Payam Yousefi is also -- (applause) -- that was a good one. I like that. (Laughter.) Is that the best one -- that's good. You can do it again -- Payam Yousefi. (Applause.) All right, that's going to be good. They're going to be performing some wonderful music and dances from all over the world.
So I hope that you guys will make yourselves at home. I hope that you feel at home. I hope you feel the welcome, the love, the spirit of this holiday. I hope you enjoy the food, the friendship, and just being at the White House. Isn't it cool? (Laughter and applause.) It's kind of cool.
AUDIENCE MEMBER: Join us!
MRS. OBAMA: I'm going to be around and about listening and -- (laughter) -- they keep me moving around here. (Laughter.)
But it is -- we're just delighted to have you here. And we hope you enjoy the celebration. Enjoy the house, enjoy the weather. And Happy Nowruz. Thank you all. (Applause.)
Michelle Obama, Remarks by the First Lady at a Nowruz Reception Online by Gerhard Peters and John T. Woolley, The American Presidency Project https://www.presidency.ucsb.edu/node/321818