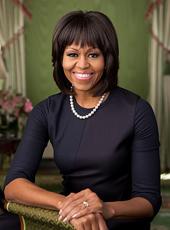 Remarks by the First Lady at a "Let's Move!" Student Briefing at Maple Avenue Elementary School in Newark, New Jersey
MRS. OBAMA: Well, this is exciting because one of the important components of "Let's Move" -- we started this huge campaign to combat childhood obesity. Our goal was to eliminate it in a generation so that kids born today grow up with better habits, better ideas for how to keep themselves going. And we really enlisted the support of everyone.
And our visit here to Newark today kind of symbolizes how "Let's Move" is coming together because we've Mayor Booker here who has really taken the lead here in Newark that is dealing with this issue. And he's pulled in everyone -- the superintendents, the police officers, the local community, parents. And Newark is a shining example of how cities can really take the lead and make this issue key.
But it takes all of us. It takes parents, it takes teachers, it takes school cafeteria workers. But more importantly, it takes the energy and ideas of young people.
And that's another reason why today is so special and why this conversation is so special, because you guys, all of you sitting around, are leaders in your own communities and in your own schools, really demonstrating how with some very small, modest ideas and a little leadership, you can make changes right where you live. And we're going to hear from you guys.
So we're going to stop talking. Robert kind of got things kicked off to give us an example of some of the things he's doing, but I know each of you have some ideas that you want to share.
And so I'll turn it back over to Mayor Booker, and we'll hear from each of you, but I want to thank you all for your energy. I want to thank Mayor Booker. I want to thank Principal Washington of Maple Avenue School who is here. This is the school where we're in. Principal, thank you so much. You guys are doing some phenomenal things here, and we're just grateful to the students, staff and parents here for allowing us to be here, but also leading the way. So thank you so much. We're very proud of you all.
PRINCIPAL WASHINGTON: Thank you.
MRS. OBAMA: All right.
Michelle Obama, Remarks by the First Lady at a "Let's Move!" Student Briefing at Maple Avenue Elementary School in Newark, New Jersey Online by Gerhard Peters and John T. Woolley, The American Presidency Project https://www.presidency.ucsb.edu/node/320632