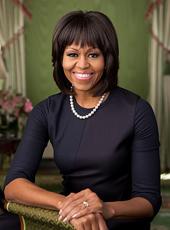 Remarks by the First Lady at a "Let's Move!" Baseball Clinic with Major League Baseball at Camden Yards in Baltimore, Maryland
MRS. OBAMA: Oh, man, those were cool. Pretty cool. That's my first, like, major PSA. What do you think, kids? Good? Two thumbs up? Would you listen? Yes, I thought so. Okay. (Laughter.)
Well, good afternoon, everybody. And thank you, Tim, thank you for that introduction. Thank you for all your support. I want to join the thank yous to the entire Baltimore Orioles organization; to Pete Angelos and his family for hosting us today.
This is certainly a beautiful park. Kids, don't you think this is cool? (Applause.) You're sitting in the middle of a ballpark! Okay. (Laughter.)
I also want to thank the Tampa Bay Rays and owner Stuart Sternberg and his family for their support. Also thanks to Tony Clark and the entire MLB Players Association and all 30 players who agreed to be part of the public service advertising campaign. So that's -- it just means so much to these kids to see you guys joining in this. Your voice means so much more to them than anything we could say, and we're just proud to have you on board. So thank you so much.
I also want to thank the First Lady of Maryland, Katie O'Malley. Also, Baltimore's mayor, Mayor Rawlings-Blake, thank you so much for being here today. Thank you for your support. Thank you for making this city a strong one and letting us launch this in your city. We really appreciate it.
And I want to thank Commissioner Selig and his wife Sue and their family for being here. As Sue said, they sent the women to do the job today. I think we're handling it, right, Sue? (Laughter.)
And last but not least, to you guys, the kids, all the Major League Baseball RBI program participants and all those supporters from the Boys and Girls Clubs all around the country who've helped millions of kids lead happier, healthier lives because, kids, I know you're hot out there, I know there are cameras, but we're here because of you. Truly, this is all about you. Everything we're doing is about you kids sitting here, and it's important for you to know that.
The truth is that lots of kids just aren't getting enough healthy foods and they're not getting enough exercise. And that's going to make it hard for them to pay attention in class, it's going to make it hard for them to keep up with their friends on the playground, and it's going to make it difficult for young kids to grow up to be the kind of strong athletes that we see here.
So we needed to do something about it. So when I became First Lady, we started planting a garden and doing some things around healthy eating, but it led to the launch of a broader conversation, a campaign called "Let's Move!" And "Let's Move!" has a simple goal: We're trying to end childhood obesity in a generation so that kids born today grow up healthier and able to pursue their dreams.
We're doing a lot of things. We're trying to get parents and teachers and mayors and governors and athletes and doctors. We need everyone involved in this effort on behalf of our kids.
The campaign is going to do four things. First, we're helping parents to make better choices -- we're trying to get companies to provide healthier foods for you guys to eat. The second thing, we're trying to help schools like yours offer healthier meals so that you get good food at school. The third thing, we're making sure that all families can get healthy, affordable food in the communities where they live. One of the biggest problems in this country is that lots of children live in neighborhoods that don't have a supermarket at all, not a single supermarket. That means that healthy fruits and vegetables are harder to find, and we're trying to change that.
And number four, which is why we're here today, is that we're trying to get you kids moving! (Applause.) The whole campaign is about "Let's Move!" because the truth is, guys, you are supposed to be getting at least 60 minutes of active play every single day. Are you guys doing that right now? How many kids are getting 60 minutes, a whole hour, every day just to play? Let me see some hands. (Laughter.) All right, we got these two. I know I'm getting mine in.
But that's what led athletes to be the great players that they are today, because they never stop moving. If you talk to your mothers -- right, you guys? You never stop moving. Never. And that's what you guys need to do, and that's why we're here. We've got to get you kids focused and moving, and we've got organizations all across the country ready to help.
At first, when these players were kids, they found a sport that they loved. And they practiced and practiced and practiced until they were better at it than anybody else. So we want you guys to do the same thing.
So that's why we're here. I know you guys are hot. But we're going to get you guys moving today. And one of the things we want you to think about doing -- this is a challenge that I have from the President of the United States -- are you ready? He's going to give out some awards, an Active Life Award, for kids who are committed to doing activity every day of the week, or at least five days a week, okay? And if you can commit to doing that and get your parents involved and your schools involved, you'll get one of those awards. Maybe you'll get to come to the White House. But you have to commit to do that. Do you think you're ready to compete?
CHILDREN: Yes!
MRS. OBAMA: This could be the start of it. Are you ready to be healthier?
CHILDREN: Yes!
MRS. OBAMA: Are you ready to eat more vegetables?
CHILDREN: Yes!
MRS. OBAMA: Are you ready to drink more water?
CHILDREN: Yes!
MRS. OBAMA: Are you ready to jump up and down?
CHILDREN: Yes!
MRS. OBAMA: Throw some balls?
CHILDREN: Yes!
MRS. OBAMA: Sweat?
CHILDREN: Yes!
MRS. OBAMA: Scream?
CHILDREN: Yes!
MRS. OBAMA: All right, let's do it, let's move! Thank you guys. I'm going to get out there with you. I got my shoes on. All right, let's get going. (Applause.)
Michelle Obama, Remarks by the First Lady at a "Let's Move!" Baseball Clinic with Major League Baseball at Camden Yards in Baltimore, Maryland Online by Gerhard Peters and John T. Woolley, The American Presidency Project https://www.presidency.ucsb.edu/node/320636