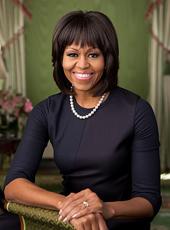 Remarks by the First Lady at a "Let's Move!" Active Schools Announcement at Orr Elementary School
MRS. OBAMA: Thank you, Shaq. That was very cool. Shaq's here! Shaq's here in your school. I know the first thing you're going to do when you go home is you're going to tell everybody, Shaq was at my school -- and the First Lady. I'm here too.
So Shaq and I wanted to make sure we got in touch with all of you guys. We're going to have some time with a few of you in the gymnasium, but we wanted to say hello to the entire school. We are so excited to be here today with Shaq at Orr Elementary School because we're so proud of everything you all are doing to eat healthy and to be active.
And I just want you all to keep up the good work, because it's important for you to remember that you guys really just have one job at this stage of your life, and that is to do your very best every single day while you're here at school. That's your only job, is to do school well.
That means you've got to pay attention in class. You've got to do your homework every night. And running around and moving your bodies every day is a must. Eating all the good, healthy breakfasts and lunches that they serve here at school -- that's part of your job.
So, as Shaq said, Shaq didn't get to be a big, tall all-star by eating just junk food. He probably, like me, has junk food every now and then, but we had to eat our vegetables and we also had to focus in school.
So if you guys do that, then I know you're going to grow up healthy and strong so that you can be whatever you want to be in life. And that's really what we want for you.
We are so proud of you. We love you. And I can't wait to see what you all achieve.
Dream big. Take care. Bye-bye.
Michelle Obama, Remarks by the First Lady at a "Let's Move!" Active Schools Announcement at Orr Elementary School Online by Gerhard Peters and John T. Woolley, The American Presidency Project https://www.presidency.ucsb.edu/node/320170