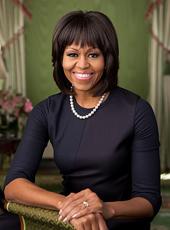 Remarks by the First Lady at Joint Base Langley-Eustis, Virginia
Hey, everyone! (Applause.) This is really cool. I'm very thrilled, very honored to be here. Number one, I never get to do anything with my husband. (Laughter.) I haven't seen him in three days. This is a nice date! It's good to see you. You're looking good. (Laughter and applause.)
And you all are looking good as well. We are just proud to be here -- proud of you all.
First of all, let me thank Melissa for her service and for that wonderful introduction and for everything that she has done, along with her family, for this country.
Truly one of my greatest pleasures as First Lady has been meeting folks like Melissa and all of you here today, hearing your stories, truly seeing your strength. And I can't tell you how much you inspire me, and all of us. It's just something to watch. You've inspired me not just to sit back in awe but to move forward in action.
And all of you are the reason why Dr. Jill Biden and I started our Joining Forces initiative. We want to rally this entire nation around our veterans and military families because we know just how incredible all of you are. Truly. Yes. (Applause.)
We want America to know that your veterans who have completed missions with enough variables involved to make most people's head spin -- that you're trained in state-of-the-art technologies; that you've managed dozens -- if not hundreds -- of your peers. And when the stakes are the highest, that's when you're at your best.
And your spouses, your families, are just as amazing. And I have met them -- (applause.) Yes, for the military spouses. (Applause.) Military spouses pack in a full day of work; many of them then get back to get the kids to piano lessons; they volunteer at fundraisers; Skyping with loved ones who are deployed overseas; whip up dinner; put the kids into bed, and then crack open the textbooks to study at night.
That's an average day. To a military spouse, that's just Wednesday. (Laughter.) So I'm just exhausted thinking about them. But so very proud, so very proud. For most folks, that's the kind of day that leaves us sprawled out on the couch, too exhausted to move. But that's not a big thing for our military spouses.
So, for all of you troops, veterans, and military spouses here today, we're proud of you, and we want people to know that you have so many skills that are just second nature to all of you -- things like time management, organization, people skills, complex decision-making, and so many other incredible skills.
And that is really the reason why we're here today -- because those are precisely the skills that we need in workplaces across America. But the truth is that sometimes employers may not always know about all that you have to offer. They might have trouble understanding a military resume. Or they might see a spouse who's lived in five cities in seven years as a red flag rather than a reality of military life.
But today, I am proud to announce that the American Logistics Association has said they're going to step up and do something about that. So today they're committing to hiring 25,000 veterans and military spouses in the next two years. (Applause.) They do not want to miss out on your potential. They want America's businesses to have the best, most talented, most hardworking employees around.
Now, this announcement is a huge deal -- which is why the President is here. It's huge enough for you to even be involved. (Laughter.) This commitment includes 270 companies of all shapes and sizes, which makes this the largest coordinated effort by the private sector to hire veterans that we've seen in years. (Applause.) And this commitment puts us a quarter of the way toward reaching the President's challenge to the private sector to hire or train 100,000 vets and military spouses by the end of 2013. (Applause.)
The businesses making this pledge include name brands like Proctor and Gamble, Tyson Foods, Hewlett-Packard -- but also smaller companies like Prime Team Services, which is planning to hire hundreds of military spouses and veterans next year alone.
And today's announcement really builds on the efforts of businesses and organizations already underway all across this country. Siemens has hired hundreds of veterans already this year. Sears is increasing the number of veterans and military spouses in their workforce by 10 percent. We just made that announcement this week. The Chamber of Commerce has hosted job fairs for veterans in cities across the country.
And then companies like Kmart and Sam's Club have promised us that if a military spouse who works at their stores has to move to a new duty station, they will do their very best to have a job waiting for them when they arrive. (Applause.)
So these are bold commitments. And these are companies that are making these pledges not just because it's the right thing to do or because it feels patriotic. They're also doing it because it's good for their bottom line. It's good for business. Because they know that veterans and military spouses, like all of you here today, represent the best our country has to offer, and they want you on their team.
And really that's what Joining Forces is all about. It's really about tapping into all of that goodwill that's already out there all across this country in every sector of society. And it's important for you all to know that, because I know sometimes it feels like a struggle, like sometimes we don't know as a nation what you sacrifice, what your families have sacrificed. But know that people are stepping up. They're doing it every day, and they're doing it with pride and with pleasure. And channeling all of that energy into making a real difference in the lives of our veterans and military families is really what we want to do for you. And truly, it is a win-win for everyone.
The motto of Joining Forces is very simple: Everyone can do something -- everyone can do something -- to honor and support the brave men and women who have served us all so well.
In fact, that's what the man I'm about to introduce -- this guy here -- (laughter) -- that's really what he does every day. During his presidency, he's directed the federal government to help with childcare in military families, to address veterans' homelessness, to step up on mental health issues, and to provide unprecedented support to our military families.
So now, it is my pleasure to introduce a man who is fighting for you every single day -- yes, get the cameras ready. (Laughter and applause.) It is your Commander-in-Chief -- and my husband -- the President of the United States, Barack Obama. (Applause.)
Michelle Obama, Remarks by the First Lady at Joint Base Langley-Eustis, Virginia Online by Gerhard Peters and John T. Woolley, The American Presidency Project https://www.presidency.ucsb.edu/node/320683