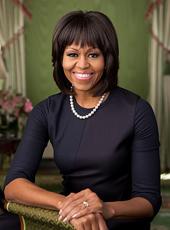 Remarks by the First Lady at Joint Base Anacostia-Bolling
MRS. OBAMA: Oh, my goodness! (Applause.) How is everybody doing? (Applause.) Wait, wait, wait -- how are you all doing? (Applause.) Really? (Applause.) Are we excited? Are we ready to have some fun?
CHILDREN: Yeah!
MRS. OBAMA: Oh, see, I like this group over here. They seem really excited. Can I get a little more excitement down there? Are we ready to sort some toys? (Applause.) Yes, this is what I want to hear!
It is beyond a pleasure for me to be here today, but before we get started I want to thank a few people, okay? Is that okay with you if I take a little time and thank some folks?
I want to start by thanking Lieutenant General Pete Osman, who you just heard for -- not just for that kind introduction, but this man has been a leader. He's been someone I consider a friend. It has been a privilege to work with him for the past eight years, not just on Toys for Tots, but on so many different issues. He is a role model to me, and I treasure his friendship. And I hope there's more work that we can do together in the years to come. So let's thank General Osman. (Applause.)
And I also want to thank Sergeant Major of the Marine Corps, Ronny Green; your base Commander, Captain Frank Mays; and all my good folks from the White House Communications Agency. Let's hear it for my WHCA folks and your families. (Applause.) We are so grateful for your outstanding service.
And I also want to thank Lieutenant Colonel Shane Donahue; Master Sergeant David Pizana, who has actually done all the leadership work on this drive. He has done amazing work, and I know he doesn't do it alone. He has a great team, so I am grateful to all of you for helping to run the Toys for Tots drive here in the D.C. area.
And especially on what is the 75th anniversary of Pearl Harbor, when we acknowledge the sacrifice of so many, I want to say a very special thank you to our servicemembers who are here today. I understand that we have everybody here. We've got Air Force. (Applause.) We have Navy. (Applause.) All right, don't embarrass yourselves, folks. (Laughter.) We've got Army. (Applause.) We have Coast Guard. (Applause.) They're always a little small, small and mighty. (Laughter.) And of course, we have our Marines. (Applause.) There we go, that's what I like to hear. And we have your extraordinary families from Joint Base Anacostia-Bolling. (Applause.)
But I just want to hear -- I know that we have some military kids here, right? Where are our military kids? (Applause.) You guys are pretty mighty. We also have some other students here from the Al Fatih Academy. Where are you guys? Let's hear it! (Applause.) But we are thrilled to have you here today.
And we have some special guests. Since this is my last official Toys for Tots drive as First Lady, we thought we wanted to make it a little more exciting, so we brought some good friends with us today. We have -- and let me know if you've heard of these people -- we have Doc McStuffins. (Applause.) Doc and I, I don't know if you know it, but we've done some film work together at the White House. We are good friends and good stars together, so Doc decided to join us today to meet all of you and to help us celebrate.
We also have some of the amazing stars of Disney Channel's "Descendants 2" and "Bizaardvark." We have Sofia, Cameron, Madison, and Olivia. (Applause.) They're going to be helping you guys sort the toys. We also have hosts from Radio Disney -– we've got Alex and Betsy. Oh, there they go. (Applause.) They're here! So they're going to help you guys, because you guys are going to help us sort -- they're going to help you sort, okay? So they're our Santa's helpers today. Don't they look good? And they're very smart, and they work very hard. Way to go.
And we are all here today to support the wonderful work that Toys for Tots has been doing year after year to make the holidays so much brighter for kids across this country. In fact, since Toys for Tots first started, they have sent more than 512 million toys to over 237 million children in all 50 states, D.C., Puerto Rico, Guam, and the Virgin Islands. That's pretty cool. (Applause.)
And these folks work hard to get it done. This is not an easy task. They work for hours, sometimes in the cold and the wind and the snow and the rain, collecting these toys. And they spend weekends sorting the toys, shipping them to kids all over the country -- kids just like you all.
And in the end, that's really what the holidays are all about. And I want to say this not just to the families here, but to the families who are watching. We have to remember that it's not just about the presents -- even though we're here to talk about toys for kids who don't have them -- but it's about the spirit of service -- the belief that in this country, we should look out for each other. And if someone, anyone in this country -- our neighbor, our classmates, our friends, people we don't even know -- if they hit on hard times, kids, it's up to us to be there for them, right, to help them, to reach out.
Because the truth is, is that no matter what anybody says, we are all in this country together. And I don't want you to let anybody else make you think anything different. You all all belong here. That is true. (Applause.) And that's true not just during the holidays, but every single day of the year. And that's what I've seen all across the country these past eight years as First Lady.
I have seen it, first and foremost, in our military families -– in brave men and women who serve around the world, and they keep us safe. In the military spouses who work so hard to keep their families strong and together while their loved ones are serving. And of course, I have seen it every day in our amazing military kids, many of them just like you. I am so awed watching you young people step up when your mom and dad are doing some hard stuff. You step up at home and you take on extra chores. You keep an eye on your little brothers and sisters, even if they get on your nerves. That was a joke. (Laughter.) You're supposed to love your little brothers and sisters, even when they get on your nerves.
I know you guys have to make new friends and get good grades in each new school that you have to attend, because military kids often attend 10, 12 different schools over the course of their educational lives. And you and your friends are from every possible background -- I want you to remember that -- from every race, every religion. And many of your families come here from all over the world.
That's what our military represents. It represents the true spirit of diversity in this country. So you all know that whether you attend classes at your local elementary school, or at Al Fatih; whether you celebrate Christmas or Eid; whether you go to a mosque on Fridays or synagogue on Sundays or church -- or synagogue on Saturday, church on Sundays -- we have to remember, especially our kids, we all love our country. We are all Americans. And as I said before, we all belong here, every single one of us.
And that's something that we can all celebrate during this holiday season. It's something that we have to remember every day: How we are so beautifully diverse, but we have so much in common –- our love for our families, our pride in our country, our commitment to helping each other in times of need -- particularly in times of need.
And I hope that everyone watching at home today takes that message to heart and considers giving back through programs like this one, like Toys for Tots, over the next few weeks before the holidays really kick in. It's not too late to pitch in. Folks can still go to the Toys for Tots website and give online, or you can go to the nearest drop-off station. That's what we did at the White House. We've done it for eight years. For eight years our staff has stepped up. And we came here today with cars filled with toys to contribute.
So on behalf of myself and the President and my family, I just want to thank you all for the privilege to serve, and thank everyone at Toys for Tots for everything you're doing. And we wish you all a wonderful holiday season, a Merry Christmas, and a happy and healthy New Year.
All right, let's get to work, you guys. Let's sort some toys, okay? (Applause.)
Michelle Obama, Remarks by the First Lady at Joint Base Anacostia-Bolling Online by Gerhard Peters and John T. Woolley, The American Presidency Project https://www.presidency.ucsb.edu/node/320878