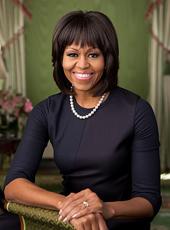 Remarks by the First Lady at a Joining Forces Initiative Veterans Employment Event
MRS. OBAMA: Thanks so much. (Applause.) Thank you all. Well, let me start by thanking the President of the United States for that nice introduction. (Laughter.) It's always nice to get a good introduction from the President, and from your husband. But I want to thank you and Joe, because truly, we could not issue these challenges without leadership from the top. And that's something that Jill and I always say, is that we're out there on the front lines pushing this initiative, but the only way we get this done is because we've got strong leadership in our President and our Vice President.
And, of course, to Jill, who is not just an extraordinary partner but a wonderful friend in this endeavor, not just working with our military families but in this interesting life that our husbands have gotten us into. (Laughter.) Jill is a true champion, and she's taught me a lot about what it means to serve, what it means to be part of the military community. And I couldn't be more grateful.
I also want to recognize all of the leaders from the administration, from the military and throughout the country, especially the veterans and military spouses who are here with us today. Thank you all for your commitment and your service to this nation.
And finally, I want to take a moment to say a special thank you to someone who didn't know I was going to thank him, but who has been a cornerstone of this effort throughout this year in a difficult time -- when we've been in transition -- these two were running for something -- (laughter) -- but we couldn't have kept this effort going without Captain Todd Veazie. (Applause.) And, believe it or not, today is Todd's last day as our Joining Forces executive director. That's another miracle -- the fact that we get so much done with sporadic support like Todd's.
And I want to make that point, because it's not just Jill and I, but Todd and a small team of others really keeps this going. And this year has been a success because of you, so we decided as a reward, we would have you, as your last hurrah, to plan an event with every single one of your bosses -- (laughter) -- because we knew you could pull it off, because that's what Navy SEALs do, right?
But in Todd, we saw his skill, determination on display every single day. And I'm just so proud. We'll miss you here with Joining Forces. So Todd and I just wanted to say thank you -- or, Barack and I wanted to say thank you. (Laughter.) You. You, too. (Laughter.) At least I caught that one. (Laughter.) But we are grateful and impressed by your talent, integrity, and the incredible work ethic that you've shown to make this possible. Todd! (Applause.) Very bashful. We kept that out of the remarks so that you wouldn't know that it was there.
But really, the same thing can be said -- all those wonderful traits in Todd -- can be said of all the servicemembers and military spouses we have had the honor of meeting over these past four years. These men and women are some of the most talented, accomplished, dedicated people you will ever meet.
And that's why, two years ago, when the four of us came together to launch Joining Forces right here in this very room, our goal was to create an initiative that was worthy of their character and their service. We challenged every segment of our society to stand up and take action and make a real commitment to support and serve our military families. And since then, this nation has truly joined forces in so many amazing ways.
We have seen doctors and nurses take bold new steps to care for the families affected by PTSD and traumatic brain injuries. We've seen colleges sign up to train teachers to be more responsive to the needs of our military children in their classrooms. We've seen community groups and houses of worship and citizens from every walk of life show their appreciation for our military families, not just with words but with deeds.
And today, we are here to recognize the tremendous efforts of businesses all across the country. Together, we have been partnering to do everything in our power to help our veterans and military families find the jobs they need and deserve.
These efforts are about so much more than a paycheck. This is about giving these men and women a source of identity and purpose. It's about providing thousands of families with financial security, and giving our veterans and military spouses the confidence that they can provide a better future for their children.
So as we reflect on our accomplishments to date and challenge ourselves to do more, it's important to remember what's at stake with all this. It's important to remind ourselves every single day what this employment effort is really all about.
And that's exactly what we did two years ago when the President issued this challenge. Because every time we looked at those veterans' unemployment numbers, every time we heard another story about someone who had taken incoming fire on a combat patrol but couldn't get an HR rep to take their calls, every time we talked to a military spouse who had been transferred far too many times to build a decent career, we became even more determined to make this right.
So with that challenge, we all snapped into action. And since then, it seems like every week -- quite frankly, every day -- someone new gets involved in this effort. There hasn't been a "no" from anyone. And today, I am thrilled to announce that in less than two years, America's businesses have hired or trained 290,000 veterans and military spouses -- (applause) -- which is almost triple the original goal with eight months to spare.
And we are also proud to announce that American companies have committed to hire or train another 435,000 of these men and women over the next five years. (Applause.) And we are so grateful to all of the business leaders here today who are a part of this effort.
These commitments come from companies of every shape and size. BNSF Railroad is hiring 5,000 veterans in the next 5 years. UPS, hiring 25,000. Home Depot, 55,000. McDonald's is hiring 100,000 in the next three years. Deloitte is doubling its veterans hiring over the next three years.
USAA is pledging that 30 percent of its new hires will be veterans or military spouses. Walmart is telling any veteran who has served honorably that if they want a job in the year after they separate from service, Walmart is going to hire them. And their goal is to do it within 30 days of the veteran's application.
The Blackstone Group has challenged each of its 50,000 hiring managers at affiliated businesses to hire at least one more veteran. AT&T is creating an online, military exchange for a group of businesses so that if one company can't hire a veteran at that moment, they can connect them to someone who can.
The International Franchise Association has helped more than 4,300 veterans own their own businesses since 2011. And right now as we speak, the U.S. Chamber of Commerce is holding its 400th career fair since last March, fulfilling a commitment that it made to us a year ago.
So we are thrilled with all the new, innovative ideas and we're in awe of the meaningful employment commitments. But ultimately, these companies aren't just committing to a number –- they're committing people, people like David. Right here in this room, there are so many stories like his. So I'd like to take just a moment to tell a few of these stories. And as I call your name, I want you to stand and remain standing.
Staff Sergeant Shaun Murphy, please stand. Shaun is an eight-year Army veteran who transitioned to become a sixth-grade special-ed teacher in Delaware for three years. (Applause.) A little shout-out to Delaware. He's working for Teach For America, and today, he has been promoted to lead Teach For America's nationwide effort to hire more veterans as teachers -- yes, indeed. He's doing it all because, as he said, "When you hang up those fatigues and put those boots away, you don't want to feel like you've given up your sense of service."
And then there's Staff Sergeant Courtney Beard. (Applause.) Courtney has served in the New Jersey Air National Guard for six years, including a deployment in Iraq. But when she's not serving on active duty, she's putting her skills as an intelligence analyst to use at Cisco as a network consulting engineer -- small, but tough. (Laughter.) And really smart. Thank you. (Applause.)
And then there's Chryssy Johnson, who is on stage with us. Chryssy is a mother and an Army wife from San Antonio. Her family has been transferred three different times over nine years, leaving Chryssy scrambling for jobs at restaurants or call centers or beauty counters. But USAA gave her a shot to build a career, and today, she is a financial -- a senior financial foundations specialist on her way to earning her MBA. Yes. (Applause.)
And then there's Sergeant Erick Varela. Erick served in combat infantry for the 82nd Airborne Division, and was deployed two times to the Middle East. But when he came home to California in the middle of the housing crisis, Erick couldn't find a job. And soon, he and his wife found themselves homeless.
But fortunately, Erick was accepted in an electrical apprenticeship program in San Francisco. And even though he and his wife were living out of his pickup truck at that time, Erick was able to pinch enough pennies to buy enough gas to drive to and from that class and finish that program. And today, he's employed full-time at PG&E, even taking on leadership roles within his crew. And now, Erick is hoping to buy a home for their growing family. And we are so proud. (Applause.)
These veterans and military families are talented, resilient, disciplined, and they are ready to do the job no matter what it takes. And these characteristics connect every single veteran and military spouse in this room. So I'd like to ask all of our veterans and military spouses here today to please stand if they are able so we can give you all a round of applause. (Applause.) Thank you all so much.
Stories like these are not just in this room, but they're all around us. Across America and around the world, our men and women in uniform and their families are standing up for us. They're standing up for our values, our security, our communities. And in so many ways, all they're looking for is another way to serve. All they need is that next mission. All they need is a job.
So, to every business leader in this room and throughout the country, I just want you to remember these stories every single day. Think about all of the skills these men and women possess, all the people they've led, all the risks they've taken and sacrifices they've endured for us. And then I want you to ask yourselves, what more can you do for these men and women -- what more can you do?
If you own a small business, can you commit to hiring a few veterans, maybe even just one? If you own a larger company, can you hire a few hundred, maybe a few thousand? Can you retain the veterans already in your workforce so that they are able to grow within your company? Can you team up with other businesses to hire more veterans all across this country?
And again, I just want to reiterate that my husband and I, we're in this with you. Jill and Joe, we're in this with you. We're going to keep working to do what we can to develop new programs and partnerships at the federal level that can help you all put these men and women to work even faster. Because while we're proud of how far we've come, we know that today is not the finish line. Today is simply just a mile marker, and we're not going to stop until every single veteran or military spouse that is searching for a job has found one.
These men and women have stood up for us again and again and again. So now the question is, will we do the same for them? And everything that we have seen in these past two years gives me confidence that the answer is absolutely yes. You live in a grateful nation, and people will stand up.
So to all the business leaders, I just want to say thank you all. Thank you for getting us this far. And to the veterans and military families here in this room and around the country, thank you, again. We can't thank you enough for your courage and your service. We will stand with you now and for decades to come.
Thank you all. God bless.
Michelle Obama, Remarks by the First Lady at a Joining Forces Initiative Veterans Employment Event Online by Gerhard Peters and John T. Woolley, The American Presidency Project https://www.presidency.ucsb.edu/node/320690