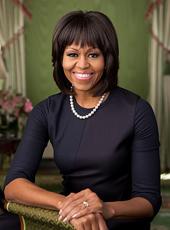 Remarks by the First Lady at a Joining Forces Caregivers Event
MRS. OBAMA: Thank you, everyone. (Applause.) Thanks so much. Good morning. Let me start by thanking Melissa for sharing her story with us and for all that she does for her family and for our country every single day. I also want to recognize the leaders of our military who are here today, as well as everyone from MilitaryOneSource for their generosity in support of today's event.
And of course, I want to thank the wonderful women on stage with me today -- Senator Dole, Mrs. Carter, and my outstanding partner on Joining Forces, Dr. Jill Biden. These women have shown such tremendous leadership in this effort, and I am thrilled that we can all be together here today to mark the third anniversary of Joining Forces.
Today is just the first of a series of events throughout April that we will celebrate the many ways our country is stepping up to support our military families in areas like employment, education, community outreach. And I'm excited to kick this month off by honoring many of the folks who are here in our audience today –- our country's extraordinary military caregivers.
Now, when Jill and I started Joining Forces three years ago, we did it because of people like you. And I just want to take a moment, because when I look at you all and I see how emotional you are because you're here -- because the country is recognizing what you do, and I know that touches you so much. Because we know you have incredible strength. We know that you have sacrificed so much. And so much of what you do goes unnoticed -- we know that. And that's why it was so important for us to do this here at the White House. And to have the people on stage here is just a reflection of our respect and admiration for your sacrifice.
You all are some of the most unsung heroes in this country. And I know from firsthand experience. I have seen you all in action. As Melissa mentioned, back in September, I had a chance to meet with her and with four other military caregivers at the Intrepid Spirit One at Fort Belvoir in Virginia. And this center is one of our newest and most cutting-edge facilities. It's amazing. It's a place designed to help our wounded warriors and their families deal with the unseen wounds of war -- wounds like post-traumatic stress and traumatic brain injuries.
And when I met with these women, I was, first of all, instantly impressed by how incredibly poised and polished each and every one of them were. They were amazing. They were so smart, so incredibly articulate. They were exactly the kind of people that any company would want to hire and promote. That was my first impression. I was wowed by just how sharp they were.
And then I heard their stories, and I was just blown away. They were dealing with daily challenges that would knock most people to their knees -– everything from helping their spouses bathe to adjusting their new prosthetics to battling depression, anxiety, recurring panic attacks. One woman quit her job almost immediately after her husband was injured; others have gone through counseling with their loved ones just to handle these newfound family issues. And they all talked about how difficult it was to relate to their friends, even family members, who didn't quite get what they were going through.
I remember one woman shared how little those closest to us -- her understood what it was like when her husband spent extended time at a care facility. She told us how a coworker had said to her, "Oh, it must be like your husband is out of town for a while." (Laughter.) Another told me a story that has stayed with me to this day. She said that when her husband first came home, everything seemed fine. It was that joyous celebration that Senator Dole mentioned. But then days and weeks passed, and she began to notice small changes in his behavior -- how he had trouble remembering things, and simple tasks became increasingly more difficult. And their marriage began to suffer. And she said, slowly the husband she once knew just seemed to disappear. And she talked about the feelings of loneliness, despair, and isolation and fear.
But she also talked about the love and determination that kept her there by his side. She knew her family needed help, but that didn't mean that asking for it was easy. And according to the RAND study that Senator Dole commissioned, that's a common feeling among the more than 1 million caregivers of our newest generation of post-9/11 veterans.
Many of these caregivers don't have much of a support network for themselves, so they are dealing with these physical, logistical, and emotional responsibilities largely on their own. And that can take a serious toll on anyone. In fact, caregivers report more strains on their relationships at work and at home than non-caregivers. Often their own health suffers, and they are at higher risk for depression. And there are financial consequences, too. Military caregivers wind up missing as many as three or four days of work a month -- that's if they have a job or can keep a job. So that means lost income, as well.
So the burden that these women and men bear for our country is real. And they shouldn't have to shoulder all of that alone. And that's why I'm thrilled that we have such a broad coalition of leaders here today, because we're here to show these hidden heroes that we have got their backs.
Senator Dole told us about the many new commitments from our businesses and nonprofit organizations to connect caregivers with training programs and financial and legal resources, and to provide better workplace flexibility. And we couldn't be more thankful for Senator Dole and her foundation's leadership to make these commitments a reality. So, yes. (Laughter and applause.)
And today, I'm excited to talk about a commitment that I'm proud to say grew out of the encounter that I had with Melissa and those four other caregivers at the Intrepid center. See, that meeting was the first time that the staff at Fort Belvoir had convened a group like that. That was the first time. And for one of the women there, it was the first time that she'd ever spoken with another caregiver -- ever.
But immediately, we could all see how powerful it was for these women to be talking to their peers. And soon enough, they forgot that I was even in the room. (Laughter.) It was so good. I mean, they were immediately problem-solving, they were connecting with each other emotionally. They were solving each other's problems and directing each other to websites and resources that could help. It was phenomenal. And to the credit of the incredible doctors at the Intrepid center –- Dr. Heechin Chae and Commander David Weber -- they recognized the value of these peer-to-peer connections.
So they sprang into action right after that meeting. They told me that they would reach out to more caregivers and reconvene this group every week. And in the time since that meeting, another support group was formed as well, and between the two groups, membership has grown to almost 50 caregivers just at Fort Belvoir.
And today, I'm thrilled to announce that the Department of Defense is going to recreate that success story for all of our military caregivers. They're committing to form in-person peer forums like these at every military installation that serves wounded warriors and their caregivers around the world. They'll also be creating online tools and webinars so that caregivers who aren't able to attend an in-person forum can connect to their peers, as well.
And on top of that, the Tragedy Assistance Program for Survivors, the Elizabeth Dole Foundation, and many other organizations are committing to training 10,000 caregiving peer mentors –- a commitment that will reach 50,000 caregivers nationwide. And together, these commitments mean that tens of thousands of our brave caregivers will have the added support they need –- the support of a friend and mentor who understands what they're going through, someone who can help them manage everything that's going on in their lives.
So this is a big deal. And it's really just the tip of the iceberg. Because everything that we're talking about today –- from the peer forums to all of the new resources that Senator Dole mentioned -– all of that is a supplement to the tremendous caregiver support offered by the military and by the VA.
For example, four years ago, my husband signed the Caregivers and Veterans Omnibus Health Services Act, and through this law, thousands of caregivers have received travel reimbursements and financial stipends of up to about $2,300 a month. And thousands more have received comprehensive caregiver training; they've received access to insurance through the VA, and they've received mental health care and counseling for themselves. And through this law, caregivers are eligible for up to 30 days a year of respite care for themselves, which means they can maybe relax, maybe re-energize; maybe just find some time to clean the house, go grocery shopping. (Laughter.)
So we want to encourage all eligible caregivers to take advantage of these benefits and connect with a host of resources by visiting caregiver.VA.gov, or they can go to MilitaryOneSource.mil. Because one of the things we learned at this meeting is, when you're alone and isolated, often you don't even know what resources are there. And that is the frightening part of it -- that people aren't accessing these resources because they're alone. So we as a nation have to find folks out there who are struggling on their own and help them to connect.
And that's really what today is about. It's about connecting military families with the resources that are available to them, and rallying our country to do even more. And that's why I'm so grateful for the leadership shown by everyone here today. And I want us to take a moment to just look around this room.
We have got Republicans and Democrats, we've got leaders from business and labor and from the military -- and we're all coming together to show our military families how much we appreciate them. In fact, today reminds me of a moment from earlier this year when my husband shared the story of Sergeant First Class Cory Remsburg in his State of the Union Address.
I had the chance to sit next to Cory as the President told his incredible story –- how, as an Army Ranger, he had nearly been killed by a roadside bomb in Afghanistan, but fought back valiantly to speak again, to stand again, to walk again. And it was a moment that brought a divided Congress to its feet, and it inspired millions of Americans across the country.
But if you remember that moment, you might also remember the man standing next to Cory, holding his arm as he stood to wave to the gallery. That was Cory's caregiver -- his father, Craig. And Craig, along with his wife, Annie, have stood by Cory's side since the explosion. Annie, his mom, makes sure that Cory is taking the right medications. She cooks his meals. She helps with his morning and evening routines. Craig spends an hour or two every day managing Cory's legal and financial paperwork and answering his correspondence. Cory calls Craig his "secretary." (Laughter.)
But Craig will be the first to tell you that their family has never been alone on this journey. They have had a team by their side from the earliest days –- from the extended family members who rotated bed shifts in the hospital to the military doctors and nurses who provided unparalleled medical care. The support started flowing in almost immediately after the explosion, when an organization called the Ranger Lead the Way Fund bought airplane tickets so that more of Cory's family members could fly to the hospital in Germany.
Then there were the Fisher Houses, which gave Craig and his family warm meals and beds to sleep on for 15 straight months; and the nonprofit that paid to retrofit Craig's house with wider doors and accessible shower; and the military, which provides a caregiving stipend to help pay the bills. And most of all, Craig will tell you about the support and flexibility he's been granted from his employers, a company called Telgian, where Craig was an HR director -- is an HR director. And he'll tell you how, when his wife had to leave her job at Kelly Services because of her caregiving duties, the folks there told her to call them back when she was ready. And when she was ready, she called them back and they hired her back in a better position with even more flexibility than before.
So today, Cory continues to make progress. He's been renting his own place since last June. And in six months or so, Cory will be moving into a new house –- one purchased for him by the Ranger Lead the Way Fund and retrofitted by another charity.
So Cory's story is the model, because that's not true for everyone -- but it is the model. This is the kind of honor and support that every single one of our wounded warriors and their caregivers deserve. That's our ideal. That's our goal. And to achieve that goal, we've got to follow through on these commitments we're making here today.
And we've got to keep asking ourselves what more can we do? That's the question for everyone watching today. How can we reach the Cory Rembsurgs and the Craig Rembsurgs who live in our own communities? That's what Joining Forces is about. And that's why this month isn't just a celebration, but it's a call to action. It's a call to all of us as Americans to match the service of our veterans and caregivers with service of our own.
So, again, I want to thank all the leaders here today for stepping up to answer that call. And, again, to our caregivers, the men and women in this room, I want to thank you. I want to thank you for showing us what bravery and courage and sacrifice really means. And I want you all to know that we are not going to quit until we serve you as well as you've served us. That is our pledge to you -- that Joining Forces isn't about photo-ops or White House events; it's about making real, concrete changes that you can feel in your daily lives.
So we want you to keep working with us. Hold our feet to the fire. Let us know that you can feel all these things that we're doing. And give us feedback and criticize us, and poke at us. (Laughter.) Because it's going to take all of us working together to get you to a place where you feel that you live in a country that appreciates your service -- because you do. You do. Every time we ask, people step up. There is no one that has said no.
So we want you to help us to encourage other people that are working and living in the shadows to step out and ask for help; that it is not a place of shame, but it is a source of pride; and that if they reach out, there will be people who will be ready and waiting to help. But we need to know that they're out there. And that's where many of you come in -- being able to talk to your peers. Find the ones who are reluctant or who just don't know. So many of these caregivers are young themselves. They're babies, so they don't even know how to care for themselves. And that's where so many of you will be such a tremendous support.
So we want you all to stay strong. Remember this day, because this is not the exception -- it will be the rule. And no matter where we go or where we wind up in the next few years, I know Jill and I will continue to work on this issue just like these wonderful women leaders who hold up such a high bar. I wish you all would just slow down. (Laughter.) But we are pledging to keep working on this issue.
So I want to thank you again for all that you do for families across this country and for your families at home. God bless you all. And God bless the United States of America. Thank you all. (Applause.)
Michelle Obama, Remarks by the First Lady at a Joining Forces Caregivers Event Online by Gerhard Peters and John T. Woolley, The American Presidency Project https://www.presidency.ucsb.edu/node/320097