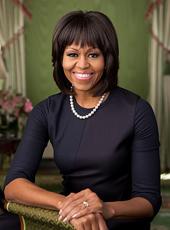 Remarks by the First Lady for White House Convening on Creating Opportunity for Native Youth
Good morning everyone, and welcome to the White House. We are so thrilled to have you here today for our Generation Indigenous convening.
I want to start by thanking Walter Isaacson and Senator Dorgan for their outstanding leadership and for the terrific work that they're doing at the Aspen Institute.
And as for T.C – there really are no words to express how proud I am of this young man and how impressed I am by his courage, determination and maturity. Barack and I were blown away by T.C. and by the other young people we met when we visited T.C.'s tribe, the Standing Rock Sioux Nation, last June. And I want to start off today by telling you a little bit about that visit.
It began when we arrived in North Dakota, and as we left the airport where we'd landed, we looked around, and all we could see was flat, empty land. There were almost no signs of typical community life, no police stations, no community or business centers, no malls, no doctor's offices, no churches, just flat, empty land.
Eventually, we pulled up to a little community with a cluster of houses, a few buildings, and a tiny school – and that was the town of Cannon Ball, North Dakota, which is part of the Standing Rock Sioux Nation. And at that school, a small group of young people gathered in a classroom, anxiously but quietly waiting to meet with the President and the First Lady.
These teens were the best and brightest – hand-selected for this meeting – and after we all introduced ourselves, they shared their stories.
One young woman was in foster care because of substance abuse in her household. She talked about how hard it was to be separated from her five siblings. One young man had spent his high school years homeless, crashing on the sofa of his friends, even for a period living in the local community center. Another young man had gotten himself into college, but when he got there, he had trouble choosing the right classes; he realized that he'd never been taught how to properly write an essay; and when family problems arose back home, he struggled to balance all the stress and eventually had to drop out.
And just about every kid in that room had lost at least one friend or family member to drug or alcohol-related problems, or to preventable illnesses like heart disease, or to suicide. In fact, two of the girls went back and forth for several minutes trying to remember how many students in their freshman class had committed suicide – the number was either four or five…this is out of a class of 70.
Just sit with that for a minute: four or five kids out of a class of 70 taking their own lives.
So these are the challenges these kids are facing. This is the landscape of their lives.
But somehow – and this is what truly blew us away – somehow, in the face of all this hardship and all these tragedies, these kids haven't given up. They are still fighting to find a way forward, for themselves and for their community.
After losing her classmates to suicide, one young woman started volunteering at a youth program to help other kids who were struggling. One young man told us that when his family was struggling, he fended for himself for years, sleeping on friends' couches until he was old enough to become a firefighter.
And that young man who had to leave college? Well, when he got back home, he discovered that his family problems were worse than he had thought. He found that his stepmother was on drugs and his four younger brothers were wandering the streets alone in the middle of the night. So at the age of 19, he stepped in and took over – and now, he's back in college while raising four children all by himself.
And then there's T.C.
He was the last young person to speak that day, and after telling us his story – how he was raised by a single father, how he's lost so many people he loves, how his family struggles to get by – he then said to my husband "I know you face a lot as President of the United States, and I want to sing an encouragement song for all of us to keep going."
After everything these young people had endured, T.C. wanted to sing a song for us.
So if you have any doubt about the urgency or the value of investing in this community, I want you to just think about T.C. and all those other young people I met in Standing Rock. I want you to think about both the magnitude of their struggles and the deep reservoirs of strength and resilience that they draw on every day to face those struggles.
And most of all, I want you to remember that supporting these young people isn't just a nice thing to do, and it isn't just a smart investment in their future, it is a solemn obligation that we as a nation have incurred.
You see, we need to be very clear about where the challenges in this community first started.
Folks in Indian Country didn't just wake up one day with addiction problems. Poverty and violence didn't just randomly happen to this community. These issues are the result of a long history of systematic discrimination and abuse.
Let me offer just a few examples from our past, starting with how, back in 1830, we passed a law removing Native Americans from their homes and forcibly re-locating them to barren lands out west. The Trail of Tears was part of this process. Then we began separating children from their families and sending them to boarding schools designed to strip them of all traces of their culture, language and history. And then our government started issuing what were known as "Civilization Regulations" – regulations that outlawed Indian religions, ceremonies and practices – so we literally made their culture illegal.
And these are just a few examples. I could continue on like this for hours.
So given this history, we shouldn't be surprised at the challenges that kids in Indian Country are facing today. And we should never forget that we played a role in this. Make no mistake about it – we own this.
And we can't just invest a million here and a million there, or come up with some five year or ten-year plan and think we're going to make a real impact. This is truly about nation-building, and it will require fresh thinking and a massive infusion of resources over generations. That's right, not just years, but generations.
But remember, we are talking about a small group of young people, so while the investment needs to be deep, this challenge is not overwhelming, especially given everything we have to work with. I mean, given what these folks have endured, the fact that their culture has survived at all is nothing short of a miracle.
And like many of you, I have witnessed the power of that culture. I saw it at the Pow Wow that my husband and I attended during our visit to Standing Rock. And with each stomping foot – with each song, each dance – I could feel the heartbeat that is still pounding away in Indian Country. And I could feel it in the energy and ambition of those young people who are so hungry for any chance to learn, any chance to broaden their horizons.
Even the smallest opportunity can make such a huge difference for these kids. I saw that firsthand when Barack and I invited the kids we met in Standing Rock to come visit us at the White House.
They arrived one morning last November, and we showed them around, and took them out for pizza and burgers, and spent some time talking and laughing and hanging out. Altogether, their visit to the White House was just one day long, but as we hugged each of those kids goodbye, one young woman said to Barack, "This visit saved my life."
And given the odds these kids face, I don't think she was exaggerating. So if we take a chance on these young people, I guarantee you that we will save lives. I guarantee it.
So we all need to work together to invest deeply – and for the long-term – in these young people, both those who are living in their tribal communities like T.C. and those living in urban areas across this country. These kids have so much promise – and we need to ensure that they have every tool, every opportunity they need to fulfill that promise.
So I want to thank you for your commitment to their futures and for everything you have already done for their communities. I want to thank you for coming here today to learn more about Generation Indigenous and how you can help. And I look forward to seeing the extraordinary impact that you all will have in the years ahead.
Thank you so much, and God bless.
NOTE: As prepared for delivery.
Michelle Obama, Remarks by the First Lady for White House Convening on Creating Opportunity for Native Youth Online by Gerhard Peters and John T. Woolley, The American Presidency Project https://www.presidency.ucsb.edu/node/320941