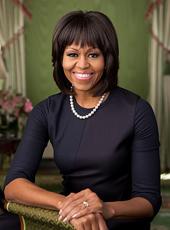 Remarks by the First Lady, Dr. Biden, and His Royal Highness Prince Harry of the United Kingdom, at the Invictus Games Event in Fort Belvoir, Virginia
DR. BIDEN: Good afternoon. It's an honor to be here. Let me start by thanking Colonel Mitchell and Command Sergeant Major Guillory for hosting us here at Fort Belvoir. I would also like to thank everyone else for having us here today. And a big thanks to the athletes and those who have played a big part in preparing for the 2016 Invictus Games.
For the past seven years, it's been an honor to work with the First Lady, Michelle Obama, on a number of issues affecting our troops, our veterans and their families. And the competitions our warrior-athletes participate in are some of our favorite events.
One of the things that never ceases to amaze me -- even as I've seen it thousands of times -- is the spirit of our wounded warriors. As they work toward their new normal after being injured, they never lose their competitive drive and dedication that made them some of the finest warriors this nation -- and the world -- has ever seen.
The Invictus Games offer a chance to compete against some of the finest athletes and warriors in the world, to carry their country's flag in competition against other athletes who know as much about duty, loyal and sacrifice.
Last year, I had the privilege of leading the presidential delegation for the Invictus Games in London. It was a thrill to cheer on our athletes -- often sitting beside our guest here, even though he was cheering for the other team. (Laughter.) But I have to admit, we both ended up cheering for all the athletes. They were all so inspiring. The games really showed the spirit of the military, their perseverance and their resilience.
Athletes like David Wiseman, who was shot during a 2009 firefight in Afghanistan. The bullet that struck him is still lodged in his chest today. In another display of teamwork and demonstrative of our close friendship with the United Kingdom, U.S. forces were able to assist with David's evacuation. At Invictus, not only did David compete and win big, but he helped Prince Harry organize the games because he knew what an incredible experience it would be for the competitors and their families. And that's what this is all about.
Prince Harry gets it. Until recently, Prince Harry was active duty in the British Army Air Corps. A veteran of two tours in Afghanistan, Harry has been a champion for veterans around the world. He works closely with the Ministry of Defense to help make sure wounded service members in Britain have adequate recovery plans -- plans that include a vital focus on mental health. He trekked with a team of wounded warriors from the U.S., U.K., and several Commonwealth countries to the South Pole, showing the world that there is nothing our warriors cannot do.
And last year, Prince Harry launched the Invictus Games, where athletes do more than compete against one another -- they form lasting friendships with others who have served and sacrificed so much for all of us. Warriors like Sergeant Stefan LeRoy, who was wounded by an IED in Afghanistan while carrying a wounded solider to a MEDEVAC helicopter. A double amputee who only began running again a few months ago, Sergeant LeRoy has already run several races and hand-cycled even more.
And Army Specialist Sydney Davis, who will compete in shot-put, discus, basketball and volleyball; whose motto is, "NEVER stop training and practicing, and NEVER give up on yourself." As Prince Harry said when he launched the games, "Sports play a hugely important part in their recovery and their life beyond."
Now, I would like to introduce someone else who has been working tirelessly for military families -- someone who approaches everything she does with a sense of enthusiasm and vision, and always with a sense of fun. I'm fortunate to have her as my great friend and my partner in Joining Forces, our First Lady, Michelle Obama. (Applause.)
Thank you. God bless our troops. (Applause.)
MRS. OBAMA: Hey, you guys! How's everybody doing? (Applause.) It's okay to be excited. This is exciting! I'm excited. (Laughter.)
All right, ladies, Prince Harry is here. Don't act you don't notice. (Laughter.) Come on, come on.
Well, I am thrilled to be here. And I want to start by thanking Jill, who has been such a tremendous partner with me in our efforts around Joining Forces.
I also want to thank Ken Fisher and his family for their outstanding leadership, for everything that they have done on behalf of military families. I know that everybody here in this room knows about Fisher Houses, but for those who may not, these houses are truly a lifeline for tens of thousands of military family members every single year. And I make it a point to visit families at Fisher Houses whenever I can, and I always walk away blown away by the amazing quality of care, the compassion of those who support our families. So I want to make sure we all take this moment to give Ken and Tammy, their family, a big round of applause. (Applause.) Thank you so much.
And more importantly, you guys, thank you for working to bring the Invictus Games to the United States. This is truly and amazing, wonderful event full of fierce competition, incredible athleticism that we're going to see a little bit of here today, and truly inspiring stories. So it's no wonder that so many countries are getting behind it. And I know that this year will be no exception.
We are thrilled that this year's games will be televised from ESPN's Wide World of Sports Complex down in Disney World. Yay, Disney! (Laughter.) Yes, it's okay, it's okay. We're all excited about Disney. (Applause.) And I know that everyone involved is working to raise the bar so that this event will keep getting bigger and better every single year.
And Jill and I, the President and the Vice President -- we're going to do everything we can to shine a light on this event. And this is just the beginning, because what we know is that we should be celebrating all of you, our wounded warriors, just like we celebrate our Olympians, our Paralympians and our other professional sports teams. You all are amazing. And we want to shine a light not just on you all as athletes, but on the folks who are behind the athletes every step of the way -- their caregivers and their families.
Earlier today, I caught up with one of those tremendous caregivers who I've gotten to know over the years. Her name is Melissa Meadows. And her husband Jon sustained severe brain and nerve injuries in Afghanistan almost three years ago. And his injuries were so serious that one of his doctors described him as an "advanced Alzheimer's patient."
Melissa, like so many in this room, dropped everything. She left her job as a nurse and cared for Jon full time, helping him in and out of bed, managing the family's finances, managing Jon's medication, all of his appointments, and so much more. And while she was supporting her husband, Melissa started supporting other caregivers as well. She helped organize a network to help other caregivers share information and ideas here at Fort Belvoir.
That's one of the reasons why we're here today. First of all, thank you all for all the tremendous work you do. But Melissa started that support network here. It was so successful that the Department of Defense is actually replicating their model at installations all around the world.
And today, with Melissa's support, her husband Jon continues to recover. I got a chance to spend some time with them and saw his amazing art work -- another incredible therapy that is happening here at Fort Belvoir.
So it's just amazing to see. It's been amazing to keep up with their story. And as all of you can imagine, recovery, it's a long road. There are starts and stops. There are good days and bad. But Melissa, Jon, they are fighters, just like all of you. Jon has made incredible progress. And as I said, through the art therapy program with the USO and the Art League, he's unlocked this amazing talent for sculpture and painting that he didn't even know existed. I actually commissioned him to do a piece for the President's Christmas present from me, so please don't tell him. (Laughter.) Jon even has his own pop-up art exhibition in Alexandria.
So whether it's through the arts or through rugby, or cycling or basketball, we want the world to see these stories of grit and courage and grace. These are the stories that our wounded warriors and their families are living out every single day, whether the cameras are around or not, whether we're here or not. You guys are doing the work that makes us proud.
That's what the Invictus Games and Joining Forces are all about. They're about sharing your stories with the world -- stories that we know up close, all three of us, because we get the honor of spending quality time with you and watching you up close. But we want to rally folks across this country, quite frankly across the world, to honor and support men and women and families like you every single day, not just on days like this when the press is here, but every day.
So I want to thank you all for everything you do. I want to thank you for your service and your sacrifice. I want to thank you for setting an example for all of us to live up to as human beings. We could not be more proud of all of you.
And now, it is my pleasure to introduce our guest of honor. Yeah. (Laughter.) He's coming. You may have heard of him before. I've had the opportunity to spend some time with him over the years and I've seen his commitment and his passion to this issue, and I'll tell you, it's real. He's a real-life guy who cares about everyone in this room. To him, our wounded warriors aren't just a distant cause; to him, they're brothers and sisters in arms. They're the men and women he's served with. They're the heroes he has a genuine personal connection with. And he feels from the bottom of his heart that it is his job to serve them as well as they've served us.
So I want to thank him for everything he's done -- through the Invictus Games and so many other efforts. And I guess I should also apologize to him in advance for all the gold medals that America will win in Orlando. (Laughter and applause.)
So without further ado, please welcome His Royal Highness, Prince Harry.
PRINCE HARRY: This is what happened in the opening of the Invictus Games -- your video came up and I got very emotional and then had to speak. (Laughter.) So you've done it to me again.
Right. Hello, everyone, and thank you very much for all being here today. On behalf of all veterans, I'd like to start by saying a big thank you to the First Lady and Dr. Biden. Through Joining Forces, you have led the way in championing the welfare of service personnel and their families here in the U.S. So thank you for everything that you have done.
I joined the Army in 2005. It was a time when servicemen and women and their families, both in the U.S. and the U.K., we're making sacrifices for their countries that had not been experienced for generations. In combat zones in Iraq and Afghanistan, military personnel were setting examples for everyone about the values of service, duty, and dedication. So, too, did their partners and children back home in the cities, towns and villages of our nations.
I'm in no doubt that my two deployments to Afghanistan changed the direction of my life. There is very little that can truly prepare for the reality of war. The experiences can be stark and long-lasting.
Returning to the U.K. after my first deployment, I shared the flight home with three critically injured British soldiers -- all in induced comas -- and the body of a Danish soldier killed in action. It hit me then that this flight was one of many, carrying home men and women whose lives would be changed forever, and some who had made the ultimate sacrifice. From that moment, I knew I had the responsibility to help all veterans who had made huge personal sacrifices for their countries to lead healthy and dignified lives after service.
In 2013, I visited the Warrior Games in Colorado. I saw the power that sport could play in the recovery of both mind and body. I thought that surely everyone, whether connected to the armed forces or not, would be inspired by their achievements. So I left Colorado with a determination to broaden this to an international audience, and the idea for the Invictus Games was born.
Last year, at the first-ever Invictus Games, we saw over 400 competitors from 13 nations competing in the iconic venues of the London Olympics. Audiences of tens of thousands turned out to show their support. The games epitomized the very best of the human spirit -- men and women who had not only adjusted to life, but embraced it, proving that -- what can be achieved post-injury rather than focusing on what cannot.
The Invictus Games seeks to change perceptions of physical and mental injury. One thing we have to talk about more is breaking down these barriers around so-called invisible injuries like post-traumatic stress, just as we have for physical injuries like the loss of a limb. This is a topic I know the First Lady and Dr. Biden are working hard to highlight so that people are no longer afraid to ask for help. This fear of coming forward as a result of the stigma which surrounds mental health is one of the greatest challenges that veterans face today.
People from all walks of life struggle with issues like post-traumatic stress, anxiety and depression -- not just veterans. We have to help them all to get the support that they need without fear of being judged or discriminated against. Not only is it okay to talk about it, we have to talk about it.
I'm thrilled that the Invictus Games are happening again, obviously. Hundreds of additional veterans from around the world will benefit from taking part, and millions more people will be inspired by their stories. This really is going to be four incredible days of sport, I assure you.
I hope that Invictus 2016 will remind people everywhere just how incredible our service personnel are and how much of a positive contribution to society they make. I'm sure the American public will embrace the Invictus Games just as the British public did in 2014. And I can't wait to see you all in Orlando. You better bring it, U.S.A. (Laughter.)
Thank you. (Applause.)
Michelle Obama, Remarks by the First Lady, Dr. Biden, and His Royal Highness Prince Harry of the United Kingdom, at the Invictus Games Event in Fort Belvoir, Virginia Online by Gerhard Peters and John T. Woolley, The American Presidency Project https://www.presidency.ucsb.edu/node/321772