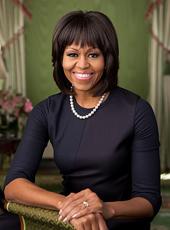 Remarks by the First Lady at a Discussion with the Presidential Delegation to the Milan Expo 2015 in Milan, Italy
MS. DOUGLASS: So welcome, Mrs. Obama. Welcome Presidential Delegation. And you all had questions for this group -- First Lady and everybody else -- so what we did was we talked to you ahead of time, as you know, and we chose a few of you because you really, really had questions you wanted to ask.
So let's start off with a question for the First Lady.
Q: Good morning. And welcome, First Lady Michelle Obama, and the entire Presidential Delegation. I'm sorry, I'm a little nervous. (Laughter.) I am from Houma, Louisiana. I'm a recent graduate from Louisiana State University, where I got my bachelor's in business management and social work. I'm an entrepreneur, and I would love to become a social activist and a business leader.
So my question is for you. So now that you have toured our United States pavilion, I just want to know your thoughts. I'm really curious -- to why it's so important that you're here today, of course. Thank you.
MRS. OBAMA: Thank you. First of all, I just want to say how proud I am of our U.S. delegation. It's a pretty impressive group, don't you think? But I'm equally proud of all of you. I got to talk to just a few of you during the tour and I just have to say, you all are so knowledgeable, so poised, such great representatives of the United States, and you all should be very proud. So thank you.
This is a good assignment, right? No complaints from anyone, right? But touring the pavilion was -- it was amazing. It was awe-inspiring. I mean, the most impactful part of it obviously are the vertical -- is the vertical farm, the largest of its kind.
And I couldn't help but think about all the issues that we face around hunger, around food deserts in our countries and places all over the world. And when you walk around this pavilion, you think the solutions are right in our grasp. We have so many powerful solutions and possibilities. I mean, you just think about having these kinds of gardens -- we were talking about this -- on the rooftops of every school in every community.
And anyone can have a vertical garden in their backyard, on their terrace. There is absolutely no reason in the United States for a child not to have access to fresh, healthy fruits and vegetables. But too often, in so many of our communities, many families don't have access to fresh produce.
But when you walk in here and you look at what's possible, and you think about transplanting those ideas and innovations to other parts of the world where people are starving -- we know that we can fix these problems. And that's why it's so important for us all to be here at this Expo, sharing these ideas with the world, learning from each other, celebrating the advancements that we've made, but also not being complacent.
Because the truth is, we still have so much work to do. When we're seeing rising obesity rates not just in the United States, but all over the world -- we're doing something wrong. But we have many answers to get it right.
And it's really going to take young people like you to take this information and make something of it, turn it into action. And that's true no matter what your professions will be. Many of you may be activists; some of you may be business leaders, entrepreneurs. We have people representing every sector on this stage, because it's going to take every single one of us to step up.
And that's one of the things we've been trying to do with Let's Move. We're trying to really change the dialogue, create a new norm around food and health and our culture surrounding food. And we're starting to see some changes, but we can't do this just one off. We've got to have business leaders, we've got to have our athletes, our entrepreneurs, our foundations, our farmers all stepping up trying to figure out how to bring the best solutions to bear on behalf of our kids and our communities.
So it's well done. I'm glad I'm here. And I hope we bring some attention to what's happening here. And I hope that more people in the United States take some time if they are traveling to come to this Expo and to learn more about what we're doing here and what we need to do around the world.
So thanks for the question.
* * * * *
MS. DOUGLASS: Okay, well thank you so much. And those were really great questions. One final question for the First Lady, because she's got a busy schedule and I know she has to go.
So, Mrs. Obama, now you've seen this amazing pavilion -- more than 20,000 people a day are coming through this pavilion, and then also millions are going to be visiting the Expo at large -- what do you hope that they're going to take away from seeing all of this?
MRS. OBAMA: I think Doug put it best, that so many innovations, so many possibilities -- it's now up to us to share those, to learn the lessons, to implement, to provide resources, funding, investment, and to inspire the next generation.
And throughout this, we've been putting a lot on your shoulders, and I apologize for that but it's true. (Laughter.) We're counting on you and those that follow you to continue this work. As Will said, we're not going to solve these problems in our lifetime, but we've got to get to work on them if we hope to stem the tide.
Right now, on the issue of obesity, there's no single country that's really found a sustained way to reverse the trends that we're seeing. We've seen, in the United States, with coordinated efforts through programs like Let's Move and so many others, that we're starting to see some reversal in the trends. For the first time in a very long time, we're seeing obesity rates among children level off.
So the rise has stopped. And among our very youngest children, we've seen some pretty solid improvements. And that's one of the reasons why we're investing in young people. Because it's really hard to change habits when you're old like us. But when you're young you're open. Your palates are fresh. You're just more open to the possibilities.
And that's true for the conversations that we're having here. You all are open to the possibilities. You are not confined by the box, as Nick put it. So we need you to keep breaking through the box that we've been operating within for far too long and build upon these ideas.
And you know, now you have a world that's starting to engage in these conversations in a meaningful way. I don't think now we're dealing with the questions of, for example, is obesity even a problem. And when we first launched Let's Move, and long before we got involved, folks like Risa were trying to convince the nation that there was an epidemic in childhood obesity, and now we're not fighting that fight, but we still have others to fight.
And I think we're moving in that direction when we talk about hunger and the future of our food systems. I think we're now getting to the point where we know that these challenges are real, and they're important. Now, we've got to really get to work, roll up our sleeves and make the investments necessary.
So I'm hopeful. But I know it's going to take a lot of work. And we are all committed to this work for a lifetime. We're not just here for the cameras or for the moment. I know that I, for one, long after I leave the office of First Lady, I'm going to continue to work on these issues. Because our children deserve better, and we can do better. We can. We've seen it here.
So I want to thank our delegation, once again. I want to thank our Ambassadors -- Linda, thank you for being such an outstanding moderator. And, last but not least, once again, to all of you. Just so impressive. I think a part of this conversation is not just what we're saying here, it's just the poise, the grace that you all represent. I think you're making our country extremely proud. And, as Risa said, you all give us hope that we're on the verge of doing something really great here. And you guys can handle the pressure.
So keep it up. And thank you for taking the time with us today.
Michelle Obama, Remarks by the First Lady at a Discussion with the Presidential Delegation to the Milan Expo 2015 in Milan, Italy Online by Gerhard Peters and John T. Woolley, The American Presidency Project https://www.presidency.ucsb.edu/node/321770