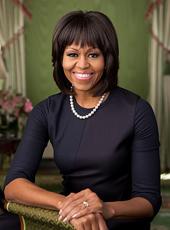 Remarks by the First Lady at a College Signing Day Event at Wayne State University in Detroit, Michigan
MRS. OBAMA: Hello, Detroit! (Applause.) How are you all feeling? (Applause.) Are you fired up? (Applause.) I want to thank you all so much. Myla -- let's thank Myla for that wonderful introduction. She did a great job. (Applause.) I also want to thank Wayne State and President Wilson for hosting us here today. And I have to give a big shoutout to the coach, Coach Harbaugh, for all his work, his terrific remarks. And, of course, the fabulous, beautiful, talented Ciara. (Applause.) Wasn't that amazing? She was here!
I also have to thank the Detroit College Access Network and all that their partner organizations are doing and the work that they did to make today such a success. But finally, and most important of all, to all the young people, all of you here today, just take a look around. This day is for you. This is for you.
And I want you all to just take a minute. Just take this in. Enjoy this moment. And I want you to think about all that it took for you to make it to this day -- all those mornings you woke up early to get to school. Can I get an amen?
AUDIENCE: Amen!
MRS. OBAMA: Oh, all those nights you stayed up studying! All those long hours, all the tests, all the essays, all the applications and financial aid forms you had to fill out. Think about it.
Think about all the times you thought you weren't going to make it. Think about all the times you questioned whether you were smart enough, whether you deserved this moment. But here you are. You're here. You made it. And we are so proud of you. We are so proud of you. (Applause.)
And you're the reason why we're here today. We are here to celebrate you. We're here because we think that Signing Day shouldn't just be for elite athletes, but for young people like you who have worked so hard to earn those college acceptance letters. This is your day.
And that's really the whole idea behind this college signing day -- to shine some light, some big, bright light on not just athletic achievement, but on academic achievement, too, which is something we don't do enough of in this country. We don't do it enough. (Applause.) And just think about it for a minute. Every year, when football and basketball recruiting seasons roll around, what happens? Folks on TV spend weeks speculating about which player is going to choose which team. Colleges go all out trying to recruit their top recruits. And then, on that big day, people across the country turn on their TVs and they sit on the edge of their couches to watch these athletes at all those tables. We're just dying to know which team they're going to pick.
And don't get me wrong, there's nothing more exciting than sports. Look, the President and I, we love watching SportsCenter as much as anybody -- and we like signing days, too. It's exciting. The drama is powerful. But while we focus so much attention on college and professional athletics, while we hold those individuals up as role models for our young people -- the truth is that hardly any young person in this country is going to grow up to play for the NFL or the NBA. That is simply not a viable career path for the overwhelming majority of our kids in this country. That's not going to be your life. (Applause.) And that's okay, because you've got some options. You've got some magnificent options.
So I think it's time we started shining more light on the real path to success for young people in this country -- and that's higher education. (Applause.) That's getting your education. That's your ticket. That's how we do it. I think it's time we started holding up some real role models for our kids -- role models like all of you.
You all are what kids in this country should be aspiring to. So it's time we started paying attention to young people like you who have made all the right decisions. You've done everything we've asked you to do. You said no to gangs and to drugs. You woke up every morning without fanfare and cameras. Many of you had to take long bus rides or walked through dangerous streets just to get to school and really make something of your life. (Applause.) You are the heroes.
And I think that this day -- the day when you've publicly declared where you're going to college -- this day should be as glamorous and as exciting as those athletic signing days. This day should be on TV -- (applause) -- with fireworks and celebrities, and folks sitting around just dying to know where you're going to college.
In fact, we should all be as excited about college signing day as we are about the Super Bowl, the World Series and the playoffs. Don't you agree? (Applause.)
And that's really why we started our Reach Higher initiative -- because we want to put higher education front and center in this country. We want to lift up young people like you and cities like Detroit that are overcoming great challenges and truly committing to education. (Applause.)
That's why I'm here today. I'm here today to celebrate what you all have done to get yourselves into college. But I am also here today because I want to be very clear that getting into college is not the ultimate goal. The ultimate goal is to graduate and get that degree. (Applause.) Yes, that's what it's going to take to get those good jobs and to build that kind of secure future that's out there.
Now, is it going to be easy?
AUDIENCE: No!
MRS. OBAMA: No, of course not. It is not going to be easy. For some of you, college may be the first time you've ever been away from home. So, yes, you're going to be homesick. Maybe the work will be harder than you expected, and you'll start to feel a little overwhelmed. And why do I know this? Because that was me. Yes. I grew up like many of you. Neither of my parents went to college, and when I showed up at Princeton my freshman year at Princeton, I was totally overwhelmed in that school. Whew. I couldn't figure out what classes to take, or what buildings those classes were in. I didn't have any friends. I didn't even have the right size sheets for my bed. (Laughter.) I was totally unprepared.
So, naturally, at first, I was pretty lonely, and I was anxious. But I had to take some few deep breaths and I made a plan. Ciara said, you've got to have a plan. So I found advisors who helped me with classes. I went to the multicultural center and met other students who became some of my closest friends in the world. I attended every single class -- usually. (Laughter.) I studied as hard as I could. And before long, I felt like I had that college thing down. I had it down.
So here's my message: If I can do it, man, so can you. You can do this. (Applause.) You can do this. You can own this. I am like you. There's no magic here. I got here because I worked hard, not because I was rich or famous or I had important people looking out for me. I got there because I worked hard. And if you got into college, then you have everything you need to get through college. (Applause.) You just need to own your college education like you owned your high school education.
So what does that mean? That means that you can't just pat yourself on the back for getting that acceptance letter, and then show up next fall and spend your time partying and hanging out and think that you're going to be successful. That's not going to work. You have to take control of your education. You got to step up. And that means, as I said, going to your classes, doing every assignment -- no exceptions, no excuses. It means being on top of your financial aid situation. You've got to know exactly what loans you're taking out and how much, what the interest rates are, what you're going to have to do to pay those back. You got to know how many hours of work-study you need to get by. I worked every day at college. I had to be a work-study student.
It means you got to get to know your professors like you got to know your teachers in high school. You got to find you some mentors. You find people that are going to help you. You've got to get involved in your college. Join some extracurricular activities, some clubs. Look into doing some internships. We've got interns at the White House. Do you know about that? We've got young people like you who work in our offices. You should find out about that. It means that you've got to sink your teeth into some big class project where you spend a semester just learning, going in deep.
And finally, it means that you've got to ask for help when you need it. Do you hear this point? This is important. You have got to ask for help. You will not get through this alone. You're not supposed to. And I guarantee you that there will be all kinds of resources on your college campuses. There will be all kinds of people who are dying to help you; people who are hired to make sure you succeed. But they are not going to come knocking on your door to find you. That's not college. You have to take responsibility for finding them.
So if you're having trouble writing a paper, get yourself to your school's writing center. If you're struggling with math or science, go to a tutoring session. All these kids who go to these Ivy League schools -- they get tutoring. That's not a secret. Get some tutoring. If you didn't understand something in class -- which I guarantee you half the people won't understand what's going on in class -- go to the professor, go to his office hours or her office hours. And if someone isn't helpful, if they're impatient or unfriendly -- because there's plenty of folks out there who don't want to help you -- then just find somebody else. (Applause.) You [may] have to go to a second, or a third, or a fourth person. But I guarantee you that if you keep on asking, you will get the help you need. Just don't think there's something wrong with you because you need help. We all need help.
And if you do all of this, you will succeed. I know you will. You will get that degree, and with that degree you will have the key to building the life of your dreams. This is the answer. This is the answer. And as you climb that ladder of success, here's what I want you to do. I want you to reach back to other young people from your family and your community and help them follow in your footsteps. (Applause.) That's your job.
So today, I want to make this event -- I want to make you all go viral. I want this to be all over social media today. So I want you wearing your college gear. I want you to tweet it, Instagram it. Make this go viral. Use the hashtag #ReachHigher. And I want you to mentor those kids, host them all your college. Show them around campus. Get them excited to continue their education and achieve what you've achieved.
That's my challenge to all the young people and to every young person in this country who's heading to college. I want you to reach back and pull other young people up after you. (Applause.)
And I also have a challenge to all the communities in this country where our young people live. I want you to host your own and that is to host your own signing day just like this one here in Detroit. Make it clear that your community values higher education. Make it clear that you're proud of your young people who are continuing their education past high school.
Last year, we had about a dozen communities holding signing days like this. This year, there are more than 600 signing days happening all across the country. (Applause.) And next year, I want to see even more. And to all the athletes and celebrities out there, do what Ciara is doing, do what Coach is doing -- show up at these signing days. Show our young people some love. Make them feel special.
Every year, every community in this country should be hosting a signing day of their own. (Applause.) I want this to be bigger than the Super Bowl, bigger than the World Series. You hear me? Bigger than the playoffs. (Applause.) Do you all hear me? This is our investment right there. We invest in you. We can get this done.
So I want you all to buck up, stand proud. You all are ready for this. I want you to go out there and make us proud, and don't forget this day. Because this is how we want you to feel for the rest of your lives -- special and loved and able. Do you hear me? (Applause.)
All right. You can get it done. I love you all so much. Thank you. God bless.
Michelle Obama, Remarks by the First Lady at a College Signing Day Event at Wayne State University in Detroit, Michigan Online by Gerhard Peters and John T. Woolley, The American Presidency Project https://www.presidency.ucsb.edu/node/321759