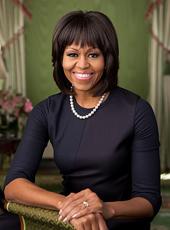 Remarks by the First Lady at CIAA Women's Basketball Tournament Let's Move! Pre-Game Event in Charlotte, North Carolina
MRS. OBAMA: Thank you all so much. (Applause.) I am not going to talk long because we're here to be moving around.
But I am thrilled to be here at the CIAA Tournament. I mean, this -- it's great to be in Charlotte. When I knew I was going to be in Charlotte and we heard that this tournament was going on, we thought, we've got to be a part of this in some way, shape or form. (Applause.) So this was a happy coincidence. North Carolina has been just a phenomenal state. Kay has been a terrific supporter.
But many of you know that one of my major initiatives is Let's Move!, where we're focused on trying to get our kids healthy and active. Because we need them to be on point to be the next generation that handles all of these challenges, and we need you to be doing that with some good food in your bodies and being able to move. And there's no better way than basketball to illustrate that point.
As you all know, we are a basketball family. My husband is a crazy fanatic about basketball. And what better way to let kids have some fun than to run around out here on the court? And that's exactly what we're going to do today.
We've got some great kids here. They've got a lot of energy, they're going to do a phenomenal relay race. We are cheering them all on. We are so proud of you all for moving. These kids are not just athletic, they're doing sports, they're doing music. But they're also getting good grades, as I understand, which is the most important thing. (Applause.)
So we're just delighted to be here, you all. I hope you all -- and I want to say congratulations and good luck to all the teams who are playing. We are so proud of you, especially our ladies. There's nothing like -- (applause) -- yes, indeed, we are proud of you all. Just keep it going.
But the one thing I want you all to remember is while you are doing your sports, you've got to be on top of your grades, correct?
AUDIENCE: Yes!
MRS. OBAMA: You've got to be on top of your grades, we got that?
So with that, I will turn it over. I think it's time for us to get started. So let's move!
Michelle Obama, Remarks by the First Lady at CIAA Women's Basketball Tournament Let's Move! Pre-Game Event in Charlotte, North Carolina Online by Gerhard Peters and John T. Woolley, The American Presidency Project https://www.presidency.ucsb.edu/node/320315