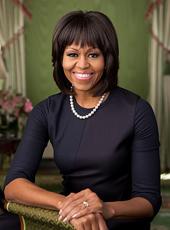 Remarks by the First Lady at a Ceremony Honoring the 2015 National Medal for Museum and Library Sciences
MRS. OBAMA: Good morning, everyone. Please rest yourselves. Welcome. Welcome to the White House. Yay! (Laughter.) We're thrilled to have you here today as we honor the winners of the 2015 National Medal for Museum and Library Sciences.
I want to start by thanking Maura for that wonderful introduction, but for her leadership at the institute -- all the work you've done. It's been terrific. I know that last month, you helped the President launch exciting new initiatives to ensure that every student in this country has a library card. (Applause.) Go figure. It's good stuff. But also to provide every student with free e-books -- or free e-books to millions of low-income students. So terrific work. Thank you. We're so grateful for the work that you've done. So keep it up. Keep it up.
I also want to recognize Representative Kirkpatrick, who I heard was here. Where? Oh, there you are? How are you? (Applause.) Wonderful to have you here. Thanks for much.
And, of course, most of all, I want to congratulate all of ours awardees. With your innovative programming, technological savvy, enthusiastic engagement with your communities, you all are truly setting the standard for libraries and museums all across this country.
And I know that you don't always get the recognition that you deserve for the important work that you do, which is why this event is so important, why I make it a point to be here every single year.
I know that some folks may view our libraries and museums as "extras," luxuries, not necessities -- as places we should invest in after we've achieved all of our others goals, things like creating jobs or educating our kids or making sure our families live healthy lives. But we all know better than that, right? We know that so often our libraries and museums are doing the critical work to help us achieve those goals in the first place. We can't get to our goals without the work that you all do on the ground.
The institutions that we're honoring here today are at the heart of so many of our communities, engaging in some of the most urgent issues of our time. And in just a moment, you're going to learn more about the amazing work that today's honorees do. I want to congratulate the board on another wonderful year of selections -- the diversity, the depth, the breadth. You guys did it again.
Our honorees are doing everything from preparing young people for college, helping entrepreneurs build their businesses, supporting veterans as they transition from military to civilian life, to providing financial literacy and nutrition workshops for parents.
And whether you're bringing virtual classes in STEM education to remote areas and inner-city communities, or teaching our children about their Native American and African American heritage, so many of you are working to close the heartbreaking opportunity gaps that limit the horizons of too many people in this country.
And trust me, I know that this work isn't easy. I know that you're always strapped for time and money, always scrambling to meet those fundraising goals and those grant applications. You can get an "Amen" on that. (Laughter.) But the services that you all provide are not luxuries; just the opposite. Every day, your institutions are keeping so many folks in this country from falling through the cracks.
In many communities, our libraries and museums are the places that help young people dream bigger and reach higher for their futures; the places that help new immigrants learn English and apply for citizenship; the places where folks access a computer and send a job application so they can get back to work and get back to the important process of supporting their families. So every day, you all bring so much hope and so many life-changing opportunities to folks across this country.
And today, I want you to know how proud I am, and how grateful I am for all the work that you do. It's really good stuff. So I want to, once again, congratulate you. I hope this day is special. One of the reasons we do it is to make you feel as special as the work that you do around the communities. This isn't enough, but it's just a small way to remind the country that we have great resources here. They are unique to this country. And it's up to all of us to support them, encourage them, to finance them, and to keep them alive and growing.
So I hope you enjoy your time here. We're just proud, and we hope you keep going, year after year after year.
So, with that, I'm going to thank you guys, and we're going to get to the process of getting our awardees awarded. (Laughter.) So let's go.
(The awards are presented.) (Applause.)
MRS. OBAMA: So let's give one more round of applause to today's honorees. (Applause.) You can just see from hearing the citations just the tremendous work that you all do. And to all the community representatives who are here on behalf of the programs -- so proud of you all. Really. You are true spokespeople for your communities, for the institutions, and for this country.
So I just urge you to keep doing the work. Don't get tired. That's what I whispered in many people's ears -- just don't get tired. (Laughter.) And I can't say it enough, but we're so proud. We're honored to have you here. We're grateful for all that you do. And I just can't wait to see all that you continue to do in the years ahead.
It's up to us to support you. So, hopefully, as we shine a light on your work, there will be somebody out there that will think, ah, maybe I'll check out my library, maybe I'll write a check -- (laughter) -- maybe I'll do a little bit more in my museums. Because in the end, that's what it's going to take to keep these programs and these institutions thriving.
And this is just an example of -- 10 of the organizations that are in communities all across this country. We could be here for days celebrating the institutions. We just can't do it all. So you guys are representing what's going on out there all across the country.
So that concludes our program today. But we invite you all to stay. We have a wonderful reception for you all. As my husband says, just make sure you keep the house a little neat. (Laughter.) You can take the napkins, but not the forks. (Laughter.) But I hope you enjoy your time here at the White House. And, Colin, feel free to sit on anything -- you can touch anything. (Laughter.) This house is yours. (Laughter.) Have a ball, all right?
You all, thank you. And we'll see you next year. (Applause.)
Michelle Obama, Remarks by the First Lady at a Ceremony Honoring the 2015 National Medal for Museum and Library Sciences Online by Gerhard Peters and John T. Woolley, The American Presidency Project https://www.presidency.ucsb.edu/node/321860