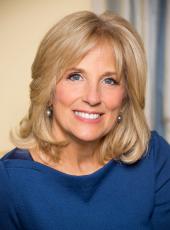 Remarks by the First Lady on Cancer Moonshot Call with Community Health Leaders
[As prepared for delivery.]
Thank you, Danielle. We're grateful that all of you could join us today.
Years ago, my sister, Jan, was diagnosed with lymphoma. For six weeks, she underwent stem cell transplant therapy. Most of you probably know how difficult that is.
The procedures can be confusing and complicated, and they seem never-ending. But thankfully for my sister and my family, she had an advocate every step of the way: Shannon, her patient navigator.
With a navigator by your side, you and your loved ones are never alone as you face the complex and frightening world of cancer.
They meet people where they are, helping them find transportation and childcare when they need it, ensuring they understand their treatment options and how to manage side effects, regardless of language or background.
So, in 2017, when Joe and I began the Biden Cancer Initiative, survivors and medical teams asked us to focus on this type of care.
And when Joe was elected President, we knew that one of our top White House priorities would be improving the experience for patients and their loved ones.
That's why we reignited the Biden Cancer Moonshot: to build a world where the word cancer loses its power, a diagnosis isn't a death sentence, we prevent cancer before it starts, and those touched by this disease get the support they need.
On my second full day as First Lady, I visited a health center here in D.C. to shine a light on a navigation program.
And since then, I've traveled to world-class cancer hospitals and neighborhood health centers. I've visited clinics on tribal lands and in countries around the world. Again and again, I sat with patients, families, and healthcare workers to hear what is working and what isn't.
Since we began this work, I've consistently heard one thing: these navigation programs are so successful, but since they aren't generally paid for, most medical practices can't afford to provide them.
I brought these stories back to the White House, and Joe listened. And through the Biden Cancer Moonshot, he and the Centers for Medicare and Medicaid Services have worked to find a solution. Administrator Brooks-LaSure, thank you and your staff for your time, attention, and passion on this issue.
If finalized, this proposed rule would allow Medicare to pay for patient navigation services, so critical support could be available to more people, in more places—and they can live longer, healthier, happier lives.
This is a first step. And we hope that the private sector will do its part as well. We know that these services make an enormous difference in people's lives.
For Joe and for me this is the fight of our lives and we are ready and proud to stand beside you.
The word cancer still has the power to strike fear into our hearts—to isolate us and make us feel alone. But this new proposed rule is a step to making sure we have power, too. More than we even know.
Thank you for everything you do for patients and their families. And thank you for being a part of the Biden Cancer Moonshot.
Jill Biden, Remarks by the First Lady on Cancer Moonshot Call with Community Health Leaders Online by Gerhard Peters and John T. Woolley, The American Presidency Project https://www.presidency.ucsb.edu/node/363718