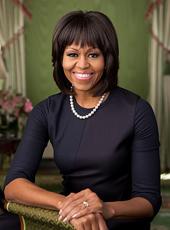 Remarks by the First Lady at a California Endowment "Building Healthier Communities" Event in San Diego, California
MRS. OBAMA: Thank you, everyone. Thank you so much. It is -- (applause) -- thank you, guys. (Applause.) All right, you all are crazy. (Laughter.)
I am just delighted to be here. I can't tell you -- as much as I love living in Washington, there is nothing that I love better than getting out of Washington -- (laughter) -- particularly when it means coming to such a beautiful community with such energy and passion. So I am happy to be here.
I want to start by thanking Rosa for her wonderful introduction, for her terrific leadership in community service. We are so very proud of you. Let's give her a big hand. (Applause.) Thank you, Rosa.
And I just want to also acknowledge a few people, as well. I'm honored to be joined by the Lieutenant Governor -- it's so good to see you, thank you for your work -- as well as the State Controller. Wonderful to see you. Thank you so much for taking the time to be here.
I know that the mayor had to leave, but I want to thank he and his wife for being here. I know that the one thing I heard over there, when I was touring the plots -- more land! (Applause.) More land. (Applause.) But he's done a terrific job, and I just want to thank all the city officials here for making this visit wonderful. To all of the elected officials who are here, thank you for your work, your leadership, your energy.
I want to thank Bob Montgomery and Amy Lint from the New Roots Community Farm. Yay! (Applause.) They're doing a fabulous job, and proud of their work, and full of the kind of energy that you need to get this thing going.
And I want to again acknowledge the 14 community leaders who are here, the Building Healthy Community partners who are representing all segments of this state. Don't let Dr. Ross use that picture as any kind of leverage. (Laughter.) You get the picture and hassle him when you need to, right? (Laughter.) I know they will.
We are just proud of the work that you're doing. And I know that everyone could not be here, but I know that you'll send back my excitement, my gratitude, and just assure them that we're supporting the work that they're doing. It is a model for the nation, for the world. So thank you. Thank you so much. (Applause.)
And finally, I want to thank my dear friend, Dr. Bob Ross and -- (applause) -- yes, yes -- (applause) -- as well as all the folks from the California Endowment who have joined us today. Thank you so much. Thank you. We've been plotting this for a little bit, right? (Laughter.) He's been such a wonderful partner.
For more than 30 years, as a pediatrician, a professor, a public health administrator, and an advocate, Dr. Ross has worked tirelessly to give all of our kids the kind of healthy start that they deserve. He has been a tremendous asset not just to the state of California but to this nation.
And no matter how he's served, Dr. Ross has always had a knack for bringing people together -- that's been his MO --- hospitals, non-profits, businesses, elected officials, you name it –- bringing people together constantly to tackle some of the toughest public health challenges that we face here in our country.
So I think it's fitting that we're all here today and that he's leading the charge to take on yet another challenge. And it is one, as you know, that I care about deeply not just because I'm the First Lady, but I am a mother of beautiful children. (Applause.) When I look at children, I see my kids. And I know that we have to work now to start to curb the epidemic of childhood obesity in this nation.
We all know that this phenomenon is relatively recent. It is not something that has been a challenge for us all this time. This is a new issue, because as I said time and time again, back when we were growing up, we naturally led reasonably healthy lives. It's just the way we had to function. It kept us healthier than we could imagine.
Most of us lived in communities and went to schools in our communities, so we walked to school. So if nothing else, you were getting exercise just walking to and from school. Everyone had recess and gym. It was not an option; it was mandatory. No one liked it. Some of us did it, but you had to do it. And that also gave us a sense of movement that we'd lost. And at home, we had some pretty simple rules, particularly at dinner. You ate what was put before you, period. No choices, no options, no discussion. And if you didn't, you just went to bed hungry. (Laughter.) We all know that. My mother pretends like she didn't apply those rules, but she did. (Laughter.)
And many kids today aren't so fortunate. For many kids, those walks to school have been replaced by car or bus rides because it's either not safe or they're going to schools that are far away. School budget cuts mean the so-called "extras" like P.E. and recess are often the first things that go, meaning that our kids are doing a lot less running around during the day, and they're living and existing in a more sedentary life. And the truth is, is that parents are busy and struggling and working hard, many of them working multiple jobs. That is just the truth. People are working harder than ever. And oftentimes the cost of fresh fruits and vegetables, they keep going up, so many families can't afford to purchase the foods that they know that they need.
And it is unfair to look to families and tell them to do something better for their children that they can't afford or don't have access to. So today, many parents really feel like the deck is stacked against them. They want to do the best for their kids. All of us do -- parents, grandparents, all of us.
But it just seems like the odds are against us. They know their children's health is their responsibility, but sometimes they feel like the whole issue is just out of their control. They're trying to do the right thing, but they're bombarded by contradictory information at every turn –- and they don't really know who or what to believe. Labels are tough to work through. And sometimes what we prepared when we were young have a different impact physically on our children today.
So that's why, two months ago, we launched the "Let's Move!" campaign. (Applause.) And we launched it with the help of so many partners. As you know, this is a nationwide campaign with one single but very ambitious goal, and that's to solve the problem of childhood obesity in a generation so that children born today grow up at a healthy weight with a different set of habits and a different set of beliefs about how to live their lives.
As part of this initiative, we've issued a call to action to get things going all throughout the nations -- nation.
And we're working with so many different groups. We're working with pediatricians, and food manufacturers, with the FDA to give parents the information they need to make healthy decisions for their kids. And we've created a Web site, letsmove.gov, to help provide those helpful tips, step-by-step strategies that parents need to get on the right track to eat well and to stay fit.
We're working to get healthier food into our schools. This is an important initiative. Most of our kids these days are getting a lot of their calories at school, and by strengthening legislation that supports our federal school meal programs, we can go a long way to changing the eating habits of our children. (Applause.)
And we're also working with several major food suppliers to get them to do their part -- to decrease sugar, fat and salt not just in school meals but in all the foods that we eat, and to increase fruits, vegetables and whole grains. And we're getting them to think about how they market to our kids, as well.
One important goal in this initiative is we're working to eliminate "food deserts." And you all know what "food deserts" are -- communities that don't have access to any fresh produce or grocery stores. There are so many of them that exist throughout this country. Millions of children are living in "food deserts." And our goal is to completely eliminate those by bringing grocery stores and farmers markets into underserved areas so that our families have access to the kind of healthy food, the affordable food, that they're going to need. And there are many examples in communities around this country, showing how they're bringing these resources back into communities.
And finally we cannot forget the whole key to "Let's Move," and that's moving. (Laughter.) We have to get our kids moving again. And we're revamping the President's physical fitness challenge. That's coming up. We're going to be working with professional athletes from dozens of sports leagues to inspire kids to stay physically fit and active. So if you see me hula hooping and jumping around like I'm crazy, I am. (Laughter.) But it's a lot of fun, and, you know, it just shows that parents taking the lead, doing simple things with their kids, jumping around, dancing, sweating, turning on music, can make a big difference in their lives.
But we've also known from the very beginning that the solution to our childhood obesity crisis isn't going to just come from Washington. I have talked to a lot of experts about this issue, and not a single one of them has said that the answer is to have federal government telling people what to do. That never works.
Instead, as I've traveled across this country, one thing that has become very clear is that we already have many of the solutions to childhood obesity right at our fingertips. There are so many communities in this country that are doing some innovative things. And our goal is to find those folks in those communities who are already running some of the most innovative and creative and effective programs out there, and to do our job to highlight those successes and to share those successes so that they become models for the rest of the country and perhaps even the rest of the world.
And that's why just last week we hosted a summit at the White House for members of our childhood obesity task force so that they could gather with experts around the country and get some new ideas from all across the country. We heard from doctors about the role of prenatal care in determining a child's health. We can't underestimate that as an important factor.
We heard from teachers about the need for schools and suppliers to think about how the food that's -- that are served are, again, marketed to kids. That's the key: How are we talking to our children and our parents about healthy eating?
And we also heard from community advocates about the creative ways that our cities and towns are transforming urban environments into oases for growing fresh fruits and vegetables, just like we're doing here.
That's why a new foundation, The Partnership for a Healthier America, was created –- to help support these kind of efforts. This foundation is really key to this movement. It's going to serve as an independent, non-partisan player that's going to mobilize and continue to coordinate businesses, foundations, state and local governments, community leaders, the media and others to help with the key goals that come out of the task force for "Let's Move!"
And it's no surprise that the California Endowment signed right on board to be a beginning player in this foundation. (Applause.) The Partnership is designed to do just what the Endowment has been doing for years, so it makes sense that they've been such an important partner. The goal is to address problems at their root and help folks around the country turn good ideas into something bigger. That's what the California Endowment is trying to do. That's the mission of this partnership.
And today, I'm pleased that the California Endowment is once again leading the way with their new plan to create healthier, more active communities all across this state with this fabulous new "Building Healthy Communities" initiative that's based on a simple idea –- that healthy children come from a place; a place that is a healthy community.
If a family lives in a neighborhood with a grocery store nearby, it is simple -- they're more likely to put fresh fruits and vegetables on the table because they'll have access to it. If there's safe, inviting parks down the street, parents are going to be more likely to let their kids play. They're going to be more likely to go to that park with them and enjoy being outdoors. And if our environment is clean and pollution-free, children are less likely to get sick, being outside, and they're more likely to spend time outside. These are not complicated principles.
But this isn't just about good ideas and good intentions. It's about serious investments that make a lasting difference for our kids. And that is why the California Endowment is investing $1 billion -– that's billion with a "b" –- (applause) -- pretty amazing -- in these 14 California communities across this state to support people and programs that will help our kids lead active, healthy lives right from the beginning. So you all have a lot of money. And that's good. (Laughter.) That's really, really good. It's never enough; it isn't. And that's the point. Money alone won't do it. But money is an important first start.
The investments that will be made will go to folks like Dennis and Michelle Mineni. Did I pronounce that right? Are they here? They're not here. But they run the Merced Flea and Farmers Market. They've run it for more than 10 years. And Dennis and Michelle, I understand, are working with the state to ensure that their customers can use food stamps to buy fresh produce at much lower prices than at supermarkets or convenience stores. (Applause.) That's something that we've heard throughout this campaign. We have to make sure that everyone has access to farmers markets. This initiative that Michelle and Dennis are promoting is an example of the right thing to do that's already happening.
The Endowment is also investing in people like the students from Chula Vista who realized that the park that they played in growing up was now too dangerous for other kids to use. So what did they do? They worked with local leaders to fix up that park. And now it's cleaner and busier than ever before, and now they're ready to move on to the next park. That's what our young people are doing. (Applause.)
The Endowment is also investing in people like the teachers from Willard Intermediary School in Santa Ana who turned the school's old wood shop into a fitness center and are now working to combine gym class and science classes, which is something that we can do -- exercise and learning, go figure, they go hand in hand -- teaching students about heart rate and exercise science through personalized fitness programs.
And the Endowment is also investing in people like the farmers here today. The stories of these farmers are amazing. A group of refugees from around the world who founded the New Roots Community Farm right here in City Heights, it is just a phenomenal initiative. (Applause.) And what it shows is that although these farmers come from different corners of the globe, they all recognized a common problem right here in America as they have immigrated: that for many refugees like themselves, tight budgets and the lack of supermarkets often meant that folks were skipping fresh fruits and vegetables in their diets and settling for fast food. That's -- that has been the natural trend -- transition. And that's what's happened to many of us. And as a result, many recent immigrants were suffering from high cholesterol and high blood pressure, diseases that they were not dealing with before, migrating here.
So the folks here today got to work. They saw this problem, they understood the connection, and they got to work. And after organizing and speaking out and raising money, they broke ground on the garden. And along with other farmers from places like Somalia, and Uganda, and Kenya, and Cambodia, and Vietnam, Mexico and Guatemala, and many, many more places, they have come together. (Applause.)
And at first, they weren't sure whether people from so many different backgrounds and cultures would get along farming -– especially since the garden only had two hoses, I understand, when it started, to share and the farmers often didn't speak the same language.
But day by day, and little by little, neighbors started sharing their vegetables. They started exchanging recipes. They started losing weight. And they started recognizing the hopes and dreams they all held in common, just through a plot of land and some vegetables -- these hopes to make a home for themselves here in this country; and to keep their families healthy at the same time; and to give their kids a better life. Simple values. Simple shared values. And together, what they proved is that food is truly the universal language of this planet.
And that's what "Let's Move!" and the Building Healthy Communities initiative is really all about. It's about giving people the tools that they need to make healthy choices for themselves and for their families. It's about realizing that the best ideas don't come from Sacramento or Washington, DC, but they come from communities large and small all across this country. And it's about recognizing the simple truth that giving our children a healthy future starts one person, one family, one community at a time.
You truly are doing extraordinary work. It is a privilege for me to be able to come here with all the press to highlight what is going on in this simple plot of land. This is what we need to be doing in communities all across the country. And the truth is the world is watching these efforts. We're not alone in these struggles. This is happening. These changes in diets and health are happening in communities across the globe. And through your effort and your leadership, your coordination, your vision, your determination, we're beginning, step by step, to find the solutions that are going to make sure that all of these kids behind us have the kind of future that we want for them.
So thank you. We're so proud of you. And it is an honor for me to be here. Thank you so much. And thank you to the Endowment. (Applause.)
Michelle Obama, Remarks by the First Lady at a California Endowment "Building Healthier Communities" Event in San Diego, California Online by Gerhard Peters and John T. Woolley, The American Presidency Project https://www.presidency.ucsb.edu/node/320596