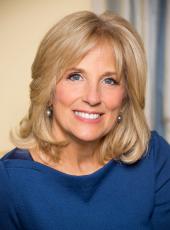 Remarks by the First Lady at Bergen Community College in Paramus, New Jersey
[As prepared for delivery.]
Thank you, Kehzia, and thank you for sharing your story with us. You represent so many students— like those in my own class—who are capable of doing incredible things, if only we can move some of the obstacles out of the way.
That's why the child development center here at Bergen is so important—and I hope more schools will follow your lead.
Governor Murphy, you know that Joe is so grateful to have a partner like you here in New Jersey. And we're both thankful for the friendship of you and Tammy.
And thank you to Dr. Friedman for welcoming us to this school.
One year ago, I held our family bible on the balcony of the U.S. Capitol, and watched my husband take the presidential oath of office.
On that cold morning, the challenges our nation faced seemed to swirl around us. Yet, Joe was fiercely optimistic—determined to lead us out of the chaos. As families across our country took a breath of relief, he made a promise that he would fight for your family. That he would help us build back better than before.
And every day of this last year, he has worked to do just that.
When Joe took office, unemployment was high. We had a vaccine, but no plan to distribute it. And so many kids were still learning at home, while their parents struggled to help with remote school and do their jobs.
But with courageous leaders like Congressman Gottheimer, Joe passed the American Rescue Plan. He helped Americans get financial support when they needed it most, distributed vaccines, and opened schools. And he helped add millions of new jobs—more than in any other year on record.
Today, we heard about a few of the ways that Bergen has used the American Rescue Plan and other federal funds to give students here the support they deserve. About how this school has made resources like counseling and tutoring easier to access—how Bergen paid the outstanding balances for more than 2,000 students. And we heard about the child development center that is helping parents like Kehzia stay in school.
You know, it's hard to express what it's like to have a bright, engaged student—someone who has so much passion and potential—fade out of my class because they can't find a baby sitter. They start missing lectures… they fall behind and just can't catch up. Or the cost of child care just gets to be too much, and they have to choose between extra shifts at work and pursuing the degree that will help them earn more money.
But there is no choice when it comes to keeping your kids safe. And one day, they're just gone.
It breaks my heart. For parents, especially moms, child care makes graduation possible. It's the difference between struggling just to stay afloat and climbing into a better life.
So, it's great to learn how Bergen is giving students the support they need to cross the finish line. And it's a testament to what can be accomplished when community colleges have a partner in the White House.
Joe is rebuilding our middle class. And you know what builds the middle class? Community colleges. They are one of our most powerful engines of prosperity.
Now, we still have a way to go. We knew this would be difficult—we knew we wouldn't be able to rebuild overnight.
But I want you to know this: You were right to put your faith in Joe one year ago. Because when he goes to bed at night and when he wakes up in the morning, he thinks about how he can help your families. I see it every day. He will never stop working for you—he will never stop fighting for you. He knows that you are our greatest resource and our best investment.
Each day that Joe has the honor of serving the American people, he will work to keep the promise he made you: To lead with optimism and hope, to never lose sight of the people behind the policies, and to build back better than ever before.
Today, we're here to announce some ways he's continuing to invest in you. Secretary Cardona will tell you about them—but first, let me say thank you to Miguel and the entire Department of Education team. We're so proud of the progress you're making.
So Bergen, please help me welcome our Secretary of Education, Miguel Cardona.
Jill Biden, Remarks by the First Lady at Bergen Community College in Paramus, New Jersey Online by Gerhard Peters and John T. Woolley, The American Presidency Project https://www.presidency.ucsb.edu/node/354207