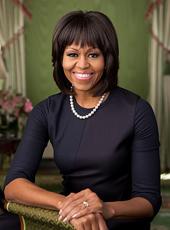 Remarks by the First Lady Before a Discussion with Mrs. Abe and Students on the Importance of Girls' Education in Tokyo, Japan
MRS. OBAMA: Well, I am incredibly excited about the partnership between our two countries around girls' education, because I think our countries are in a very strong position to be able to reach out and help developing countries.
As Mrs. Abe said -- eloquently said in her remarks, there is nothing more important than getting an education. And to think that today, there are 60 million girls around the world who don't have that opportunity, it's an injustice. And when we look at the advantages that we have had, as Mrs. Abe said, I think it's our duty and it's our responsibility to do what we can to reach out and to aid others.
One of the things that I also say about this initiative, what -- the impact that I'm hoping that it has is to inspire young people in my country who take their education for granted. Right now, one of the things that I'm saying very often -- I've got an initiative called Reach Higher, where I'm trying to encourage more young people in the U.S. to embrace the role of education, and to finish high school and to go on to college. Because we need your generation to be highly educated, highly skilled, highly trained.
And that's so important to the success of our countries and to the world, quite frankly. We just can't afford to waste the brainpower and energy of half of our citizens on this planet, and that's what we do when we don't invest in young girls. So my hope is that through partnerships like ours, the United States and Japan, that we will encourage other developed nations to step up and increase their investments.
But there's also a role that you all can play. You don't have to be a powerful nation to have an impact on this issue. I'm urging girls in the United States to look right in their own backyards; to look at home at how they can be mentors to the young girls in their communities and to their families. Tutor a young girl. Bring them along. Encourage them. If you know young women in communities that don't have the advantages that you have, reach out as much as you can. Because it's that one-on-one interaction that can really make a difference. If they see what is possible through you, they believe that they can achieve that for themselves.
That's one of the reasons why I share my story so much, because I want young girls around the world not to see me as the First Lady of the United States, but I want them to know that I was a young girl in Chicago that had doubts and fears and worries, and people who told me that I couldn't. But with hard work and that investment in education, look where we all are. I'm sitting here with my good friend in Japan with all of you, and we have the opportunity to change the world. You can do that too, and so can the 62 million girls out there who aren't getting their education.
So that's what I hope that we'll begin to achieve with Let Girls Learn. But this is going to be a lifetime commitment for me, I know for Mrs. Abe, and so many. We won't solve this in a generation. We have to keep plugging away. And you all are going to be the next leaders who are going to be out there pushing it to the next level.
So I'm very proud of you all.
Michelle Obama, Remarks by the First Lady Before a Discussion with Mrs. Abe and Students on the Importance of Girls' Education in Tokyo, Japan Online by Gerhard Peters and John T. Woolley, The American Presidency Project https://www.presidency.ucsb.edu/node/321803