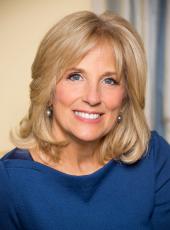 Remarks by the First Lady at Back to School Safely: Cybersecurity Summit for K-12 Schools
THE FIRST LADY: Thank you. Please be seated. Thank you.
Well, hello, everyone. And welcome to the White House.
And I know that many of you have traveled to be a part of this moment and have taken time away from family and other necessary work. So, we're grateful to all of you for giving us just a little more of that time this morning, now that yesterday's storm has passed. (Laughter.)
I'm telling you, it was so quiet here at the White House last night because ev- -- they sent everybody home. There was no Secret Service. (Laughter.) No, I'm just kidding about that. (Laughs.)
So, anyway, I want to thank you -- all of you -- for being here. And our purpose today is powerful. So, I want to thank you for your commitment to this cause.
And as some of you may know -- probably everybody here knows it: I teach at a community college not far from here. And right now, we're -- you know, educators are in the final weeks of those summer breaks, you know, where they -- the teachers are putting the finishing touches on their lesson plans. I know I am; I have my first article all run up and ready to go.
The linoleum floors, as you all walk into the schools -- you know, they're just waxed. They never look like that again after the first day. You know, the scuffs of sneakers. And there's a possibility -- the hum of possibility in the air as the year seems to stretch out in front of us. And, you know, you feel that excitement if any of you are in the classroom, which I'm sure most of you have been or -- you know, you can't even sleep the night before. Right? No matter how many years it's been, you still feel that excitement.
You know, it's the new year, filled with amazing things to discover as we learn and we grow together. And with each new semester, technology becomes a more indispensable part of making sure that our students' imaginations can soar and ensuring that administrators can run their schools smoothly and safely.
But in districts around the country, cyberattacks have brought those systems to a halt. And I know most of you have seen it: Social Security numbers and medical records stolen and shared online, classroom technology paralyzed, and lessons ended.
So, if we want to safeguard our children's futures, we must protect their personal data. And that's why my husband, Joe, is bringing together experts from across his administration to help strengthen cybersecurity for our elementary, middle, and high schools.
So, today, not only do we have with us the Secretary of Education, the Secretary of Homeland Security, and the Chairwoman of the Federal Communications Commission. And we're joined from -- by leaders from the National Security Council, the Office of the National Cyber Director, the Cybersecurity and Infrastructure Security Agency -- (laughter) -- and the FBI. That one was easy. (Laughter.)
So, they'll be announcing resources for districts like yours and sharing best practices to help stop those attacks before they begin and resolve them more quickly when they do.
But we can't do this alone, and that's why we're working with businesses across the country. And later, they'll be sharing the new commitments they are making to ensure the technology of our classrooms is reliable and more secure.
I know, because I teach in a computer lab.
So, it's going to take all of us -- local governments, state and federal agencies, educators, businesses, labor leaders, and nonprofits -- sharing our good ideas and innovative solutions to protect our students.
So, I'm grateful to all of you for being a part of these discussions. You are on the frontlines, supporting your communities. And I want to ask you to keep going.
Together, each day, we're building the foundation of our children's future, and we must do all that we can to keep it sound and strong and ready for whatever life may bring. Because every student deserves the opportunity to see a school counselor when they're struggling and not worry that these conversations will be shared with the world.
Every classroom should be enriched by new technologies, giving students who love computers the skills they need to succeed. And every family should know its information will stay safe and secure so that our children can keep reaching for the endless possibilities that exist inside of them -- each one of them.
So, thank you. Thank you all for what you're doing. Thanks. (Applause.) Thank you.
Now it's my pleasure to introduce someone who is working tirelessly to support our children and their digital security, Secretary Miguel Cardona, my friend. Thank you. (Applause.)
Jill Biden, Remarks by the First Lady at Back to School Safely: Cybersecurity Summit for K-12 Schools Online by Gerhard Peters and John T. Woolley, The American Presidency Project https://www.presidency.ucsb.edu/node/363720