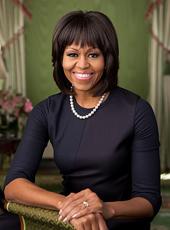 Remarks by the First Lady and Dr. Jill Biden at the Capital Area Food Bank Event with Congressional Spouses: Part Two
DR. BIDEN: Hi, everybody. Gosh, thanks for being here. We just did this just now, so now we're going to have another competition. And this event really is a reflection of Michelle Obama and the administration and all of you.
You know, Michelle is not new to this. She's done community service all of her life. When she was in Chicago she worked with AmeriCorps and at the University of Chicago. She set up a volunteer program on a massive scale. And then when she became our First Lady, she helped with Miriam's Kitchen and YouthBuild, and now she has a community garden at the White House.
So really I can think of no better way to celebrate our 100th day than to be here with everybody with this service project. And it's all due to Michelle and the wonderful job that she has done. Our First Lady Michelle. (Applause.)
MRS. OBAMA: Yay! Fired up, ready to go! Thank you, Jill. Jill is being modest. It's not me; it's -- Jill has been a partner in this from the very beginning. She has been just a true blue supporter in every endeavor, and I am grateful to have her as my partner.
We wouldn't be here without all of you. This is something that we talked about when we came into the administration. We've been having lunches, we've been talking, and one thing I said was that it would be great for us to start coming together across party lines, and using our power, our visibility, to get some things done but also to highlight just how simple service can be.
I -- you know, my background, I've built a career on volunteerism and community service. It is something that I am passionate about, and I wanted to bring that to the work of the First Lady, into the administration. And this is just one very important, very visible example of how a group of people can come together and feed thousands of kids, which is what we're doing here today.
And it's not just coming here together, but, as Lynne mentioned, everyone has food banks in their communities. Many of you are -- have important, passionate projects. It doesn't matter what it is. It's just that we do it and that we support one another in those efforts and that we pull our communities in to this work, that we pull our kids in. I see that some of us have brought our children, and that's such an important message to send to the next generation: that even if you're 10, five, seven, I don't care how old, you're never too young, you're never too old to serve.
So I'm grateful to all of you. This will not be the last time we come together, because I also think what we do when we come together is that we build relationships, we get to know one another outside of a luncheon, we get to share our passions together. And it just sort of breaks the barriers, if there are any, that exist.
So it is so important that you all have made this commitment. Over 150 spouses committed to serve today, and that's an incredible number.
You are the second group. We had group one in. And as Lynne mentioned, we had a goal of trying to get to a thousand bags. We hit our goal in the first group. (Laughter.) So now the challenge begins. And I have to tell you that Paul Pelosi, who was in the first group, said, well, if you talk longer -- (laughter) -- then you'll slow down their progress. That was Paul. So you get him when you see him tomorrow. You make sure that -- (laughter) -- and so that means we're going to work a little harder and surpass the thousand-bag mark.
So thank you all once again. Thanks for coming. Thanks for your energy, your spirit. And I look forward to seeing you all tomorrow at lunch. So let's get to work. (Applause.)
Michelle Obama, Remarks by the First Lady and Dr. Jill Biden at the Capital Area Food Bank Event with Congressional Spouses: Part Two Online by Gerhard Peters and John T. Woolley, The American Presidency Project https://www.presidency.ucsb.edu/node/320249