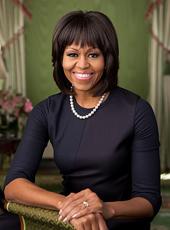 Remarks by the First Lady and Dr. Jill Biden at a Mother's Day Tea for Military Spouses
DR. BIDEN: So good afternoon, everyone. It's wonderful to welcome you here to the White House. Many of you know that I'm a proud Blue Star mom, and I'm always honored to be in the presence of military families.
My son Beau is a major in the Delaware Army National Guard. And when he deployed to Iraq for a year, it was pretty tough on our family, like I'm sure many of you know. And as a grandmother of military-connected children, I know firsthand that no matter how resilient our military families are, they confront challenges that most Americans never have to face. They send loved ones into harm's way; endure countless separations during training. They start over on different bases, in different towns, again and again. And it can really be hard.
I know many of you in this room have faced similar challenges. And I want you to know just how much we appreciate everything your families do in serving our country. We ask a lot of our military families, and I believe that each of us -- no matter where we live, no matter whether we're connected to military ourselves -- all of us should make our best efforts to show our military spouses, kids, siblings and parents how much we appreciate their service and their sacrifice.
That is why First Lady Michelle Obama and I started Joining Forces four years ago -- to unite non-profits, schools, foundations, businesses, associations, and Americans of every stripe around this initiative to support these families. And we're working with Americans all across the country, in every sector of society, to show our support.
And Mother's Day gives us a special opportunity to say thanks to the mothers who have shaped and supported us. So for Mother's Day we wanted to simply say thank you to all the mothers who have loved and supported us. Thank you for all that you do for your selflessness and for your sacrifice on behalf of this country.
And now it is my honor to introduce our country's great supporter of military moms and families, my friend and partner, First Lady of the United States, Michelle Obama. (Applause.)
MRS. OBAMA: I thought that was a "yay!" (Laughter.) but it was a "no!" (Laughter.) No more. Give her back the phone. (Laughter.) Why did you take the phone from her? (Laughter.)
Well, Happy Mother's Day. Wow! First of all, you all look so beautiful. You really did it up for us today. (Laughter.) Looking good! I hope you all get a shot of all these beautiful colors and all the young people here. You guys look so beautiful and mature -- and handsome. Because we have some proud young men here, too, who are holding it down. (Laughter.)
So I want to start by thanking Jill for that very kind introduction, but she's just an amazing partner and she's somebody that I look up to, because she handles a lot. She is a mom, a grandma. She's teaching every day, and then she does these duties. Nobody knows, really, how much you're -- we're on the plane, she's grading papers. (Laughter.) We're in a hold, she's grading papers. (Laughter.) We cheer when grading paper time is over because she's done! (Laughter.) And then when she's through grading papers, then she travels. And she does it with grace and beauty, and she is an example of the kind of moms that you all are.
And I tell you all, thank you so much, because -- you thank us, but we are just a reflection of you. We just happen to be on TV. But you all are the ones on the ground. So, most of all, I want to thank everybody who's here. We've got active duty servicemembers here. We've got Gold Star and Blue Star moms here with us today. We have caregivers of our wounded warriors, a community that often gets overlooked, but that is a community that needs our support and needs to be lifted up as much, if not more, than all of us. And we've got our veterans and our military spouses here, too.
And today is National Military Spouse Appreciation Day. (Applause.) Yes, high fives all around. (Laughter.) We couldn't have picked a better day to show you how much we care and how grateful we are for the service that you provide for our country.
Wonderful folks here like Mary Winnefeld. I didn't see Mary. There you are. You weren't in the receiving line. Okay. That's Mary. Mary has been such a tremendous friend and an ally to me and Jill and Joining Forces. And for so long, she's been a forceful advocate for her fellow military spouses and Blue Star moms, especially the caregivers of our wounded warriors. And she's a hoot, too. (Laughter.) She's a lot of fun. So I want to make sure we recognize Mary.
I think we also have Deanie -- did I miss Deanie? Deanie was going to be here. We wanted to recognize Deanie Dempsey, who's been a leader and a supporter to Jill and I as well.
And you might not know that later this year, Admiral Winnefeld and General Dempsey are going to be retiring from active duty. High fives. Transitioning. Transitioning. (Laughter.) That's right, not retiring, because there's always work. But before they go, we wanted to thank Mary and Deanie for their many years of tireless work on behalf of military families. We know they're not done. Mary doesn't stop. This is a transition. We're grateful to you and we just want to -- (applause.)
You're not done with us yet. (Laughter.)
But Mary and Deanie, they are perfect examples of the kind of folks that we have here today -- women who are juggling your own families and careers. As Jill said, you all are moving from state to state every couple of years, starting new jobs and putting the kids in a new school, and trying to adjust to all that, and figure out -- build a new community for yourselves over and over again. You've been separated from your loved ones, whether you've been deployed yourself or you've had someone overseas.
Yet through it all, you all somehow find time to reach out to others in your neighborhood. This is the thing that we always want to -- that we always notice about the military community. In the midst of everything you have to do, you're the ones, the first ones to raise your hands to volunteer at your kids' school, in your community, at your church. You're always stepping up, always trying to figure out how you can help. And that's inspiring. It's inspiring for me. It's inspiring for Jill -- which is why we thank you, because you give us energy. You give us strength. You give us focus and purpose.
And it is very easy to be your advocates, because you guys are awesome. And this is just a small token, a small way that we can say thank you. To open up this house and your beautiful, beautiful kids, and to just enjoy a day where you can look good, feel grand, have tea -- and whatever else we're giving you. (Laughter.) Some crumpets -- I saw some old sandwiches. (Laughter.) It's so ladylike. And a few good men here, too. (Laughter.) I tell the men, you're lucky to be hanging out with us today. (Laughter.) So act right. Act right. (Laughter and applause.)
But we are celebrating this year the fourth anniversary of Joining Forces. Four years we've been at this work, and it feels like we've been doing it a lot longer because we've made so much progress. We've been highlighting our local veteran centers, which a lot of folks don't know exist
… And a few good men here, too. (Laughter.) I tell the men you're lucky to be hanging out with us today. (Laughter.) So act right. Act right. (Laughter and applause.)
But we are celebrating this year the fourth anniversary of Joining Forces. Four years we've been at this work, and it feels like we've been doing it a lot longer because we've so much progress. We've been highlighting our local veterans centers, which a lot of folks don't know exist. And those are out there for our veterans. They're modernizing. They're different. They're accommodating the needs of the modern day veteran in ways that many people wouldn't imagine.
We've been highlighting the efforts across the country to end veteran homelessness. Cities like New Orleans have actually ended veteran homelessness. And we've got many cities on the way to reaching that goal, as well. We've been able to celebrate the new commitments to reach -- to hire and train our veterans, our transitioning servicemembers and our military spouses.
We've got commitments on top of the 850,000 veterans and spouses who have been hired to date over the past four years. We were able to announce 10,000 more new commitments in the transportation and tech industries. So we're moving the needle step by step, lowering the unemployment rate among our veterans, and making sure that employers know the value that you all add by hiring the quality of folks that you represent.
And today I also want to highlight a wonderful program called Blue Star Museums, which gives active-duty military family member free access to the more than 2,000 museums across the country. It's a joint effort with Blue Star Families, the National Endowment for the Arts, and the Department of Defense, and it starts up again on Memorial Day and runs all summer long.
So we want to encourage military families out there, all across the country to take advantage of this opportunity. Summer is coming, and we're looking for things to do with the kids. (Laughter.) You know that drill, take them to the museum. We have some wonderful resources here. And the fact that admission is going to be free is a real plus.
And that's just one of the many ways that organizations from across this country are teaming up to thank all of you for the service that you do for us. That's what Joining Forces is all about. That was the vision that we had. And along the way, we've tried to have a little fun -- that's why we wanted you to bring your children here so that they could make you Mother's Day gifts. And they could -- they're very good. Did you get your gifts yet? Yes, pretty nice, huh? Don't put the potpourri in the drawer yet. (Laughter.) You got to let it air out. (Laughter.)
But your kids are amazing. They are smart. They're delightful. They're poised. They're engaging. They're courteous. They're kind. And you all should be proud.
Isn't that best gift on Mother's Day? (Applause.) Yes, yes. So we've got one more special treat. (Laughter.) It's just her face. She's a hoot. (Laughter.) But we have one more special treat. We have a very special guest with us today who is going to grace us with a little music, which is why we have all this up here. He's an amazing, talented singer and songwriter. And we are the "luckiest" to have him here at the White House. Would you please join me in welcoming the one and only Ben Folds? (Applause.)
Michelle Obama, Remarks by the First Lady and Dr. Jill Biden at a Mother's Day Tea for Military Spouses Online by Gerhard Peters and John T. Woolley, The American Presidency Project https://www.presidency.ucsb.edu/node/321855