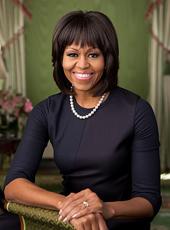 Remarks by the First Lady and Dr. Jill Biden Before the Joining Forces Roundtable in Silver Spring, Maryland
DR. BIDEN: Thank you for having us here today. And we want to -- I know I speak for Michelle, too, when we say thank you from our husbands, and thank you for all that you're doing.
So one of the most rewarding parts of being Second Lady for me has been traveling around the country and visiting our military families, and Michelle and I have been doing this now for six years. And we just had a tour of the facility with Wayne and saw all the wonderful things that you have here and all the things that are available.
And so the reason we're here today is to just -- to listen to you, to listen to your experiences and to learn from you. So thank you again for having us.
MRS. OBAMA: And also we think this -- for me -- this is a big, old light right here. (Laughter.) But it's really reflective of what we hope our visit can do, which is to shine a light on vet centers, the work that's happening, the support that's out there. Because, as we talked to the counselor, there are a lot of veterans who don't know that these resources exist, and that's the thing that we want to change.
Every vet, every family member should know that there are places like this that feel like home, with people who are professional, that are trained, who know how to deal with any issue that you all encounter. So this time here today is really about the others who don't have access or don't know that these resources exist.
So we're just grateful to you all. And we're also extremely proud of you guys. And I know you don't hear that enough, because we can't say it enough as a nation. You all have sacrificed for this country time and again. And Jill and I, through Joining Forces and our husbands, we've made the issue of supporting our veterans, our troops and their families the top of our priority list. And the goal is to make sure that this doesn't stop at this administration, but -- we set a high bar, but we hope that every other administration will surpass that bar when it comes to caring for you all forever.
So we can't say it enough -- we're very proud of Wayne. He's a passionate representative of this facility, as well as his staff. So what better place to bring the media than right here.
So thanks for taking the time. And Jill and I are really excited to hear about your experiences, and feel free to share with us anything more that needs to happen. Because we've got all the bigwigs here, so if there are things that we can improve upon, things that we need to know, we're -- Jill and I are also interested in hearing that, as well.
Michelle Obama, Remarks by the First Lady and Dr. Jill Biden Before the Joining Forces Roundtable in Silver Spring, Maryland Online by Gerhard Peters and John T. Woolley, The American Presidency Project https://www.presidency.ucsb.edu/node/321761