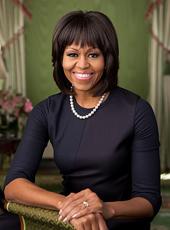 Remarks by the First Lady and Dr. Biden at the "Joining Forces With the Colorado Rockies" Event in Denver, Colorado
DR. BIDEN: Hi. The kids are probably saying, "Who?" (Laughter.) Anyways -- well, nice to see you. It's nice to be here. I'm Jill Biden. I'm a proud military mom. Our son is Delaware Army National Guard, so -- (cheering) -- thank you. So I want to say a special hello to all the National Guard families who are here tonight. And one of the things that Michelle and I are doing is we're going out across the United States, and we're trying to send out a message of how important military families are, and we want to get the word out to all Americans about the sacrifices that you make for all of us.
And so thank you for your service. Thank you for what you do for us. We all really appreciate it.
And I'd like to introduce my partner in this project in Joining Forces, and it's your First Lady Michelle Obama. (Applause.)
MRS. OBAMA: Yeah, I'm a little taller. It's okay. (Laughter.)
Are you guys having fun?
CHILDREN: Yeah!
MRS. OBAMA: Isn't this pretty cool?
CHILDREN: Yeah!
MRS. OBAMA: Did you guys get a chance to run out on the baseball field before it started raining?
CHILDREN: Yeah!
MRS. OBAMA: Great! We are excited to be here. This has been a big day for Jill and myself because yesterday we launched this huge national initiative. We're calling it Joining Forces, as Jill mentioned. We're rallying the country to make sure they're aware of your stories, you guys' stories, because you know you are heroes just like your parents are? Do you realize that? Because you all are sacrificing. Your lives have been turned upside down, but you guys are doing it with grace, and we're so, so very proud of you. And America needs to know that and we need to rally everyone around you.
So we made that announcement yesterday. And today we've been all over the country. Just today do you know how many cities we've been to in just one day? We were in North Carolina, then we flew to San Antonio, and now we're here! And tomorrow we're going to Ohio. We're all over the place because we're trying to spread the word.
And I'm just grateful to the Colorado Rockies for supporting this Major League Baseball, to Jessica Simpson. Isn't she terrific? (Applause.) She's amazing! She flew all the way here just to be with you because she knows how important you and your families are. We're just so grateful.
So we're going to keep doing this. And we're going to need your help. When you guys need help in school, you need to speak up, let your teachers know if there's something going on. We need you to talk to your parents. We're going to be gathering around to make sure you're getting everything you need, okay?
So now we're going to have some fun. We're going to have some more fun. We want to see what you've been learning. We want to see you run some bases, do some great stuff. Are you ready?
CHILDREN: Yes!
MRS. OBAMA: All right, well, let's get it going! Let's go! (Cheering.) Show me what we're going to do. Where are we going next? We're going in here! Are we going out there? All right, we're going all over. Let's do it. (Applause.)
Michelle Obama, Remarks by the First Lady and Dr. Biden at the "Joining Forces With the Colorado Rockies" Event in Denver, Colorado Online by Gerhard Peters and John T. Woolley, The American Presidency Project https://www.presidency.ucsb.edu/node/320530