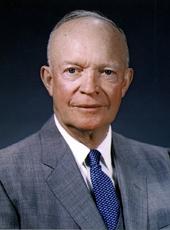 Remarks at the First Football Hall of Fame Dinner, New York City
Mr. Toastmaster, Mr. LaRoche, my old chief, General MacArthur-and my friends:
It is really unforgivable for an old soldier to be surprised. This he tries to do to someone else, but he is likely to encounter defeat if he is himself careless. Long ago I accepted this wonderful invitation, but only a few minutes ago did I realize that I, an obscure football player of a good many years ago, was to get this gold medal. I thank you all.
Most of you know that I have been out politicking. So, one of the few things I have not been accused of in recent weeks is understatement. But I am guilty of exactly that when I say I am honored and gratified by your invitation to join this distinguished company this evening.
Now I did not bring with me a formal address. But long since I have learned that, only by reducing to writing such thoughts as I want to communicate to any audience, can I be sure of applying any effective curb to the garrulous tendency that sometimes afflicts me as an old soldier.
Indeed, so bare did I feel was my cupboard of good subjects for an after-dinner talk, that I am prompted to tell one story, not about football, but about a very great football player and coach when he was a very small boy. The hero--or villain--was Bo McMillan.
Bo grew up in a small Texas town, where he had the reputation of being the best behaved boy in the whole village. One Sunday morning the town constable, walking down the street, saw Bo standing in front of the village jewelry store, and strangely he had a very large brick in his hand. He stood there at least ten minutes, and suddenly he threw that brick right through the plate glass window.
Stunned, the constable asked Bo how a model boy could ever do such a thing.
"Well sir," said Bo, "you see I'm a Catholic--and today I'm on my way to confession. And my trouble is, sir, I was just a mite short of material !"
Short as I am, I do want to give sincere congratulations to each of your honored guests on having been selected for the Silver Anniversary Awards. And likewise, I render my salute to the players and coaches who this year join the all-time greats in Football's Hall of Fame.
Now beyond that, it does seem to me that I might be able to suggest a few ideas on the value of football and other sports in exciting and developing the spirit of competition, so important to our country.
Wherever human liberty is respected, competition is the animator of progress. In football, in business, in politics, in the trades, professions and the arts, the normal urge to excel provides one of the most hopeful assurances that our kind of society will continue to advance and to prosper. Morale--the will to win, the fighting heart--are the honored hallmarks of the football coach and player. Likewise, they are characteristic of the enterprising executive, the successful troop leader, the established artist and the dedicated teacher and scientist.
This morale--this will, this heart--we need not only as in athletic teams as individuals, but collectively. And we need it in business organizations; indeed, in the nation.
For there is another kind of competition which America must meet-ponderous, persistent, deadly. It is clever and powerful, and it is out to win, by whatever means and at whatever cost. It plays no rules save its own.
My friends, that is the competition we are up against today, and we know that the contest is likely to be long and tough. But our team is made up of every individual in America. And we need to make each one of them the best player that can be put on the field.
This requires fitness--fitness in its deepest and broadest sense. We know that fitness is far more than a healthy body. It is more than an alert, disciplined mind. fitness is the sum of all values which enable a man to act effectively in his nation's behalf in this great contest in which we are engaged. In this meaning, fitness is the individual's maximum development for the nation's good.
Within our trust is a whole generation of Americans who soon will be making this country's decisions, and will be generating as well as guiding its great power. Their success will be largely determined by the opportunities we give them to prepare themselves for the test. Thus youth fitness, in all its dimensions, is the proper concern of every single American. To this task the inspirational football coach is as dedicated as the most respected professor. And the whole field of sports contributes mightily toward that objective. So, also, do other movements keyed to the service of youth: Boy Scouts, the 4-H and FFA Clubs, the YM and YWCA's, Youth Centers and church-sponsored youth groups.
These things build morale, an indispensable ingredient of success in any human organization. And in the nation it is vital. Morale comprehends many things, most of them intangibles, spiritual in nature. In a free people the very basis of morale is a clear understanding of the deathless truth for which our nation stands--that man's dignity and liberty are the cornerstones of our political, economic and social structure. This is the concept for the defense of which our forefathers were ever ready to give their all.
This kind of development cannot be brought about by acts of Congress or policy statements by public officials. Our young cannot be made fit by governmental edict. The nature of the objective is such that it can be attained only by the voluntary action of private individuals. Men and women, boys and girls, working together in their homes, churches, schools and civic organizations will accomplish what no amount of government planning, ordering and spending can ever do.
The power generated by a democracy is the aggregate of all decisions and all actions by the sum total of its citizens. Nothing constructive ever emerges from government, from business, or from anywhere else, until a person, by himself or with others, puts his head, his hand and his heart to a clear objective of his own choosing.
It is what you and I think, what you and I believe, what you and I are ready to work for, to sacrifice for. It is what you and I are ready to do for others as well as for ourselves. This is what determines the level of America's greatness.
And this leads me to express one hope, in which I trust you will find no partisan impulse or motive. Certainly I intend none. It is that every American will make himself a competitor in good citizenship, and so doing will vote his convictions on November fourth.
Before this audience, I should especially like to make an appeal to every athlete, active or retired, that he will not visit a golf club, a shooting field, a fishing stream, or take part in any recreational activity of any kind on that day until after he has voted.
Again let me express my deep appreciation of the great courtesy and honor you have accorded me, my thanks to you for a very fine evening, my congratulations to our honored guests, and my very best wishes for another wonderful football year!
Thank you very much.
Note: The dinner, sponsored by the National Football Foundation and the Football Hall of Fame, was held at the Hotel Astor. The President's opening words referred to George Murphy, toastmaster, and Chester J. LaRoche, President of the Football Hall of Fame.
The gold medal to which the President referred was the first to be presented annually by the Football Hall of Fame to a person dedicated to propagating the concept of amateur football. The medal was presented to the President "in recognition of a lifetime devotion to American college football."
Dwight D. Eisenhower, Remarks at the First Football Hall of Fame Dinner, New York City Online by Gerhard Peters and John T. Woolley, The American Presidency Project https://www.presidency.ucsb.edu/node/234249