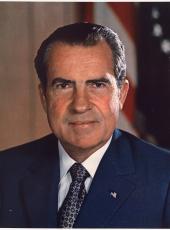 Remarks at the First Annual Awards Dinner of the National Center for Voluntary Action
Mr. Etherington, Mr. Ford,1 the award winners, all of the distinguished guests:
I will not delay your dinner too long, because I know that I am just the first course and that more is to come. But I did want the opportunity to visit the awards dinner and not only to be honored to participate in the presentation of plaques, but also to say something to you, the 400 in this room--this is really the 400 believe me, right here, from all over America but to say something to you about volunteerism, something that will not be new, but something that constantly needs to be reemphasized in America. I think we saw something about volunteerism in the awards that were just presented; more will be said about them later.
1 Henry Ford II was the retiring chairman of the board of directors of the National Center for Voluntary Action. Edwin D. Etherington, who had served as president of the Center from March 1971, was the new chairman.
As I understand, I gave them a plaque and somebody else gives them a $5,000 check and certainly that tells us something too. You could not possibly buy what they have been able to give with $5,000, because as Ted Etherington has indicated, what really distinguishes volunteerism is that it provides services; it brings forth efforts that money simply could not buy.
It is true all over this country, not just thousands or tens of thousands or hundreds of thousands, but millions of volunteers are represented in various organizations. It is a very distinctive feature of American life. De Tocqueville noticed it 100 years ago as he traveled through America. He said what really distinguished this country, whether it was in the East, or what was then the very primitive Midwest, was the multiplicity of volunteer organizations, overlapping each other, but all working toward a common objective of making their communities or their States and their Nation a better place.
And most recently, Willy Brandt, the Nobel Peace Prize winner, after our meeting in Miami, Florida, spent 2 weeks in Florida. He had a press conference. He was very generous in his comments about the United States and its people. He said what impressed him the most about the American people was volunteerism. He said, "We in Europe do not really know this country as we should," because naturally people in other countries know us by our Government or by our Ambassadors and others, and we try to do the best we can, but that is highly impersonal. It is even impersonal when we provide foreign aid, when we help in other ways.
But as Willy Brandt pointed out, as he saw in the areas that he visited in his e weeks' stay in Florida, hundreds of people, helping in hospitals and schools and other agencies, it gave him a different feeling about America than he had ever had before and he, of all the foreign leaders, knows us as well as almost any.
So, it shows that you do represent something that is very special about this country, something that is worth preserving, and something that is worth nurturing because it needs to grow. It presents America at its best. It presents America at its best at home; it also presents America at its best abroad. Because when we do things as a government abroad, that is rather expected to have a selfish interest-sometimes it does; sometimes it is solely humanitarian.
But when we do things as volunteers, whether it is in the Peace Corps or other areas, it has a different connotation, it moves from people to people.

So, here tonight, we honor volunteers. I think perhaps the best way I can put it is to go back to something that Walt Whitman said. He said what really distinguished America was that this was the country in which the President took off his hat to the people rather than where the people took off their hats to the President.
Tonight I take off my hat to the volunteers of America, to this group, to all that have worked in it. Any President would. And he would do so because he is very proud, speaking for all the Nation, to thank people who give of their time and their efforts and their hearts in good causes.
We have seen two groups represented here and they tell us something too. The organization SERVE is, as you know, one of senior citizens. I have spoken to numbers of senior citizens' groups recently and Arthur Flemming 2 and I have often talked about it. This is the impression that constantly comes through.
2 Chairman of the 1971 White House Conference on Aging and Special Consultant to the President on Aging.
When a person retires he no longer has business responsibilities. He just doesn't want to be fed, housed, taken care of. He or she wants to be useful, wants to do something. And volunteerism is a wonderful way for older people who have retired. Let us be thankful that we have such people as that.
Now a word about Mrs. Giles. Here we really feel it. You think of those 40 children who, except for her, might not have had a chance. But they did have a chance, and she did it. You are probably wondering what I was talking to her about. I was just asking her, now how could you have done this for 50 years? Mrs. Giles said to me, "I am only 71." And that tells us something else, if you want to keep looking young, be a volunteer. Mrs. Giles is the best proof of that.
Now, could I say a word about our retiring chairman, Henry Ford. He flew from London to come here and tomorrow he flies back to London and then on to other stops around the world.
I thought of what he represented. Here is a man that we all know is enormously successful in business. He is a man we all know who has contributed, not thousands, or hundreds--which is about as much as we can do--but millions and millions of dollars to good causes around the world, and in America. We are thankful for him, his organization, his people, for what they have done. But then we see something else about him.
Here is a man who could have said, "Well, I have given these huge checks, millions of dollars, so I have done my part." But he goes further, he gives of himself. He gives us executive talent and leadership that money could not possibly buy. What a great credit it is to the American free enterprise system that one of our top businessmen is not satisfied with just giving his money, he gives of himself. That is the kind of example we like in America and we thank Henry Ford for providing it.
Now, finally, I would like to leave this thought with all of you. We would all wish that more who have worked could be personally awarded. But let this be a symbol of how we all so deeply feel, the fact that you are here, the fact that you will go back to your organizations and tell about this dinner--this, I hope, will give a new lift to volunteerism in your communities and in your States.
I can assure you, that as far as the government of this country is concerned-and I say this in a totally nonpartisan, bipartisan way, whether it is a Republican administration or a Democratic administration, this is something we are not divided on. We are for it because it is good for America. I think that this is something that brings Americans together.
We can have religious differences, we can be of different colors, we can be of different generations, but when it comes to working to help people, retarded children, older people who are shut-ins, sick people, whatever the case might be, that is something that brings us together, and that is why I consider it a very great privilege to speak at such a dinner as this. I consider it a very great privilege to honor those who have been honored tonight and I consider it also a privilege to thank all of you for all that you have done through the years.
A final thought: When I announced to the press today some of the items of the schedule that we will be undertaking in the trip to Mainland China, which will begin next Thursday, I pointed out that my schedule would necessarily be very flexible because of the extensive talks I would be having with the leaders of that government and that those talks had to take priority over protocol or seeing those points of interest that anyone would want to see in a country he had not visited before.
But I also pointed out that Mrs. Nixon would not have those inhibitions, that she would have the privilege, and it will be a privilege for her, as it was when she visited Africa just a few weeks ago, and as it has been as she has visited so many countries all over the world during the years we have been in and out of public life. She will have the opportunity to, in this country, the most populous of all the nations of the world, to visit their schools, their hospitals, to see their people.
We know there are great differences in our philosophies. There are great differences between our governments and they are not going to be washed away by simply a week's discussions, particularly since there has been 20 years in which we have had hostility and virtually no communication.
But of this thing I am sure: If, on such a trip, there can be just the opening of communication, if the people of China could only feel that the people of America want peace with all people in the world, that when children are concerned we care about them, no matter what their government may be, that where people who are in distress are concerned, we care about them, no matter what differences we may have in foreign policy--this is what America really wants to convey to peoples around the world. We believe that that may be possible, at least steps can be taken in that direction in the brief time that we are there.
But the main point that I make is this: I look over this audience. About half are women and half are men. Among the leaders in volunteerism here, in addition to the men who will all be properly recognized, we have Eunice Kennedy Shriver, who has been so active in volunteerism for so many years, and Mrs. Romney,3 who has been, also, so very active in volunteerism. And this tells us something else.
3 Lenore Romney, member of the Center's board of directors and wife of George W. Romney, Secretary of Housing and Urban Development.
An interesting point that I have found and that any of you who have studied recent Chinese history will find, is that perhaps one of the most significant changes that has occurred in the 20th century in that huge country that we know so little about has been that women have changed insofar as their status is concerned. I am not suggesting in this respect that this would not have happened had there not been changes in government and so forth such as have occurred there, but I do say that for us in the United States to recognize that in many parts of the world women are now reaching a new state of recognition and that we on our part should demonstrate that we also have that same standard, that this is a message on a people-to-people basis that is enormously important to get across.
I think that one of the most striking things and the encouraging things about volunteerism in America is that really, there are more women in it than men. Part of it is the fact that women may have more time, but part of it might be the fact that they may have more heart. But for whatever the reason, it is America at its best.
I know many times when I write a speech and make one my secretary will say, "Now be sure you don't refer to men doing this and that; you've got to say 'men and women'." I suppose she is thinking of women's lib and all that. All that I know is this: She is right. She is right because, as this banquet so well illustrates, there is no area in which the women of America can render greater service to their country and their community than in the field of volunteerism.
So we are proud of what the men have done, people like Henry Ford and Ted Etherington. But we recognize that they stand up here and they make the speeches and they may take some of the bows, but the women do the work, and we thank you for doing it.
Thank you.
NOTE:The President spoke at 7:13 p.m. at the John F. Kennedy Center for the Performing Arts. He spoke without referring to notes.
He presented plaques to the winners of the 1971 National Volunteer Awards. The group category award went to SERVE (Serve and Enrich Retirement by Volunteer Experience) of New York City, one of the pioneer groups in mobilizing elderly and retired persons for volunteer work. Winner in the individual category was Mrs. Arnette Giles of Pearlington, Miss., the wife of a small-town minister, who has raised more than 40 retarded, abandoned, and needy children in addition to five of her own. She also works at a retarded children's school and helps the elderly in her community.
Richard Nixon, Remarks at the First Annual Awards Dinner of the National Center for Voluntary Action Online by Gerhard Peters and John T. Woolley, The American Presidency Project https://www.presidency.ucsb.edu/node/255072