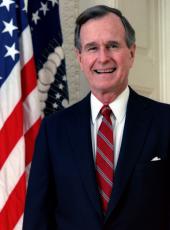 Remarks at the Federal Bureau of Investigation Academy Commencement Ceremony in Quantico, Virginia
Thank you all very much. And Mr. Attorney General, Dick Thornburgh, thank you, sir. May I salute Director Sessions, a friend of long standing, a man in whose service I take great pride. I'm delighted that our drug czar, Bob Martinez, former Governor, is with us here today. I salute all the members, top-level members, of the law enforcement community that are with us here today.
I'm delighted to see our landlord, General Al Gray, who heads the Marine Corps and to whom we all owe a vote of gratitude and thanks for the way he and those Marines performed in Desert Storm. Al, we're delighted to see you here. And I'm delighted to be here, though I think that, on my way in, I may have spotted Hannibal the Cannibal in the audience. [Laughter] For those parents and others, that's an inside joke that I'm not sure I understand myself, but nevertheless -- [laughter].
And of course, a special congratulations to today's newest Special Agents, the class of '91 - 6th. And given my doctors' orders, current orders, I'm glad it was you and not me who had to make it through the "Yellow Brick Road" in order to be here today. [Laughter] But my heartfelt congratulations to you. And I share in the pride that your families all have in you today.
Speaking of my health, which I am reluctant to do, but you might know that I just received a note -- a true story -- from a farmers' organization. And it said: "This wouldn't have happened if you had eaten your broccoli." [Laughter] I don't want to get in a fight with them; just give me thyroid problems any day. [Laughter]
But I'm very proud to be here saluting the FBI for its "fidelity, bravery, and integrity." And I'm proud to salute this class for its "courage, commitment, and common sense." But I've got a problem. I don't want to embarrass a fellow Texan, but tell me, Bill, how come, under the jurisdiction of the Director of the FBI, there's a little Virginia town that has the highest crime rate in the Nation? And after looking around there today -- and, Tony, thank you so much for you and your able compatriots showing me all this. But after looking around there today, there's one thing I know for sure: No matter how persuasive you are, after I leave the White House, I am not retiring to Hogan's Alley. [Laughter] Once is enough.
But you young men and women graduating today have already solved your share of these Hogan's Alley crimes. And now you're going out to face the real thing. And we are grateful to you. You're joining an FBI that plays an essential role in preserving the peace of our country: investigating violations of Federal law in criminal and civil and counterintelligence fields. But there's something else very special about the FBI, beyond its crimefighting role. The Bureau sets an example for the country in showing how citizens and different levels of government can work together to meet our most important challenges. ÿ7Eÿ7E
The concept of teamwork between individuals and the various levels of government lies at the heart of the FBI's mission. And frankly, we need to work together across this land to battle the scourge of violent crime that threatens our homes, our families, and our future.
Last year, six million American citizens -- six million -- fell victim to violent crime. Violent crime claimed the lives of over 20,000 Americans. Look at the statistics and a frightening fact emerges: Our streets posed a greater threat to our own service men and women than did the foes in the Middle East. We deserve better than that as a nation. Our children -- God bless our children, and they deserve better than that. And we will, with your help and your leadership, take back our streets.
In May of 1989, I stood in the rain on the steps of the Capitol with some of the law enforcement officers who put their lives on the line for all of us. Together, we called on the United States Congress to pass our crime package, legislation designed to protect our cops by giving them the tools they need to get their job done. And yes, it was tough legislation, but it was fair legislation. Today, almost exactly 2 years later, I stand here in the midst of another group of law enforcement officers. Two years have passed, and Congress still has not acted on our request.
Earlier this year, the Attorney General and I convened an unprecedented crime summit. We called upon the finest minds in American law enforcement. And in March, following the summit and taking into account what we learned there, we sent a crime bill to Congress. Our Comprehensive Violent Crime Control Act of 1991 will confront the terrifying spiral of lawlessness. It will strengthen our nation's criminal justice system, too often unfairly loaded against dedicated law enforcement officials.
The act has four major elements. First, habeas corpus reform. We're determined to free the courts from frivolous, repetitive delays, gimmicks and challenges from people who have already exhausted their legal appeals. Our bill will ensure that convicted felons will no longer evade punishment by drowning justice in a sea of legal challenges unrelated to guilt or innocence.
The second major element is exclusionary rule reform. It is simply intolerable that armed criminals go free when law enforcement officers have collected solid evidence in good faith efforts to follow court guidelines.
Our bill limits the possibility of releasing violent criminals on the basis of legal technicalities. It permits juries to consider evidence that's been gathered by officers acting in good faith. This will avoid situations like that of the DC drug squad. At a bus station, they seized a bag they believed contained cocaine. They called the prosecutors and were told that they didn't need a warrant to search. Sure enough, they found a large supply inside. And sure enough, the evidence was ruled inadmissible, even though they'd acted in total good faith. Our bill would assure that such evidence survives in court. In addition, it allows introduction into evidence of firearms seized from dangerous criminals, no matter how officers obtain those weapons. And that makes sure, then, that those who misuse firearms are caught and punished, plain and simple.
And third, more categories of firearm offenses and penalties. Under this bill, drug traffickers and violent felons who use semiautomatic weapons will face stiff mandatory sentences. First-time felons caught with firearms will spend 5 years behind bars. No plea bargains. No early release. Our bill also creates new Federal offenses for firearms, theft, and smuggling. We will silence the illegal guns that blast away in our streets, in our homes, and around our schools by punishing the violent criminals who misuse guns.
And our fourth core provision is for the restoration of the Federal death penalty. We need an enforceable Federal death penalty for the most heinous crimes -- for the senseless murder of a Federal judge or the terrorist killing of civilians or the cold-blooded execution of a law enforcement officer or Federal witness. We should give juries the option of imposing the death penalty for such depraved crimes. And we must send the strongest possible message to those who would commit such crimes. We must tell them that our society will protect itself from violent predators.
And for more than a decade now Congress has talked about reinstating the Federal death penalty. And now, frankly, Congress should act. In that way, we will be telling victims and the families of victims that we will not forget their suffering, their loss. We will be telling them there that we're doing everything we can to ensure that others don't suffer similar fates.
But crime victims deserve more than compassion. They also deserve action. And that's why I take particular pride in the fact that, working with Congress, we have already not only reauthorized the 1984 Victims of Crime Act but have also boosted its annual victims compensation and assistance fund to $150 million. Those are dollars that come not from taxpayers but, as you all know, from the fines and penalties levied against criminals.
But of course, the best way, the best way to help the victims of crime is to make sure that they don't become victims in the first place. And so, in our crime bill we've strengthened the core proposals with some potent new additions. Our act includes sections designed to curb terrorism, racial injustice, sexual violence, and juvenile crime. It requires appropriate drug testing as a condition of post-conviction release for Federal prisoners. It outlines protections for witnesses and for abused kids. The bill makes it easier for Federal officials to prosecute those who commit acts of sexual violence involving children. It provides for HIV testing of accused sex offenders. And it guarantees a victim's right to address the court at sentencing.
Listen to these words: "The land is full of bloody crime and the city is full of violence." The prophet Ezekiel wrote that over 2,000 years ago. The battle between good and evil still rages. But our crime bill will strengthen the hand of good -- that's your hand, the hand of our nation's law enforcement professionals.
The American people, frankly, are tired of talk. I believe they want action. In March, we asked the Congress to pass a crime bill within 100 days; I challenged them at a joint session up there. And so far, 85 days have passed, and neither House has chosen to take up our crime package. The 100 days will expire on June 14th, but as you know, the crime issue will not. America wants real, comprehensive action against crime. America wants it done right, and it wants it done now. And I assure you, so do I.
Finally, there's another more subtle threat to the peace, and that's racial strife. For the past couple of years, the issue of civil rights has divided Americans. Our position as an administration is clear, and believe me, I'm telling you this from the heart. I want to sign a civil rights bill. I am proud of my record on civil rights, and I'm proud of my administration's record on civil rights. But we want to sign a bill that advances the cause of equal opportunity. We want to sign a bill that advances the cause of racial harmony. And we want to sign a bill that encourages people to work together.
Unfortunately, congressional leaders again want to pass a bill that would lead employers to adopt hiring quotas and unfair job preferences. This week, they proposed an antiquota amendment to take care of the problem, the quota problem they said didn't exist.
This shouldn't fool anyone. If you look closely at the amendment, you'll see that it endorses quotas. Even the section that supposedly outlaws quotas endorses quotas. It defines the "Q" word -- as it's come to be known -- it defines the "Q" word so narrowly that it would allow employers to establish personnel systems based on numbers, not on merit. Other sections rig the rules against employers. If their numbers aren't right, the employers are essentially helpless to defend themselves in court. And another section of the bill forbids many victims of illegal quotas from even getting their day in court.
If you listen to proponents of this bill, you'll hear another interesting thing. You'll hear them boast their approach makes it easier to prosecute and sue people. Well frankly, this is hardly the road to racial harmony. It's the road to lawsuits and discord.
And so, let's start over. Let's make harmony our goal. A good place to start is our own bill, the administration's civil rights bill. You see, our bill would punish vigorously those who practice prejudice in the workplace. It would not offer a blank check to lawyers and special interests. It frankly would offer a helping hand to victims of racism, sexism, and other forms of discrimination. It would build on the strong and just laws that we already have. And I'd like to sign it, along with our crime bill, and I'd like to sign it soon.
I'm very proud to be with you law enforcement officials. And I want you to know that you have the public's support -- never doubt that -- you have the public's support and gratitude. You have all of our support. And very candidly, you've earned it. You deserve our admiration, our respect, and the best, toughest anticrime package your grateful nation can give you. No more loopholes, no more rolls of the dice. It's time. It's long past time.
So, once again, I was just delighted when the Attorney General and the Director asked me to come down here to see you in action, to salute this graduating class. Congratulations to the graduates, to their families on this very special day. And the best of luck to all of you. And may God be with you.
Thanks to all the FBI and DEA Agents here, to the State, and to the local and international police officers and the FBI National Academy and, again, to your landlords, the United States Marines. May God bless you all. And may God bless the United States of America.
Thank you very, very much.
Note: The President spoke at 2:10 p.m. in the auditorium of the administration building. In his remarks, he referred to Attorney General Dick Thornburgh; William S. Sessions and Anthony E. Daniels, Director and Assistant Director (Training Division) of the Federal Bureau of Investigation; Bob Martinez, Director of National Drug Control Policy and former Governor of Florida; and Gen. Alfred M. Gray, Jr., commandant of the Marine Corps.
George Bush, Remarks at the Federal Bureau of Investigation Academy Commencement Ceremony in Quantico, Virginia Online by Gerhard Peters and John T. Woolley, The American Presidency Project https://www.presidency.ucsb.edu/node/265587