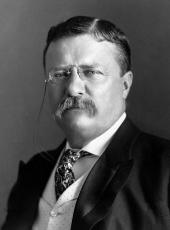 Remarks at the Fair Grounds in Birmingham, Alabama
Mr. President, and you, my fellow citizens:
It is indeed a great pleasure to have a chance of saying a few words to this wonderful outpouring of people. I have traveled yesterday and today, through your mighty and beautiful State, and I cannot say how impressed I have been by its natural resources, and above all by the quality of its citizenship.
Of course, I have been profoundly moved by the way in which, at every place we stopped, I have been greeted by the veterans of the Civil War. And here in Birmingham not only by the veterans who wore the gray, but also by those who wore the blue. And, oh, my fellow countrymen, think what good fortune is ours, that we are the heritors of the one great war in history which, now that the bitterness has died away, has left the memory of men in the Confederate uniform and of men in the Union uniform as a common heritage of glory to our entire people.
I want to say a special word to those of my escort, the men of the National Guard here, to whom I feel a big sense of comradeship, for they are just the type of the men of my own regiment; and I want to say to the men of the earlier generation—to the veterans of the great and troubled years from '61 to '65, that we, their sons, if ever the time of trial should come to this nation, will spring to the defense of our common flag, and endeavor to show the same spirit our fathers showed in the Civil War.
Now, gentlemen and ladies, I have but a moment. I have been put through a pretty active day, and in order that I may keep my engagement in Arkansas tomorrow, the train must leave nearly on time. It cannot leave quite on time because it is the time now, and I shall say but one word in closing.
During the time that I have been President, I have gone through the country from the Atlantic to the Pacific, and from the Canadian line down to the Gulf. I have met our people by the hundreds of thousands, and the thing that has impressed me most in the audiences that I have addressed has been the essential likeness of our people.
The differences are slight and superficial. The likenesses are fundamental, and I feel that the average American is a pretty good fellow, and that all that is necessary is that he should meet the other average American in order to get on all right; and that applies, gentlemen, not only as between those who live in one locality and those who live in another, but as between those who earn their livelihood in one way and those who earn it in another; whether wage-worker or capitalist; whether farmer or townsman; whether we live East or West, North or South, in the great fundamentals which must underlie all good citizenship, our people are alike.
And, after all, we need to keep steadily in mind that what is needed to make a good man a good citizen is not genius, but humdrum work-a-day qualities. In the first place, honesty. Using the word in its widest and deepest significance, honesty, the quality that makes a man a square man to deal with, a decent man in his own family, a man you are glad to have as a neighbor, and glad to do business with, one who does his duty by those nearest to him and the State. Honesty is the first requisite, and remember always that the greater a man is, if he is not honest, the more dangerous he is. What we have to fear in this country is not the crooked man who fails—we put him in jail—it is the crooked man who succeeds. This is the man who is dangerous to the community.
Honesty is the first requisite, but honesty is not enough. I do not care how honest a man is, if he is afraid he is no good. It is just as it was in the Civil War. It didn't make any difference how patriotic a man was, if he ran away you could do nothing with him. In addition to honesty you must have courage, civil courage, and the courage that will show itself, if need be, in war; moral courage and physical courage, for we can do nothing toward the salvation of this country with the hands of the timid man. We need a good man, but he must be a game man too.
And, gentlemen, honesty and courage are not enough. I do not care how honest a man is and how brave he is, if he is a natural-born fool you can't do anything with him. We have got to have honesty, courage, and the saving grace of common sense. I believe in the boundless and limitless future of this mighty republic of ours, because I believe that the average American has in him precisely those three virtues of honesty, courage and common sense.
Theodore Roosevelt, Remarks at the Fair Grounds in Birmingham, Alabama Online by Gerhard Peters and John T. Woolley, The American Presidency Project https://www.presidency.ucsb.edu/node/343656