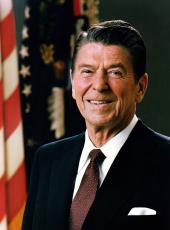 Remarks at the Exchange of Documents Ratifying the Intermediate-Range Nuclear Forces Treaty
The General Secretary. Esteemed Mr. President, esteemed Mrs. Reagan, distinguished ladies and gentlemen, comrades, we are approaching the end of the meeting between the leaders of the Soviet Union and the United States of America, the fourth such meeting in 3 years. The visit of the United States President to our country is drawing to a close.
The President and I have summed up the results of a dialog between our two countries at the highest level. We have discussed both the immediate and longer term prospects for Soviet-U.S. relations. We have signed documents which record what has been achieved and provide guidelines for the future. Among them, an historic place will belong to the ratification documents which give effect to the treaty on intermediate and shorter range missiles. The exchange a few minutes ago of the instruments of ratification means that the era of nuclear disarmament has begun.
Assessing the work done over these past few days, we can say our satisfaction, say that what has been happening these days in Moscow is big politics, politics that affect the interests of millions and millions of people. Each such meeting dealt a blow at the foundations of the cold war. Each of them made huge breaches in the cold war fortress and opened up passages to modern, civilized world politics worthy of the truly new times.
But big politics means difficult politics in which every step is not easy to take. Weighing carefully each one of our new steps, we measure it against the security interests of our two nations and of the world as a whole, for that is the only way to achieve truly substantial results with the necessary margin of viability. Big politics also means big responsibility, and so it cannot be built on pursuing only one's own interest, which is always inherently one-sided. Such politics also needs a great idea. Humankind has conceived that idea in the pangs of wars and disasters, tragedies and calamities, strivings and discoveries of the 20th century. This, in our view, is the idea of a nuclearfree and nonviolent world. It is that idea that is inscribed in the mandate which the Soviet people give to their representatives at the start of any negotiations. This particularly applies to our negotiations with the United States of America.
Addressing the Soviet people and the Americans, addressing all nations from these hallowed steps of the Moscow Kremlin, I hereby declare we have been working honestly and with perseverance, and we shall continue to do so to fulfill that historic mandate.
The first lines have already been written into the book of a world without wars, violence, or nuclear weapons. I believe that no one can now close that book and put it aside. President Ronald Reagan and I have agreed that the immediate task before us, which is to conclude a treaty on a 50-percent reduction in strategic offensive arms, can and must be accomplished. In our joint endeavors and discussions, we have learned to understand each other better, to take into account each other's concerns, and to search for solutions. The atmosphere in our relations is improving. We're working to make it a constant not only in our official contacts but also in the day-to-day management of Soviet-U.S. relations. In this, too, we are guided by a mandate from our peoples.
Thanks to the atmosphere of the meetings in Washington and in Moscow, and as a result of the agreements reached, Americans and Soviet people now have more opportunities for communication and for getting to know each other. I'm convinced that scientists, students, schoolchildren, cultural personalities, ordinary tourists, athletes, and of course businessmen will continue to enlarge and add new colors to the fabric of cooperative and even friendly relations. Sometimes, they can do that better than politicians.
Historians who will one day describe and evaluate what is now being done have probably not yet been born. But every day, babies are being born who will live in the 21st century and to whom we must bequeath a safe and humane world. On behalf of the Soviet leadership and the Soviet people, I wish to tell all those who are concerned, and yet hopeful about the future, we shall work to achieve that goal, and we can only do it by working together. Thank you.
The President. Mr. General Secretary, these are historic moments. As we exchange these documents, the instruments of ratification, this treaty, the terms of which we formally agreed to last December in Washington, enters into force.
Mr. General Secretary, you know that our way here has not been easy. At crucial moments your personal intervention was needed and proved decisive, and for this we are grateful. So, too, Mr. General Secretary, you are aware of how important the objective not just of arms control but of arms reduction has been to my own thinking and to the policy of my administration since its outset. Seven years ago, when I first suggested the concept of a double-zero treaty, there were those who said that this was so unrealistic an idea that it was irresponsible to even propose it. Others simply dismissed the concept as a propaganda ploy or a geopolitical gambit. But skepticism and doubt bring a barren harvest. And today, on this table before us, we see the fruits of hope, evidence of what candor and realism can accomplish. We have dared to hope, Mr. General Secretary, and we have been rewarded.
For the first time in history, an entire class of U.S.-Soviet nuclear missiles is eliminated. In addition, this treaty provides for the most stringent verification in history. And for the first time, inspection teams are actually in residence in our respective countries. And while this treaty makes possible a new dimension of cooperation between us, much remains on our agenda. We must not stop here, Mr. General Secretary; there is much more to be done. As will be seen in our joint statement later today, more progress has been made toward a strategic arms treaty during our meetings. We must try to move forward in the months ahead to complete this START treaty as soon as possible. So, let us continue to expand the frontiers of trust, even as we verify, Mr. General Secretary—even as we verify.
Mr. General Secretary, we've agreed many times that there remain differences, important fundamental differences, between us. Yet as we work over the long run to narrow these differences, as we work for what I hope will be a new era of peace and expanded human freedom, we must also acknowledge our solemn responsibility to take steps now to reduce the chances of conflict and to prevent war. This we have done today, a first step toward a brighter future, a safer world. America's allies and friends welcome this treaty, too. We consulted them fully during its negotiation. We made clear that we would never put their security or their interests at risk, that on the contrary we would sign a treaty only if it enhanced their security, as this one does.
And finally, if I may, I would like to take a moment to thank the United States Senate for their work on this treaty. The way of democracy is sometimes a complicated way and sometimes trying, but it is a good way, and we believe the best way.
And once again, Mr. General Secretary, I want to extend to you and to all those who labored so hard for this moment, my warmest personal thanks.
Note: The General Secretary spoke at 12:15 p.m. in St. Vladimir's Hall at the Grand Kremlin Palace. The President spoke in English, and the General Secretary spoke in Russian. Their remarks were translated by interpreters.
Ronald Reagan, Remarks at the Exchange of Documents Ratifying the Intermediate-Range Nuclear Forces Treaty Online by Gerhard Peters and John T. Woolley, The American Presidency Project https://www.presidency.ucsb.edu/node/254069