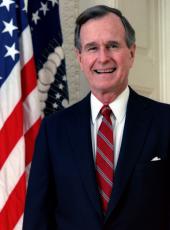 Remarks at the Education Summit Welcoming Ceremony at the University of Virginia in Charlottesville
Thank you all for that warm welcome. Secretary Cavazos, thank you, sir, and to the other members of the Cabinet; and Governor Branstad and Governors Clinton and Campbell, all the Governors; President O'Neil especially, who is moving out of his house so Barbara and I can stay there -- beyond the call of duty. Members of the faculty and friends, thank you. And let me say as, I guess, the host of this: Welcome, welcome to Mr. Jefferson's university, the alma mater of President Woodrow Wilson. To Virginia's gracious Governor, Jerry Baliles, my thanks to you, sir. Our Senators -- I don't know if they made it -- Chuck Robb and John Warner -- but I know they plan to come. And, of course, Congressman for this district, French Slaughter.
I call it Mr. Jefferson's university, as nearly everyone else does in this marvelous city of Charlottesville. In fact, President Taft said once that they still spoke about Mr. Jefferson as though he were in the next room -- his spirit more real than the painting of Plato and Aristotle behind me, or the statue of Homer outside on the lawn.
Although his ideas on individual freedom, humanism and the inalienable rights of man stand alone in the history of this republic, Mr. Jefferson had one overriding vision that he did not see realized in his lifetime, but one which has over the past 200 years been fulfilled: a vision of strong public education, a public education system in this country second to none. It's a system that has brought Americans from all walks of life together, enabled all citizens to build better lives for themselves; a system that has given us Neil Armstrong, and Martin Luther King, Jonas Salk, Sandra Day O'Connor; a system unparalleled in the world.
But today millions of Americans cannot read. Some never even make it to graduation, dropping out of school and society as well. Drugs have invaded our classrooms, violence has entered our schoolyards, and clearly the enlightened America dreamed of by Thomas Jefferson still eludes us. And so, the Governors have accepted my invitation to come together for open and candid discussions about the future of American education. And I am grateful to each and every one of you, and I appreciate the depth of commitment shown by everyone assembled here today.
This is not a Republican or a Democratic issue. And it's not administration versus the Governors. It's an American issue. And everyone in this room is committed -- or you wouldn't be here -- to educational excellence. And we all know too much is at stake to let partisanship get in the way of progress. This call was sounded in 1983, in the previous administration, in the Reagan administration, when warned in its historic education report that we are indeed a nation at risk. And that report awakened Americans to the situation in our schools, and then those alarm bells began to ring. And everyone now knows what the problems are. And no one came here to point fingers, but for the good of our children's education, for the good of the country, if you will, we must decide on a course of action. The time for study is over.
There are real problems right now in our educational system, but there is no one Federal solution. The Federal Government, of course, has a very important role to play, which is why I'm here and why so many members of our Cabinet are here. And we're going to work with you to help find answers, but I firmly believe that the key will be found at the State and local levels. You are the ones, as Governors, who are out there on the firing line, and you see what goes on in the classrooms and in the local school boards and in your state policymaking sessions. Truly, the States are the laboratories of reform in this country, and you are the experts. But we've got to work together -- the States, Governors, mayors, State legislators, and the Federal Government. We must work together over the next 2 days -- but more importantly, over the next several years.
We're going to talk about many issues -- most importantly, choice and competitiveness and teaching quality and improving the learning environment. Accountability, flexibility, tougher standards, a results-oriented system -- all of these have got to be out there on the table. And what I'm seeking at this summit is not just dialog, but a new sense of direction. We've got to challenge the education system if we're to meet the challenge of educational excellence. It's time to stop debating over commissions and studies and set priorities, and it's time to get on with it.
Shortly we're going to leave this hall and walk down the lawn to the Rotunda for the first of our working group meetings. On the way we will pass -- walk past Pavilion Seven, known as the Colonnade Club. The cornerstone of that building was laid by three great Americans -- Presidents Jefferson, Madison, and Monroe. And as you walk past that Colonnade Club, let us think of these three men and what they envisioned for the Republic. Think of the schools the founders sought to establish to develop the character of students with values like honesty and discipline and public service. And let us work together these next 2 days in a spirit of total frankness, total honesty. And let's not be afraid, as Mr. Jefferson said, to follow truth, wherever it may lead.
Thank you all very much for coming. And Governors, I look forward to working with you over the next couple of days here. Thank you very much.
Note: The President spoke at 3:15 p.m. in Old Cabell Hall on the grounds of the university.
George Bush, Remarks at the Education Summit Welcoming Ceremony at the University of Virginia in Charlottesville Online by Gerhard Peters and John T. Woolley, The American Presidency Project https://www.presidency.ucsb.edu/node/263470