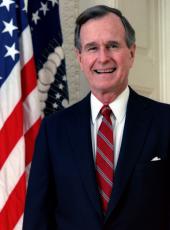 Remarks at the Drug Command Coordination Control and Intelligence Center Dedication Ceremony in Miami, Florida
Commissioner Von Raab, my thanks to you, sir, for that warm introduction. My respects to Admiral Yost, who has not neglected the Coast Guard's significant role in interdiction, but has found time to take a crucial leadership role as we battle against the environmental disaster up thousands of miles away in Prince William Sound, where the Coast Guard has performed in a superb fashion. I'm delighted to see Admiral Kelso here, and of course, it is most appropriate that Dick Thornburgh, our outstanding Attorney General, be at my side today, as he was, along with the Commissioner, 2 or 3 days ago in California, where we were reviewing a site in a peaceful mountain area that had been taken over by a drug warlord in this country.
And the effort had been broken up by the cooperative efforts, some of which we see on display here today. And so, it's a pleasure, Dick, that you joined us once again. To my friend, Governor Martinez. I want to say to him I am grateful for the effort that Florida is putting into this effort. This war, this effort, will not be successful without the involvement of States and local communities and the private sector. And Bob Martinez has led the way and, I might say, ably assisted at the national level by Senator Gramm and Senator Mack, who are with us today, too. And I'd be remiss if I didn't single out two United States Congressmen -- if I hurt feelings, sorry, I just missed you -- but Congressman Bilirakis and Congressman Young, two of Florida's greats, are with us here today as well.
The dedication of this facility -- I am privileged to have a part in that. And as I do, let me lay to rest just one popular misconception that's brought home to me by the drill we saw inside. You know, in this country, there's an image of a drug smuggler, some still think of as a grizzled character with some Hawaiian shirt, leather jacket, perhaps the long hair, beard tucked underneath an aviator's hat -- beard tucked underneath his helmet from some secondhand shop -- expected to be flying in a jump plane by the seat of his pants. And you know best, you here, how that popular image lacks reality. All too often, the drug smuggler is an excellent pilot or seaman, with a jet or an expensive boat equipped with the latest communications and other sophisticated equipment. In short, he has everything that drug money can buy. And junking an airplane at sea can just be the cost of doing business on one run.
To identify and interdict this new breed of sophisticated drug smugglers, we must do more than match the resources of the multibillion-dollar drug empire. And that's what we've done here, at C - 3 - I East, a nerve center in this war on drugs. Think of this as one of America's drug war situation rooms, as our early warning network against narcotics. This facility, jointly commanded by the U.S. Customs Service and the Coast Guard, is an important part of our grand strategy in the war on drugs. And from here, we will be able to detect, track, identify, and apprehend suspected smugglers operating vessels and aircraft. This is the second such facility to come on-line, joining one in Riverside, California, to guard more than 3,600 miles of our nation's southern flank. In time, this facility alone will watch the skies from Brownsville, Texas, to Puerto Rico and across the entire eastern seaboard.
Four years in planning and construction, this facility is dedicated to the principles of unity and cooperation, principles that are essential to repel the drug invasion of America. This facility provides the best example of how agencies will work together to wage the war on drugs. From this site, civilian and defense radars will work together, under the watchful eye of the Coast Guard and Customs duty officers, who will coordinate interception by Federal, State, and local law enforcement agencies -- whether that means scrambling a jet fighter, Coast Guard cutter, speedboats guided by the Blue Lightning Strike Force.
America's response to airborne smuggling is especially dramatic, growing from a ragtag collection of twin-engine planes that were seized, in the first instance, from the smugglers into a highly sophisticated fleet of aircraft equipped with sensors designed for a unique law enforcement mission. And Customs has a fleet of chase planes and Black Hawk helicopters on loan from the Army. The Coast Guard operates Falcon jets with infrared sensors and interceptor radars just like those on the F - 16. These are just some of the birds of prey that will relentlessly search the skies for drug smugglers.
As impressive as this high-tech effort is, it's only as effective as the men and women who manage it. And it is with this in mind that I salute those in the field, who are at risk every single day in the war against drugs. But I also want to salute the officers who will staff this post, for every technician in this room and this area knows that the lives of his colleagues will be on the line. This is a special responsibility that takes a special kind of courage.
Our purpose is simple and close to home: to keep drugs out of the lockers, the classrooms, and off the playgrounds of our schools; to redeem the children of America from the scourge of drugs. In the months and years ahead, you will count kilos of cocaine and mountains of marijuana seized from the ships and the planes. And you'll never know how many lives will be saved by your efforts. But never forget that saving lives is what this is all about; saving lives is exactly what you are doing.
So, Commissioner and Admiral, I thank you, and I salute from the bottom of my heart the men and women of Customs and the Coast Guard for all that they have done and for all that they will do. Thank you all, and God bless you. Thank you very much.
Note: The President spoke at 11:40 a.m. in front of the facility. In his opening remarks, he referred to William von Raab, Commissioner of the U.S. Customs Service; Adm. Paul A. Yost, Commandant of the U.S. Coast Guard; and Adm. F.B. Kelso III, USN, commander in chief of the U.S. Atlantic Fleet. Prior to the ceremony, the President observed a simulated drug interdiction on the operations floor of the facility. Following his remarks, the President traveled to Clearwater, FL.
George Bush, Remarks at the Drug Command Coordination Control and Intelligence Center Dedication Ceremony in Miami, Florida Online by Gerhard Peters and John T. Woolley, The American Presidency Project https://www.presidency.ucsb.edu/node/263305