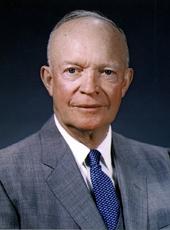 Remarks at the Dinner in Honor of Sir Winston Churchill
Sir Winston, and Sir Winston's Friends:
We are gathered here to honor a man who has been not only our friend but who has given to each of us something intensely personal. Here is a man who may not be described merry as a spokesman of the United Kingdom in war and in peace, but an individual who makes on all who meet him an impression that is unforgettable.
Some of you have known him in the wartime days, when he was our inspired leader along with our own President. Some of you have known him in the diplomatic circles when you have been Ambassadors to the Court of St. James or officials of our own Government. You have known him in many ways, but always as an individual who stands out in your consciousness, in your memories.
There are several men here this evening who said to me when I asked them to come to this party, "I have some very important engagements, but to see Sir Winston once again is one of the greatest things that could happen to me. I have broken the important engagement in order to do so."
Now, for me, there is a certain coincidence between this meeting and the circumstance that initiated my friendship with Sir Winston. I met him in this house--and this was something for a newly commissioned Brigadier--in the same room that he is now occupying is where I met him. I had seen him from some distance at a December 1941 conference in the War Department; but as I said, I was a Brigadier, and in that first meeting I didn't get close to the head of the table.
But soon after this, I was ordered to London, along with General Clark, on a mission, and he was there. At about this time Tobruk had fallen. The fortunes of the Allies seemed never at lower ebb. This was on our minds when we were admitted to his room. It is trite to say that Sir Winston took it in his stride. But it was true. He said, "Well, we have lost Tobruk." We had pinned our hopes on Tobruk holding out to impede the eastern advance of Rommel. He said, "All right, we shall have to correct it." And they did--at El Alamein and later.
So throughout this friendship, beginning in early 1942, I have had a great privilege which has come to only a few men: to be exposed to a great mind, to a great leader, to hear an eloquent tongue, to know him as a leader, a statesman, a political leader, a politician. And also to know him as an American. As to this last, a specific incident!
One night I was riding with him on a military train in the South of England. We were on an inspection trip, and among a dozen Americans, there was only one other Britisher in the car. We were having dinner. Someone inadvertently used the old expression, "Shoot if you must this old grey head." Sir Winston smiled and began and finished the complete poem of "Barbara Frietchie." So all of us agreed he was a little bit more American than we were.
I think, though, of all the things he has known and done in war and peace, his proudest boast is this: that he is the subject of Britain's monarch. Of that I know he is proud. And as a matter of fact, I am proud for him. Because I, too, respect and admire the Royal Family.
Now, observing the requirements of protocol, I am not allowed, on this occasion to propose his name for a toast. But I know that Her Majesty the Queen would be proud to know that each of us, in drinking a Toast to the Queen, is thinking of one of her most brilliant, loyal, and greatest subjects: Sir Winston Churchill.
Gentlemen, the Queen.
Note: The President spoke at a stag dinner in the state dining room at the White House at 9:00 p.m. Sir Winston responded as follows:
Mr. President and Gentlemen:
I am grateful to you for allowing me to have the honor to be associated with the Toast of the Queen.
It is remarkable how much you have contributed to using this new link of the Crown to bring together these vast populations which are on either side of the Atlantic to await development of the world. It is a most remarkable and most encouraging thing.
I am very much complimented that our host, the President, should have invited here tonight so remarkable a gathering of many of the most distinguished figures of the United States of America. It is a great honor to meet you all, I can assure you that I deeply feel it as such. To come across the Atlantic and to see so many friends and so many elements in the union of our peoples has been a great and memorable joy to me.
Here at this table, to look around, sit those whose decisions can perhaps influence the destiny of mankind more deeply than any other group of men you could find.
We are all of us here today faced with complex and difficult problems. They are perhaps harder to resolve than those which confronted us in the last war, in the days of our closest comradeship. And yet, in a way, you did not run the risk of making mistakes, of slipping here or there in minor matters such as we sometimes experience nowadays in time of peace.
I would suggest to you that the solution today is the same as it was then. I feel most strongly that our whole effort should be to work together. It resounds in my mind, a precious and hopeful thought. That anyone should cast aside as "only another country" is ridiculous. We have got to work together. I think that it is in close and increasing fellowship, the brotherhood of English-speaking peoples, that we must work.
It is that that I look at, first and foremost, and I was very pleased indeed to have the opportunity of coming over here and telling you, late in the day, what I have always lived up to, namely: the union of the English-speaking peoples. I am sure that it is in a close and increasing fellowship with you, our American friends and brothers, that our brilliant future rests.
Consider, broadly speaking, there's a very large mass of people--we are small, but we are 80 millions, with Canada, Australia, and New Zealand brought in. You are 175 millions--well, how does that add up? It seems to me, adding it up, it's more or less 300 millions, pretty near. Anyhow, a few more years of your tenure of office will easily see that raised three million a year and building up, and there you will be.
And let us be united. Let us be united, and let our hopes lie in our unity. Because we understand each other. We do really understand each other. We understand when things go wrong, or things are said, or anything like that, we really can afford to pass them by.
We understand each other, and we hope that the realization of this truth will continue to increase on both sides of the Atlantic, to the lasting benefit of the free world--and above all, the peoples of Britain and America.
I earnestly hope that an effort will be made, a fresh and further effort forward, to link us together. Because it is really of the utmost importance that we, who think so much alike, as well as speaking, who think so much alike, should see clearly before us the plain road onwards through the future.
Now, Mr. President, I have detained you some time, but I must ask this distinguished company to join me in drinking the health of the President of the United States, which I now propose.
Dwight D. Eisenhower, Remarks at the Dinner in Honor of Sir Winston Churchill Online by Gerhard Peters and John T. Woolley, The American Presidency Project https://www.presidency.ucsb.edu/node/235601