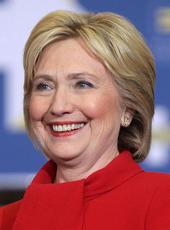 Remarks at the Dickerson Community Center in Daytona Beach, Florida
Go, Daytona Beach! Wow. Thank you. Thank you so much. [Chants of "Hillary."] Thank you, all. Wow. Thank you. Thank you. I am just thrilled to be here. Are you I'm ready to canvass? Well, we need your help in these last 10 days until the election.
I want to thank Leslie Pearce for that introduction and her lifelong work on behalf of children. I want to thank State Representative Dwayne Taylor and Mayor Derrick Henry for being here with us. And to all of the elected officials, all of the organizers and the volunteers, I am thrilled to have this chance to come by and talk with you for a few minutes about what's at stake in this election because this may be one of the most important elections in our lifetimes. And we cannot take anything or anyone for granted.
I was just over at BCU for their homecoming celebration. And a lot of people told me they had already voted, but I said, 'Get your friends. Get your family. Get everybody you know to vote' because you've got early voting here in this county, in Volusia County, until November 5th. No excuses. Everybody's got to get out and vote. And that's what this canvass is meant to make sure we do. Right?
Now, I'm sure that some of you may have heard about a letter that the FBI director sent out yesterday. Well, if you're like me, you probably have a few questions about it. It is pretty strange. It's pretty strange to put something like that out with such little information right before an election. In fact, in fact, it's not just strange. It's unprecedented. And it is deeply troubling because voters deserve get to full and complete facts. And so we've called on Director Comey to explain everything right away, put it all out on the table. Right?
Now, of course, Donald Trump is already making up lies about this. He is doing his best to confuse, mislead, and discourage the American people. I think it's time for Donald Trump to stop fear mongering, to stop disgracing himself, to stop attacking our democracy. We can't let him get away with this, can we?
Now, like any campaign, there have been ups and downs and ups and downs, but I've got to tell you I feel so motivated, so excited, so ready because I've always stayed focused on one thing: you and your families. What I worry about are the problems that keep you up at night, and I'm going to stay focused on that, because you know on November 9th that's what's going to matter. We can't let this election in the last 10 days be about the noise and the distractions. It's got to be about what kind of country we want for ourselves, our children, and our grandchildren – and who can help take us there as your president.
[Chants of "Hillary!"]
Now, I think you and I agree the choice is pretty clear between a president who's ready to bring us together, keep us safe, and make the economy work for everyone, not just those at the top, and someone who is temperamentally unfit and totally unqualified for the job.
Now, I promise you this: I will never stop working for you every single day as a candidate and most importantly as your president. That's how I was raised. When I was over at B-CU I met one of the Methodist ministers because B-CU is affiliated with the Methodist Church, and I felt right at home. And my mother – my mother taught me to never, ever quit. Now what does that mean? Well, that means everybody gets knocked down. What matters is whether you get back up. And I've been fighting for families and underdogs my entire life, and I'm not stopping now. We're just getting started.
And let's always remember what our wonderful First Lady told us: 'When they go low, we go high.' So no matter what they throw at us in these last days, we're not going to back down. We're not going to get distracted. We're not going to get knocked off course. Because we know how much the election matters. We know how many people are counting on us. And that's why we're going to reject Donald Trump's dark and divisive vision about America.
We are going to stick together and we are going to win on November the 8th. Right? Because Donald Trump's strategy is pretty simple. They've even said it in his campaign. It's to get women to stay home, get young people to stay home, get people of color to stay home, and get a lot – get a lot of smart, intelligent men to stay home too. Now, this is all part of his scorched earth campaign. It goes against everything we stand for. And you know how we stop him? By showing up with the biggest turnout of voters in American history.
We need more of everybody to vote – more women, more young people, more people of color, more African Americans, more Latinos, everybody. Let's break every record that we've ever had for voting. Let's make that the story of this election. And here in Florida you can, as you often have, make the difference. Right, Florida? If you all vote and you get everybody you know to vote, if you go out and talk to people today and every day about what's at stake in this election, then we will make history. We will win up and down the ballot. And I feel strongly about this, because we need people in Washington who are problem-solvers, not problem-makers. That's why I hope you'll vote to send Patrick Murphy to the Senate. He will be an independent voice for Florida families. And this is important: Unlike his opponent, Patrick has never been afraid to stand up to Donald Trump.
Now, here's some really good news. We just reached a milestone. More than 200 million Americans are registered to vote. That is the highest number ever. And that includes 50 million young people. That's the most in history. And you know what else? More than 16.5 million people have already voted in this election. And more than 3 million of those votes have been right here in Florida. Now, you only see numbers like we're seeing here in Florida when people are standing up for what they really believe in. Americans are coming together, and I know because I hear from people who are Republicans and Independents who are joining us to reject hate and division, rejecting Donald Trump's demeaning treatment of women, his plans to break up immigrant families and deport millions of people, his lie that President Obama wasn't born in America.
I'll tell you, we have learned who Donald Trump is. Now it's up to us to show who we are. And the energy that we are seeing is not just about what we're against, it's about what we're for. It's about a common vision that we share for a hopeful, dynamic, unified America where everyone counts, everyone has a place, everyone willing to work can get ahead and stay ahead, where women are respected – where veterans are honored, where workers are paid fairly, where marriage is a right and discrimination is wrong.
So my friends, it is not just the fact that my name will be on the ballot. Everything we care about is at stake – your future – making college affordable, helping you pay back your debt – the cost of prescription drugs down – protecting and defending Social Security and Medicare from privatization and Wall Street schemes. Fighting climate change is at stake. LGBT equality is at stake. Equal pay for women is at stake. In the end, we know that American dream itself is at stake.
Now, did any of you see the debates?"
Audience: "Yes."
Clinton: "Well, I'll tell you, I stood next to Donald Trump for three debates, four and a half hours, proving conclusively I have the stamina to be president and commander-in-chief. But I have to tell you, he said a lot of things that were troubling. But in that last debate, he said something that was truly horrifying. He is the first person of a major party, Republican or Democrat, ever to refuse to say he would respect the outcome of the election. Now, we can think about every issue we care about, but you know, after attacking women and African Americans and Latinos and people with disabilities and Muslims and POWs and everybody, now he's attacking the institutions of democracy. And so it comes down to this. When your kids and grandkids ask, 'What did you do in the 2016 election when everything was on the line,' I want you to be able to say you voted for a better, fairer, stronger America.
And the way we're going to do that: We're going to turn everybody out. Early voting has begun right here in Volusia County. Every day from 7 a.m. to 7 p.m. until November 5th you can vote. The nearest early voting site is just one mile away from here at the Volusia County Library Center in City Island. So don't wait one more day. Go vote, and then help us get everybody else out to vote too.
Now, I know – I know that we've got our canvass organizers up here. I don't want to take too much of their time because they are workers, they are organized, they are focused. I'm so grateful to them and to you, and we need you. We need you. Stakes couldn't be higher. We got to do everything we can. I don't want anybody waking up on November 9th and saying, 'Oh, I wish I had just done a little more.' So help us knock on doors, make phone calls, talk to voters, and ask them, 'When are you going to vote? Do you know where you're going to cast your ballot? Who will you take with you?' And make sure they know about early voting, already begun here in Florida. And then if you need to, sign up yourselves. We have signups for three more shifts between now and Election Day. And this is going to be a close election; they always are these days. And we're going to win because of you, because of hardworking volunteers like you. And if you know anybody thinking about voting for Donald Trump, stage an intervention. Remember, friends don't let friends vote for Trump.
And think about it this way. On January 20th, we're going to have a new president. And I'll tell you what, I will be proud to build on the progress we've made under President Obama and go even further. But I can't do any of the things that I'm talking about, any of the plans that I have, unless you help me. So that's what I'm asking you. That's why I came to Daytona Beach today. I came to ask you to help me in these last ten days. Let's give every American a chance to chart their own future, make their own contributions. Let's build a future we can all be proud of, and let's make sure we prove once and for all that love trumps hate.
Thank you.
NOTE: Remarks as delivered.
This was Secretary Clinton's first campaign speech after FBI director James Comey reopened the investigation into Clinton's private email server.
Hillary Clinton, Remarks at the Dickerson Community Center in Daytona Beach, Florida Online by Gerhard Peters and John T. Woolley, The American Presidency Project https://www.presidency.ucsb.edu/node/319825