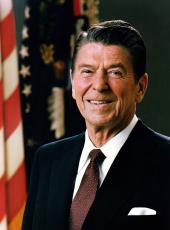 Remarks on the Departure of Prime Minister Edward Philip George Seaga of Jamaica Following Their Meetings
The President. Prime Minister Seaga and I have found today that we have much in common, frankly because we both came into office about the same time. We've been exchanging stories about how similar our problems are, but I also think we share the view that our peoples are also strong enough to solve those problems. I found our discussions to be very helpful, and I'm convinced that this meeting will help strengthen the ties of friendship between Jamaica and the United States.
I told Prime Minister Seaga that our country noted with great pride his accomplishments at his election. The people of the United States take great hope from Prime Minister Seaga's election, and I am confident that we'll find ways to strongly support Jamaica. We are unrelaxed about the status of events in the Caribbean and the instability being inflicted on some countries in the Caribbean and in other places in the hemisphere from outside.
His election is a most hopeful event with which Americans can identify, and I'm delighted to start off my Presidency with this first visit. I can assure him and, indeed, all countries that the United States will continue to respect peaceful political change, change that in this instance offers great hope for freedom. I was impressed by the Prime Minister's strong commitment to rebuilding the Jamaican economy. I assured the Prime Minister that he could count on American support for his objectives, especially in his efforts to expand his country's private sector.
Mr. Prime Minister, we are honored to have you as America's first foreign visitor in our administration, and let me express my personal hope that the first shall not be the last.
The Prime Minister. President Reagan, we are very pleased to have been honored to be the. first visitor in an official visit to the United States under your administration. This signal has many interpretations, but to our minds one of the interpretations which we would like to place on it is a new emphasis that may be developing in respect to Latin America and the Caribbean.
We have taken note of the fact that under the regime of former President Nixon there was a foreign policy thrust in the Far East and that under President Carter there was a foreign policy thrust in Africa. We are hopeful that my visit here is a signal that there will be a foreign policy thrust in Latin America and the Caribbean.
This does not mean that in making new thrusts all responsibilities in our mind are being abandoned. It simply means that new areas are being explored. And if that is so, then the policy of good neighbors once again comes to the front. And we can promise that we will be an effective part of any program of good neighbors, because there is a great deal of commonality of interests between our peoples and the objectives of our leadership.
We have taken great interest in the career of President Reagan and in his success and in the timeliness of his success which has coincided with similar events taking place in the Caribbean over the last year. Six Caribbean countries have all unilaterally decided to shift—indeed, to revolt—from the left to the center. This has presented a timely moment and one which a new administration coming into Washington at that time has an opportunity to capture in terms of a universality of thinking and of action.
We hope that we may be a part of the development process of this country's interest in the Caribbean and that you may be a part of our process in thinking out our own problems. In short, this means consultations. It means sharing our thinking as to what problems will arise in my country and in the Caribbean with you and seeking answers that can be effective and practical and mutually of interest. It means when your problems are sticky that we may be available for consultation. It is on the basis of this mutuality that we see a forward program, we see a position of mutual interest developing into policies of good neighborliness, policies which can help in the rebirth of influence and position of Latin America and the Caribbean in the spectrum of the world.
We have had an excellent visit, and we have had discussions with the President and his team which are far-reaching and are of great interest. And we sincerely hope that in the days to come that these will be renewed at other levels in a more practical sense. We thank you for the warm, cordial hospitality that you have offered us and for the sunshine. It only remains as to whose credit the sunshine is due, Jamaica's or California's. [Laughter]
The President. Mr. President [Prime Minister], normally I don't put a postscript on a tribute such as you've just paid, but I feel that all our people should know that one of the most gracious invitations has been extended by the Prime Minister, and that is that those that we honored here on the lawn yesterday, our returned, freed Americans and their families have been invited at any time that is suitable to them to come as his guests on a visit to Jamaica. It was a most gracious gesture, and I think all Americans owe him a "thank you" for that. It will be a private vacation for them. They will be his guests only to the extent that he has made it available.
Note: The President spoke at 1:25 p.m. at the South Portico of the White House.
Ronald Reagan, Remarks on the Departure of Prime Minister Edward Philip George Seaga of Jamaica Following Their Meetings Online by Gerhard Peters and John T. Woolley, The American Presidency Project https://www.presidency.ucsb.edu/node/246891