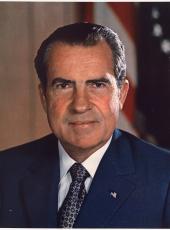 Remarks on the Departure of Prime Minister de Jong and Foreign Minister Luns of the Netherlands
Mr. Prime Minister and Mr. Foreign Minister:
As this visit concludes, I wish to tell you how much we have been honored having you here as the first official visitors from Western Europe, and also as the first visitor from your country at the Prime Minister level on an official visit.
We think that the discussions that we have had have been most helpful on a bilateral basis, but I would like to say further that they have been for me most constructive, as we have discussed some of the broader problems we have, not only with regard to Western Europe, but internationally.
It is this kind of exchange between leaders who have responsibilities to our countries which is most valuable, most valuable in helping us in each of our respective capacities, to make decisions that are not parochial, not provincial, and not limited to those bilateral matters that may concern our two countries, but see the whole world and not just part of the world.
I would say, finally, that one of the things that has always impressed me about my friends from the Netherlands is that they look outward, they think in international terms, and therefore, it is always helpful to me to talk to leaders from the Netherlands and to get that broad world perspective which we sometimes lose sight of as we sit in our office thinking of the immediate problems that we have.
I conclude with one personal thought. The Prime Minister and the Foreign Minister reminded me that I had not visited the Netherlands. It is true, although my wife and daughters have. I remember during the days I was Vice President, I visited many countries, but I usually went to countries where we had problems, and it is because we seem to have no serious problems with the Netherlands that I-never have gotten there. I hope to correct that oversight during my term of office, and to be able to return this visit that you so gracefully have paid to us. We wish you bon voyage.
PRIME MINISTER PETRUS J. S. DE JONG. Ladies and gentlemen, I really have nothing to add to what the President has said.
As regards the invitation on the official side, one expects, between countries with such good relations, to be received pleasantly, but I must say we have been struck by the warmth of the welcome and the genuine friendliness--the style of the reception.
As regards the talks we had, the thing we appreciate most in you is that we come directly, with very open and honest talks, to the crux of the matter, and are able to talk together and exchange views on the whole world.
We have been very pleased with the results of our talks and I, for one, am much better informed, and I hope a slightly wiser man on return than when I arrived here.
We are, I must say, very pleased that you, Mr. President, are willing to accept our invitation to visit the Netherlands whenever your very busy schedule allows you to do so.
Thank you once again very much for a very, very nice reception.
THE PRESIDENT. Mr. Foreign Minister, you may say something, if you wish.
FOREIGN MINISTER JOSEPH M. A. H. LUNS. It would be very presumptuous for me to make a long statement, so I won't talk much longer .than 2 to 5 minutes after the President and Prime Minister. I would only confirm what the Prime Minister said a moment ago, that we are pleased with the results of our bilateral talks and the results of the talks on multilateral matters.
There were some rather tricky problems which, to our great satisfaction, have now been solved. And I think we owe a debt to the President of the United States and to the Acting Secretary of State [Elliot L. Richardson] for the way these talks were prepared and for the way we came, in 2 days, to solutions which will be worked out--I am thinking of air matters-and which I feel sure will be hailed in the Netherlands as a result which was more than worthwhile.
So this ceremonial visit was at the same time a working visit and I am very grateful to the President of the United States that we got so much of his time and that he devoted so much of his energy and knowledge to this discussion of these problems.
THE PRESIDENT. I would just like to add one thing for all of those who cover the Washington scene. This does mark a special occasion in another sense. We have all, those of us who have been here, have known the Ambassador from the Netherlands to the United States [Carl W. A. Schurmann], have known him and his family, and have realized how much he has contributed to good relations between our two countries and also to the very distinguished ambassadorial corps that we have in this city.
This year I learned that he is retiring from diplomatic service. This is one of his last official appearances. Mr. Ambassador, we thank you for your years of service to your country, to the cause of good relations between our two countries, and we wish you the very best in whatever you undertake.
Ambassadors deserve a little credit for these visits, too.
Note: The exchange of remarks began at 12:51 p.m. in the Rose Garden at the White House.
Richard Nixon, Remarks on the Departure of Prime Minister de Jong and Foreign Minister Luns of the Netherlands Online by Gerhard Peters and John T. Woolley, The American Presidency Project https://www.presidency.ucsb.edu/node/239283