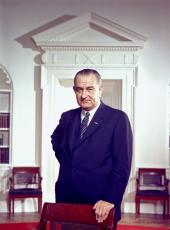 Remarks to the Delegates to the White House Conference on Education.
Mr. Gardner, distinguished members of the Cabinet, distinguished Ambassador to the United Nations, ladies and gentlemen:
I want to welcome all of you to the first White House teach-in.
I want to thank all of you for the work that you have done over the past 2 days on this most important of American problems-the education of the American people.
I have kept you waiting for some time, while I have listened to your panel chairmen review with me their impressions of the fruits of your labors for the past 2 days.
Education will not cure all the problems of society, but without it no cure for any problem is possible. It is high among my own concerns, central to the purposes of this administration, and at the core of all our hopes for a Great Society.
Belief in education is, of course, not a new belief. It is a faith as old as the Nation-the faith that the progress of America and the possibility of democracy depended really upon the education of our citizens. And so, through the generations, we have gone along investing our skill and our energy, and much of our resources, to build an educational system that is really broad enough to serve all the needs of all of our people. And I think no investment has ever been more wisely made and none has ever resulted in more abundant returns, either to a people or to a nation.
This central faith remains an unchallenged tenet of the American way of life. Your concern, and mine, is how can we remedy the serious defects of our present system, and how can we equip it to meet the new challenges which are already engulfing our Nation and engulfing the world.
Every aspect of our national life--from the office and factory to the doctors' offices and the halls of government--has become much more complex and intricate than ever before. Thus we must train more people in more skills if they are to really find fulfilling work and to make their proper contribution to this land that we love.
Many already spend more time not working than at their work, and the amount of leisure time is going to continue to rise in the days ahead. So we must open up new horizons of interest and creativity if periods of rest are not to become feared periods of sterile boredom.
Exploitation of the challenges, and escape from the perils of modern life demand new leaps of imagination and creativity. And thus we need education which will stimulate and which will energize the free spirit, rather than to crush it and dampen it, as is so often true.
Most of all we need an education which will create an educated mind. This is a mind not simply a repository of information and skills, but a mind that is a source of creative skepticism, characterized by a willingness to challenge old assumptions and to be challenged, a spaciousness of outlook, and convictions that are deeply held, but which new facts and new experiences can always modify.
For we are a society which has staked its survival on the rejection of dogma, on the refusal to bend experience to belief, and on the determination to shape action to reality as reality reveals itself to us. This is the hardest course of all for us to take. For without education it is really an impossible course, and all of this means not merely more classrooms. and more teachers, although we need them--and we are going to have them--but it means a fundamental improvement in the quality of American education. It means an educational system which does not simply equip the students to adjust to society, but which enables the student to challenge and to modify, and at times reject, if necessary, the received wisdom of his eiders.
We are far too easily satisfied when we know that a child has a desk in a classroom with a teacher to instruct him. But it is what happens inside that classroom that really counts, and that is finally what is really important. And far too often what does happen is sadly unequal to what we have a right to expect.
That is why I am so glad that this conference did not spend its time passing and mimeographing detailed resolutions and making a host of specific recommendations. We asked you to come here to stimulate some fresh thinking, not just talk about old ideas. I plan to take your proceedings and read them myself and to circulate them to every office of Government concerned with this subject. I want them to use your thinking as a basis for the evolution of new programs and new actions, and new legislative proposals wherever such proposals are appropriate.
In addition, I charge your Executive Committee to review the record and to constitute themselves a continuing task force on this most critical subject. So it will be their job to make sure that this conference does not come to an end today, that we have a continuing flow of new ideas from universities and private groups into the central processes of government.
For really we are quite busy catching up with our past failures, and we do not intend to fall behind again.
There is one specific proposal which I have mentioned and discussed with your leaders, and which I hope we can carry out. And that is the proposal to establish a series of Adlai Stevenson fellowships to enable a selected group of young men and women from all over the world to serve as interns in the organizations of the United Nations. This will not only be a great memorial to Adlai Stevenson, but it will be an indication of the interest of this Nation in the enlightenment of all mankind.
Of course this will not be the only memorial to Adlai Stevenson. It is just one of many. In fact, I have already asked Secretary Willard Wirtz, a former law partner to Governor Stevenson, to meet with members of the Stevenson family to discuss appropriate ways to pay adequate tribute to his memory. But there can be none more fitting, and I know you will agree, than the training of future leaders in the wondrous works of peace and compassion.
I had to go to the Supreme Court yesterday and ask one to leave that high tribunal to come and lead us down the road to compassion and to peace in the world, and I am so happy that he could be here with you today, and I want to ask him to stand just now so that we can all acknowledge his presence and his great sacrifice. Justice Goldberg.
I think most of you know the enveloping role which education has played in my own life. It really was the instrument which took a boy from the countryside of Texas and opened to him the boundless dreams and the opportunities of American life.
And I not only learned, but I taught, and I saw for myself how the light of learning could brighten the path of the humble.
But my profound concern with education does not spring simply from the accidents of my youthful circumstances. It has, it is true, always existed. But the office that I now hold has deepened and widened and contributed greatly to the urgency of that concern. For it was only after I could become President of this country that I could really see in all its hopeful and troubling implications just how much the hopes of our citizens and the security of our Nation and the real strength of our democracy depended upon the learning and the understanding of our people.
A great public servant in the early days of the republic of my State said: "Education is the guardian genius of democracy. It is the only dictator that free men will recognize, and the only ruler that free men will accept."
This Nation has really always been an experiment--an experiment in the capacity of a whole people, ruling its rulers, to deal with changing peril and with shifting expectations. And every single time we think we have proved the success of that experiment, the scene changes, and America sets forth on a very different course.
And this is true again as we meet here today, but the stakes are really higher than they have ever been before, and I know now with greater certainty than I have ever known it before, that leaders can lead, they can set goals, they can make speeches and teach their people, but in our democracy, they cannot make people what they are not. They cannot exceed, in achievement or understanding, the best qualities of the American mind. And that, in turn, is the charge of those who teach the young, and who thus hold in their hands the possibilities of this President, and of many Presidents yet to come.
Thank you for coming.
Note: The President spoke at 6 p.m. on the South Lawn at the White House before a gathering of 700 participants in the White House Conference on Education, held in Washington July 20-21. In his opening words he referred to John W. Gardner, President of the Carnegie Corporation of New York who served as Chairman of the Conference, and to Associate Justice Arthur J. Goldberg of the Supreme Court of the United States (newly designated U.S. Representative to the United Nations, see Item 370). During his remarks he referred to W. Willard Wirtz, Secretary of Labor.
On July 8, 1965, the White House had announced the names of 150 leaders in education, business, labor, and Government who were chosen by the President to lead, at the Conference, discussions of American educational problems. The White House release stated that the panelists would be joined by 500 other leaders who would participate in the discussions.
See also Item 291.
Lyndon B. Johnson, Remarks to the Delegates to the White House Conference on Education. Online by Gerhard Peters and John T. Woolley, The American Presidency Project https://www.presidency.ucsb.edu/node/241406