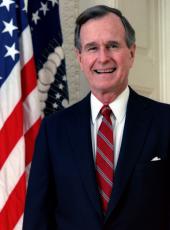 Remarks on the Defense Budget and a Question-and-Answer Session With Reporters
The President. I just wanted to just briefly say that -- as we begin the critical debate -- that I strongly support what we've sent up there to the Hill. SDI, in my view, is critical. It's critically important. We've got a good program there, and I think it's essential that it go forward. There's been a lot of discussion about the B - 2, but it is a revolutionary plane with revolutionary technology, and again, I would strongly urge your support for that. I know there's been some debate on the two missiles -- the rail garrison peacekeeper and the small ICBM -- but we need the utmost flexibility in terms of arms control. And then, of course, there's the survivability itself -- that's very important. And so, I want to urge full support for that one.
So, this is a complicated, expensive program. I salute our Secretary of Defense, who's made some important cuts in the defense budget that have not been easy. But I wanted to strongly urge the support from this most prestigious committee and the leaders around this table for the full program.
And I'd be glad to take just one or two questions -- --
Q. Mr. President, how can you justify -- --
The President. -- -- and then we're going to go on about our business here.
Q. How can you justify spending $70 billion on a plane when we have infant mortality rising, when the infrastructure in this country shows a serious breakdown on the social needs, the homeless, and so forth?
The President. I justify it because I think the prime responsibility of a President is the national security of the United States, and I'm determined to put forth a program that is sound in every way. And that's how I justify it. And I also justify it because, when you look at the full defense program, I want to have maximum flexibility as we have arms control negotiations.
Felix Bloch Espionage Investigation
Q. Mr. President, do you have any reaction to the espionage case against Mr. Bloch?
The President. Yes. Yes, I do. [Laughter]
Q. What is it?
The President. No, I think anytime there's allegations of this nature, it is most serious. And anytime the person is a potential -- I want to be careful because this matter is being investigated -- or allegedly involved in something like betraying his country, that, to me, is a very serious matter. And it will be thoroughly investigated, and I'll have nothing else to say about it until the facts are known. But I've known about this matter for some time, and the minute I heard about it, I was aggrieved because it is a very tragic thing, should these allegations be true.
Q. Mr. President, if it does turn out to be true, what does it portend for U.S.-Soviet relations?
The President. It doesn't help any, and it doesn't -- I think everybody around this table knows that espionage goes on. And I don't think it helps when you have high-visibility cases. But I think, regrettably, it says more -- if it's true -- about an individual who is alleged to have passed secrets to the Soviets, which is very bad.
Q. Have you heard that it goes back to the seventies?
The President. Well, I'm not going to, as I say, go into the details on it because I think, even in matters of this nature, everybody is entitled to a full and fair hearing.
One more, and then I've got to run.
Q. You said, Mr. President, that you've known about this for some time.
The President. Two more, and then I've got to run. What?
Q. You said you've known about this for some time. Did the disclosure of it on the TV news on Friday compromise the investigation in any way?
The President. I don't know the answer to that question. I haven't talked, since I've gotten back here this morning, to the people conducting the investigation.
Ann [Ann Devroy, Washington Post], last one.
Q. Have you any gauge of how seriously American security was hurt by this?
The President. Not yet.
Q. Do we know at this point what type or level of -- --
The President. I don't think anyone could give you a full damage assessment at this point.
Q. Why hasn't he been arrested?
The President. The investigation is going on. And these are very serious matters, and a thorough investigation takes a good deal of time.
Thank you all very much.
Capital Gains Taxes
Q. -- -- going to win the capital gains tax cut?
The President. Stay tuned.
Note: The President spoke at 10:05 a.m. in the Cabinet Room at the White House, prior to a meeting with Members of the Senate. Felix S. Bloch was a State Department official suspected of espionage.
George Bush, Remarks on the Defense Budget and a Question-and-Answer Session With Reporters Online by Gerhard Peters and John T. Woolley, The American Presidency Project https://www.presidency.ucsb.edu/node/263066