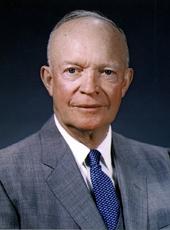 Remarks at the Dedicatory Prayer Breakfast of the International Christian Leadership
Mr. Chairman, distinguished guests, ladies and gentlemen:
This has been a wholly enjoyable occasion for me except for the one second when I opened the little blue slip and found that it said there would be an address by the President. I assure you, both for your sakes and for mine, there will not be.
There are a few thoughts, though, that crowd into my mind. With your permission I will attempt to utter them in a very informal and homely way.
First, there is a need we all have in these days and times for some help which comes from outside ourselves as we face the multitude of problems that are part of this confusing situation. I do not mean merely help for your leaders or the people in Congress, in the Cabinet and others in authority, because these problems are part of all of us. They face each one of us because we are a free country. Each of us realizes that he has responsibilities that are equal to his privileges and to his rights.
So, as he approaches them at times, he says: "If we only had the simple, the good old days, how easy all this would be. What a nice life."
Once in a while it might be a good thing for us to turn back to history. Let us study a little bit of what happened at the founding of this Nation.
It is not merely the events that led up to the Revolutionary War. All of the confused problems that we were then called upon to solve were as difficult as those we face now. Did you ever stop to think, for example, that the first year of that war was fought in order that we might establish our right to be free British citizens, not to be independent. From April 1775 until July 4, 1776, there was no struggle for independence. It was a struggle to make people understand that we were free British citizens. So you can understand the confusion of thought that was going on.
So when we came down to the Declaration of Independence, our forefathers had difficulty in meeting their problems which was probably as great for them as we feel our problems today. In the Declaration they acknowledged the need to respect public opinion. They said, "When in the course of human events"-and they went on to say a decent respect for mankind impelled them to declare the decisions which led to the separation. They realized that the good opinion of the whole world was necessary if this venture was to succeed. At least they felt that an understanding of this venture should be abroad in the world.
They went on to try to explain it. What did they say? The very basis of our government is: "We hold that all men are endowed by their Creator" with certain rights.
When we came to that turning point in history, when we intended to establish a government for free men and a Declaration and Constitution to make it last, in order to explain such a system we had to say: "We hold that all men are endowed by their Creator."
In one sentence we established that every free government is imbedded soundly in a deeply-felt religious faith or it makes no sense. Today if we recall those things and if, in that sense, we can back off from our problems and depend upon a power greater than ourselves, I believe that we begin to draw these problems into focus.
As Benjamin Franklin said at one time during the course of the stormy consultation at the Constitutional Convention, because he sensed that the convention was on the point of breaking up: "Gentlemen, I suggest that we have a word of prayer." And strangely enough, after a bit of prayer the problems began to smooth out and the convention moved to the great triumph that we enjoy today--the writing of our Constitution.
Today I think that prayer is just simply a necessity, because by prayer I believe we mean an effort to get in touch with the Infinite. We know that even our prayers are imperfect. Even our supplications are imperfect. Of course they are. We are imperfect human beings. But if we can back off from those problems and make the effort, then there is something that ties us all together. We have begun in our grasp of that basis of understanding, which is that all free government is firmly founded in a deeply-felt religious faith.
As we sympathize with our great friends in Holland and Britain today in this distressing disaster that has overtaken them, it is good to know that the American soldiers, the American Navy, the American airmen, are sharing those disasters and are moving in as units and as individuals to help. I have had messages from both of those countries expressing their great thanks to America for the work they are doing. They, to my mind, are part of this understanding that a government such as ours hopes to produce people who are moved by sympathy, by all of those wonderful qualities that are implicit in a deeply-felt religious faith. They are living up to what we hope for our government, both as units and as individuals.
I think my little message this morning is merely this: I have the profound belief that if we remind ourselves once in a while of this simple basic truth that our forefathers in 1776 understood so well, we can hold up our heads and be certain that we in our time are going to be able to preserve the essentials, to preserve as a free government and pass it on, in our turn, as sound, as strong, as good as ever. That, it seems to me, is the prayer that all of us have today.
It has been very wonderful to meet you. Until I started over I had the picture, which Frank Carlson gave me last summer, of a small Congressional group of Congressmen and Senators who met on a morning each week. I had an idea of coming over to see 20 or 25 or maybe 50 people. I had no idea that our host had such a party as this. I do hope I may speak for all of you in thanking him for such a breakfast, the like of which I have not had in 10 years. As long as you feed me grits and sausage, everything will be all right.
Thank you.
Note: The President spoke at the Mayflower Hotel in Washington. His opening words "Mr. Chairman" referred to U.S. Senator Frank Carlson of Kansas.
Dwight D. Eisenhower, Remarks at the Dedicatory Prayer Breakfast of the International Christian Leadership Online by Gerhard Peters and John T. Woolley, The American Presidency Project https://www.presidency.ucsb.edu/node/231800